Tornado spotted outside Miami flips semi truck, injures 1
Thunderstorms in Florida during the late spring and summer are a just about daily occurrence, and some can produce weak tornadoes and waterspouts.
MIAMI – A round of showers and thunderstorms that impacted South Florida on Thursday produced funnel clouds and at least one tornado in southern parts of Miami-Dade County.
According to National Weather Service meteorologists, the tornado, which was on the ground for less than 2 minutes, snapped trees and flipped a semi-truck. The driver was reportedly injured during the twister, which was estimated to have had winds of between 65-85 mph. That places it in the EF-0 range on the Enhanced Fujita Scale.
FOX Weather's Brady Campbell was one of several witnesses that saw the funnel menacing South Florida.
Campbell was at the airport in Homestead, Florida, and had just finished a skydive when she spotted the rope-like funnel.
"We know we're in the rainy season, and they pop up here and there, and I looked, and sure enough, we could see that funnel coming down," Campbell said. "It was very tight or a slender funnel. It was looking as though it was trying to reach the ground.
EF-2 TORNADO FLIPS CARS, LEAVES DAMAGE TRAIL IN SOUTH FLORIDA AS STORMS RACE ACROSS THE SUNSHINE STATE ON SATURDAY
Other sightings were also reported in western parts of Miami-Dade County south of the Tamiami Trail, and hail the size of peas and nickels fell.
NWS officials said they believe only one tornado happened despite reports of several funnels.
The scenes were much different than in April when severe storms triggered an EF-2 tornado with winds of about 130 mph in nearby Palm Beach County.
During the twister, several apartment complexes were damaged and cars were flipped.
NEW TO FLORIDA? HERE'S WHEN THE SUNSHINE STATE'S RAINY SEASON GETS UNDERWAY
On Wednesday, a sudden gust of wind known as a microburst was believed to have caused significant roof damage to a nursing home in Clewiston, Florida.
There were no reported significant injuries, but more than 100 residents were evacuated to a nearby shelter.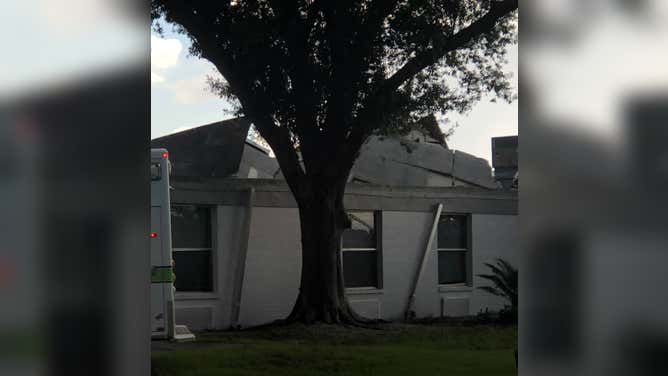 May is the start of South Florida's rainy season which can often produce hail, damaging winds, waterspouts and even tornadoes.
The state's rainy season typically lasts until September, but the FOX Forecast Center said late-season events usually produce heavy rain versus severe weather.
As summer progresses, tropical moisture tends to saturate the atmosphere, leading to heavier rainfall and less of a chance of storms becoming severe.