Steps to stay safe as potentially powerful nor'easter hammers East Coast
Nearly a half-foot of rain is expected across parts of the Northeast through Wednesday
NEW YORK – State of emergencies have been issued Tuesday for both New York and New Jersey, in addition to several flash flood warnings and watches, as the first nor'easter of the season arrives. 
Acting Commissioner of New York City Emergency Management Andy D'Amora and his team have prepared for this storm. They put their flash flood plan in effect by opening their emergency operations center Monday evening.
Nearly a half-foot of rain is expected across parts of the Northeast through Wednesday.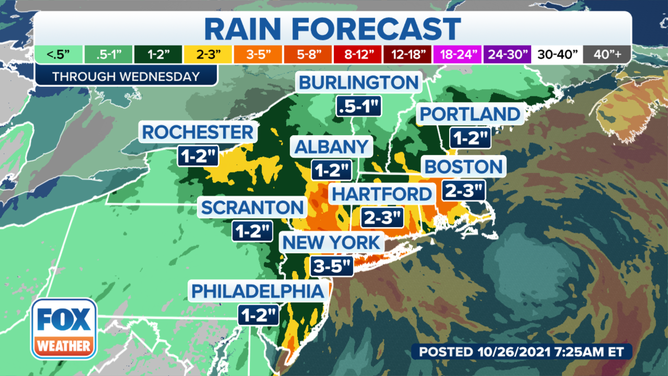 "We've been monitoring moment-by-moment conditions, the forecast and the weather coming in. Pre-storm (we were) addressing those catch basins that need to be cleared to prevent any kind of heavy flooding," D'Amora said.
On Monday, New Jersey Gov. Phil Murphy issued a state of emergency for all 21 counties, and New York Gov. Kathy Hochul declared a similar emergency for southern portions of New York. The orders allow state resources to be shifted to deal with potential damage and flooding created by nor'easter.
City officials have seen some flooding and ponding on roadways Tuesday, but crews are addressing it throughout the city, and most of those roads are now passable.
"But, we are telling folks, if you have to go out and drive, make sure you take your time and give extra time. And if you see any flooding at all, please turn around. Don't drive through flooded roadways," D'Amora said.
New Yorkers should call 311 to notify the Department of Environmental Protection and Department of Transportation if they see any flooding. You can also download the Notify NYC mobile app, which gives up-to-the-minute information about emergencies in New York City.  
Wind gusts as high as 50 to 60 mph are possible from Long Island to coastal Massachusetts Tuesday into Wednesday. These strong winds could blow down trees and power lines, leading to potential power outages.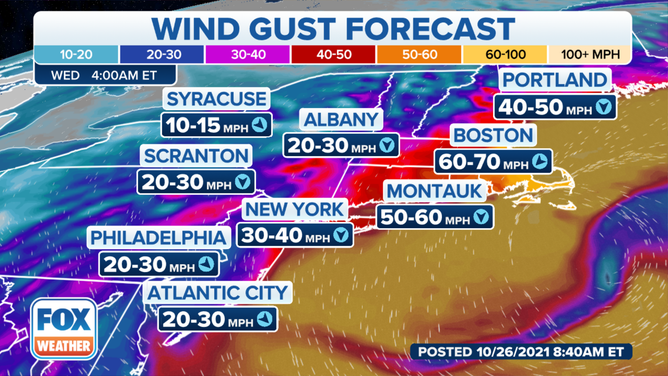 The winds are predicted to reach their peak intensity late Tuesday into early Wednesday, with the strongest gusts expected along the coast, though winds will still reach 30 to 50 mph farther inland.
D'Amora said when the city sees a storm like this develop, they put their Downed Tree Task Force on alert when the winds start to pick up. Officials also increased their messaging citywide, especially to people who are living in basement apartments. 
"Right when the storm was predicted, we started messaging to pay attention to the forecast. If you see any flooding, if you're getting an alert from the National Weather Service or from us, make sure you go on to higher ground. Go vertical. Just go to the next four above. And I think that you know, those messages have been well received," D'Amora said.
New York City Emergency Management issued a travel advisory for the city through Tuesday, warning drivers of their morning and evening commutes impacts.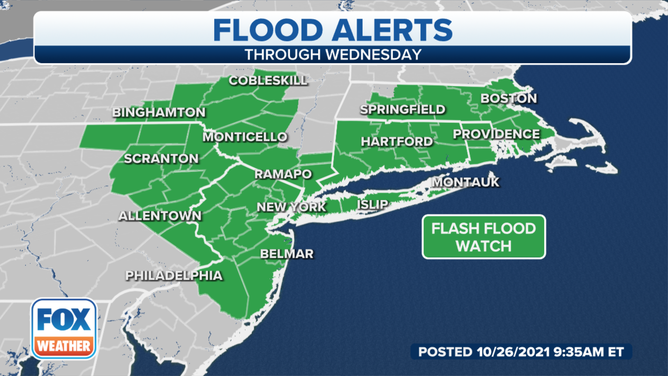 As of 7:30 a.m., there were minimal delays on subways, but it is encouraged for everybody to go to MTA.info and make sure that their subway and commuter rails are running on time.
"Give yourself some extra time. No need to rush to get where you have to go this morning," D'Amora said.
The bottom line is paying attention to what's going on and knowing your surroundings and the forecast.