State of emergency declared as flood waters linger in northern Washington
The rivers have crested after several days of heavy rains brought flooding northwestern Washington hadn't seen in decades, but many areas remain covered in water as rivers slowly drain.
MOUNT VERNON, Wash. -- The rivers have crested after several days of heavy rains brought flooding northwestern Washington hadn't seen in decades, but many areas remain covered in water as rivers slowly drain.
Washington Gov. Jay Inslee declared a State of Emergency Tuesday for 14 counties affected by the floodwaters and strong winds from a pair of atmospheric rivers that have slammed the northwest over four days.  Over 175,000 people lost power as winds gusted from 50-75 mph, though that number had been whittled down to 30,000 by Tuesday evening.
The hardest-hit areas remain along the Nooksack River in Whatcom County and the Skagit River in Skagit County. Both rivers went into major flood stages and threatened all-time records.
In the town of Everson, near the Canadian border, crews are searching for a missing 59-year-old man whose car was swept away in floodwaters early Monday morning.
Jose Garcia was able to contact family members, telling them he was now clinging to a tree, according to FOX 13 Seattle. But family members lost contact after about an hour and Garcia has not been seen since.
Floodwaters rushed also into the town of Sumas, also right along the Canadian border, requiring hundreds to be rescued and evacuated using tractors and heavy equipment, town officials said.
"We are estimating 75% of the homes have incurred water damage," Sumas city officials said on Facebook. "The damage is devastating to our city."
In addition, 12 rail cars derailed in town.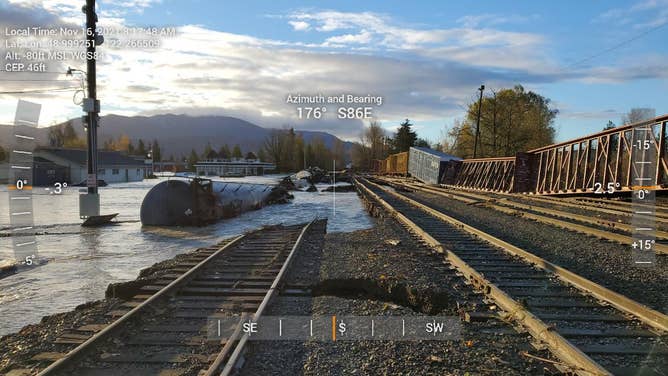 The towns of Ferndale and Everson also were dealing with lingering floodwaters in Whatcom County.
Over in Bellingham, it was a one-two punch of flooding and mudslides. 
The northbound lanes of Interstate 5, the main north-south artery through the region, were still blocked Tuesday afternoon after a mudslide rolled across the freeway in Bellingham, striking three vehicles.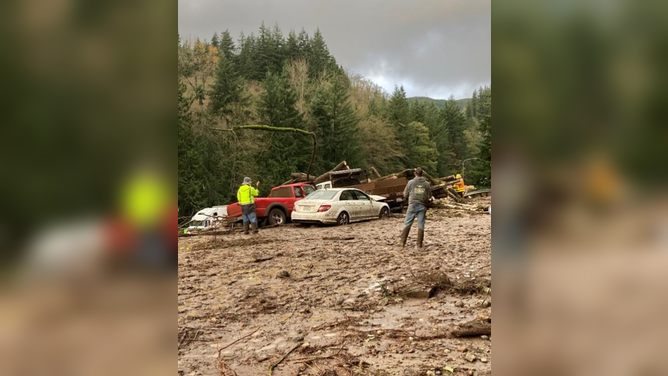 No one was injured but with alternate routes also closed due to flooding or mudslides, it made getting north into Bellingham a significant challenge.
Meanwhile, floodwaters entered parts of the city, leaving roads covered in over a foot of water.
In Skagit County, the focus was on the Skagit River that was nearing a record-crest, though luckily, the river didn't reach quite as high as earlier forecasts feared.
It was still enough to bring significant flooding from the town of Hamilton, down through the Sedro-Woolley area and into Mount Vernon. The entire city of Hamilton was under voluntary evacuation orders, and highways 9 and 20 remained closed in spots due to high water. Several other local roads were under water. Aerial video from Sedro-Woolley showed homes and farmland flooded as well.
"It's just scary what Mother Nature can do," said Phillip Reynolds in Sedro-Woolley. "The destruction it can do to people's houses."
While the Skagit River had crested, river forecasters warned it would take quite some time for rivers to recede.
"The dams on the Skagit (River) were able to absorb a significant part of the flood, but with the reservoirs near maximum pool levels, that water must start being released," the National Weather Service office in Seattle said. "This will slow the recession of the river levels downstream."
Flood Warnings remain in effect for the river until early Friday morning, but drier weather was in store for the Pacific Northwest after a very rainy start to November.
Bellingham set several all-time rainfall records, getting over 6 inches in just 72 hours. Some places like Forks, North Bend and Granite Falls had over 10 inches. Seattle has had rainfall every day in November.  
But drier weather was in the offing for the rest of the week, and while some light rain showers were in the forecast at times, the overall weather pattern is looking drier than average for the end of November.