Atmospheric river brings record flooding, fierce winds; 175,000 in dark in western Washington
There were no reports of any injuries from the storm as of late Monday evening
BELLINGHAM, Wash. -- An intense autumn storm fueled by the second atmospheric river in three days slammed into the Pacific Northwest on Monday, triggering record flooding along the Washington/Canada border and knocking out power to more than 175,000 people as fierce winds topped 70 mph.
There were numerous close calls for people caught in the storm, from becoming trapped and stranded in rising floodwaters, to being struck by a mudslide while driving a busy interstate, or being inside their home when a tree came crashing down – or nearly getting blown off a bridge during a sudden wind gust. 
But miraculously, there were no reports of any injuries from the storm as of late Monday evening. 
The worst flooding in years
Several inches of rain fell across Whatcom and Skagit Counties in Washington, spreading into southern British Columbia, sending rivers over their banks and floodwaters spilling into small towns from areas that dot the border region to communities two counties away.
In Sumas, which nestles right up against the Canadian border, floodwaters filled the streets of downtown and surrounding neighborhoods.  "There are already multiple vehicles that have been washed off the road, waiting to be rescued," Sumas city officials posted on Facebook.  
The water eventually flooded City Hall, and the city put out a call for help for anyone with boats to come help get those stuck by rising waters. The entire town eventually lost power, and residents were urged to get as high in their homes as possible and conserve drinking water as access to their water springs was hindered.
The town of Hamilton in Skagit County was voluntarily evacuated on Sunday night as floodwaters rose, and similar scenes of flooded roads and homes dotted cities and towns along swollen rivers in northern Washington.
Sheriff's deputies were busy rescuing several stranded people near the town of Marblemount. One man called for help after he got stuck in floodwaters and climbed atop his roof. As deputies tried to reach him, the man was eventually able to get to dry land.
"And then we had an additional call of another rescue of a man clinging to a tree," Skagit County Undersheriff Chad Clark told FOX Weather. "And there was a car that drove out to get him, and they got stranded, and they were on top of their car needing to be rescued."
Deputies reached the people stranded on the car while a rescue helicopter from the Navy came to pluck the man stuck in the tree. No injuries were reported there.
To the north in Abbotsford, British Columbia, evacuation orders were issued Tuesday morning for the entire portion of the Sumas Prairie to the Chilliwack border. Emergency officials said water was quickly rising, and residents were told to evacuate the area immediately.
State of Emergency in Mount Vernon
Of particular concern was the Skagit River, which flows through the city of Mount Vernon along I-5.  According to the National Weather Service, forecasts predict a near-record-high crest Tuesday morning exceeding 10 feet over flood stage. The town's mayor declared a State of Emergency Monday ahead of the approaching surge of water.
"The prediction of possible unprecedented river levels has forced the reduction of many normal City services to allow staff to respond to community, flood-related needs," city managers said. "Flood protection measures (flood wall) has been deployed in downtown Mount Vernon, and the Skagit Riverwalk and Plaza are closed."
The flood wall is designed to hold water up to 38 feet deep. Initially, the National Weather Service had predicted the crest only about 4 inches under that mark. However, forecasters updated their forecasted crest to 36 feet on Tuesday morning, which is more than a foot below the previous forecast.
Rising rivers were an issue on the Olympic Peninsula, with the Bogachiel River also approaching record flood stage. Nearby, the Coast Guard helped evacuate six adults and four children – including an infant – from homes west of Forks that were threatened by rising floodwaters. 
All made it safely to higher ground.
A foot of rain in a week
The atmospheric river that brought the heavy rains Sunday and Monday brought impressive rain totals on its own. Bellingham received 5.57 inches of rain from Saturday morning through Monday afternoon and had gone 49 consecutive hours with rainfall, save for a 7-minute break after midnight Sunday morning. The three-day total shatters their all-time record of 4.90 inches.
But it was just the second of a pair of atmospheric rivers that hit over five days, saturating the ground. Some spots reported over a foot of rain from Nov. 10-15, including Bow (15.45"), Forks (13.37"), and Quinalt (12.81")
The saturated ground was triggering some mudslides across the area. A slide brought down mud and trees across the northbound lanes of busy I-5 near Bellingham's Nulle Street exit, striking three vehicles in the process, according to the Washington State Patrol.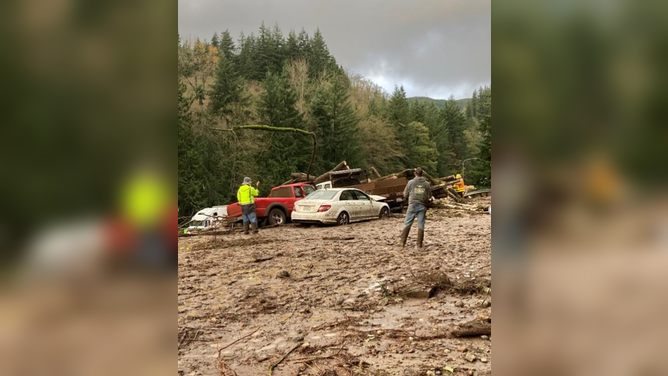 Luckily, no one was injured, but the freeway's northbound lanes were to remain closed overnight with the continued threat of flooding and mudslides with no usable detour around the closure.
75 mph winds rake Whidbey Island
Ferocious winds accompanied this second storm Sunday, as a low pressure center formed along the atmospheric river, and a surge of west wind chased after the storm's cold front Monday afternoon.
A gust of 75 mph was registered in Coupeville on Whidbey Island, while the Naval Air Station near Oak Harbor recorded a gust of 63 mph. Seattle hit 58 mph while a gust reached 53 mph in Everett.
Gusts to 50 mph were common across parts of the Puget Sound region, toppling trees and power lines.
One semi-truck driver had a harrowing drive across the Deception Pass Bridge near Anacortes when howling winds around 50 mph tipped the semi over against the guardrail, leaving the semi leaning precariously over the side of the bridge that sits 180 feet above the swirling waters below.
The driver was able to escape from the cab unharmed, according to the Washington State Patrol, but the northbound lanes were blocked for hours until the wreckage was cleared.
In Auburn, firefighters said they responded to five tree falls, including at least two that fell on top of homes, according to Valley Regional Fire Authority officials. No one was injured. Winds also knocked over 13 power poles.
Power companies estimated that about 175,000 people lost power in Western Washington during the height of the storm, with roughly 135,000 still without power as of Monday evening.
Finally, a dry break
Rains had tapered off Monday evening, and the forecast was for dry weather on Tuesday and Wednesday -- the first back-to-back dry days in the forecast since late October for the region.