Spring storm system to dump snow from Rockies to Great Lakes
The heaviest snow is expected to fall around the Great Lakes with some spots possibly seeing more than half a foot of snow.
While the calendar may say it is spring across the country, the workweek storm system that will trigger severe storms across the South will also put down a round of snow from the Rockies into the Great Lakes.
Enough cold air will meet the system for rain transition into ice and snow Monday from Colorado into the central Plains.
Forecast models show most accumulations will remain light, but a narrow band of moderate snow from Salina, Kansas to Sioux Falls, South Dakota, could occur.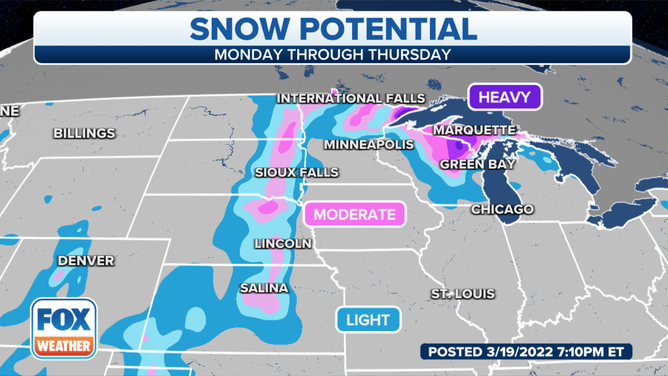 As the storm system moves eastward, so will the chance of ice and snow.
Because meteorologists expect precipitation to linger around the Great Lakes into midweek, accumulations could be the heaviest in Wisconsin and along Michigan's Upper Peninsula.
HOW TO WATCH FOX WEATHER ON TV
Forecast models show that at least half a foot of snow could be possible in areas with the highest potential of seeing snow.
Winter Weather
(FOX Weather)
---
Despite the date on the calendar, it is not uncommon for the Plains, Upper Midwest or Great Lakes to see frozen precipitation.
According to climatology data, the last snowfall usually doesn't happen until April. 
Once the workweek system moves eastward out of the country, forecast models show the Upper Midwest could see additional rounds of frozen precipitation through the end of the month.