Flood Watches in effect as monsoon brings heavy rain to the Southwest this week
Isolated, heavy rains are expected in Utah, Colorado, New Mexico and Arizona
Some parts of the Desert Southwest will see some of the rainiest days of the monsoon season yet, with several chances of heavy rain expected every day this week.
With the beneficial rains comes the concerns of flash flooding and mudslides, especially around areas of burn scars created by recent wildfires.
Communities that could see some of the heaviest rain include areas around Tucson, Arizona and in the mountainous region from northern New Mexico through Denver.
HOW TO WATCH FOX WEATHER ON TV
Expected rainfall over next 7 days
 
---
"That moisture -- it's going to come back as we go through this week, and we're really expecting some hefty amounts of rainfall across Arizona, up into Colorado where we are expecting anywhere from say two to three inches up to five inches of rain as we head through this week," FOX Weather meteorologist Jane Minar said. "It's going to be daily rounds."
Upwards of a foot of rain is possible over the next week where showers and thunderstorms are slow moving and train over the same areas.
SOUTHWEST MONSOON SEASON IS HERE: HERE'S WHAT YOU NEED TO KNOW
Flash Flood Watches are in effect in the Southwest.
(FOX Weather)
---
A Flood Watch is in effect through Tuesday night across central and southern Arizona, including the cities of Prescott, Phoenix and Tucson. Parts of southern Utah are also under a Flood Watch through Tuesday.
"A flood watch is in place in anticipation for the amount of rain we will have in some of these areas," Minar said. "We also have burn scar areas we want to be careful with."
Some of the storms this week also have the potential to become strong and produce plenty of hail. The frozen precipitation coated the ground outside the National Weather Service Office near Flagstaff, Arizona, on Saturday.
7 FACTS YOU SHOULD KNOW ABOUT FLASH FLOODS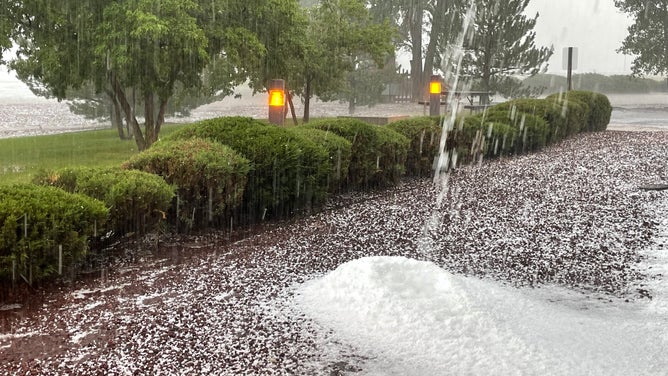 NWS meteorologists said the combination of hail and rain can reduce visibilities and make roads slick.
Double average rainfall over past month
The Southwest is in the heart of the monsoon season, and the year has not disappointed.
Several areas in the Four Corners region have seen more than 200 percent of their daily rainfall over the past month.
NASA IMAGERY SHOWS LAKE MEAD WATER LEVELS LOWEST IN MORE THAN 80 YEARS
Above normal rainfall over last 30 days
 
---
Despite the abundant moisture, the entire Southwest is still facing dry conditions courtesy of an ongoing megadrought.
The drought's severity varies from county to county but is considered severe or worse in most areas.
US Drought Monitor
 
---
Experts say the rains will do little to impact water levels in Lake Mead and the Colorado River basin. The watershed is heavily dependent on snow melt, which has been below average for several years.
The continuation of La Niña into winter means more dry weather could be ahead after the monsoon season shuts down during the early fall.
CLICK HERE TO GET THE FOX WEATHER UPDATE PODCAST
Be sure to download the FOX Weather app to track any storms in your area and receive potentially life-saving weather alerts issued by the National Weather Service. The free FOX Weather livestream is also available 24/7 on the website and app and on your favorite streaming platform. The FOX Weather Update podcast also provides weather information for the entire country.