Fire weather alerts impacting more than 12 million Americans on Tuesday
People in the Fire Weather Warning areas should avoid all activities that could spark a fire
More than 12 million people are being asked to avoid activities that could spark a fire as conditions are critical for the rapid growth and spread of wildfires if any were to ignite in the Southwest, southern High Plains and lower Mississippi Valley on Tuesday.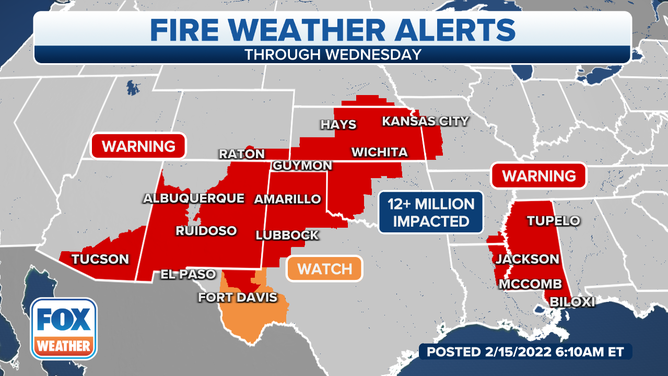 Fire Weather Warnings are in effect from Tucson, Arizona, into New Mexico, northwestern Texas, western Oklahoma, most of Kansas and western Missouri. The entire state of Mississippi is also under that warning.
HOW TO BEST PREPARE YOUR HOME FOR WILDFIRES
NOAA's Storm Prediction Center says low relative humidity combined with warm temperatures and strong winds will create those dangerous fire weather conditions through Wednesday.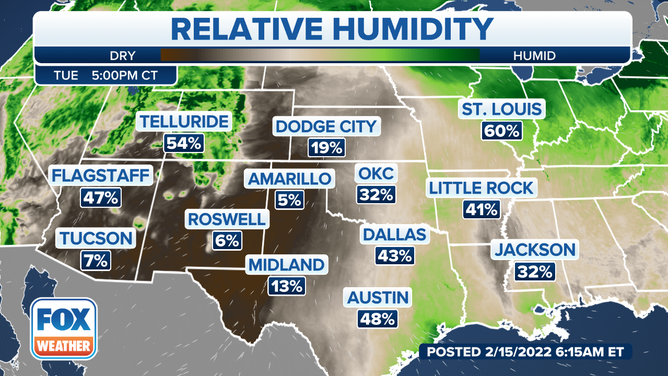 Humidity levels will drop into the single digits by Tuesday evening in places like Tucson, Arizona; Roswell, New Mexico; and Amarillo, Texas.
CrewS finally contained a 200 acre wildfire in Wise County, Texas. Fire departments across the state continue to battle spot fires.
The fire threat was significant enough that Kansas Governor Laura Kelly issued a declaration of a State of Disaster Emergency on Tuesday due to the high risk of wildland fires.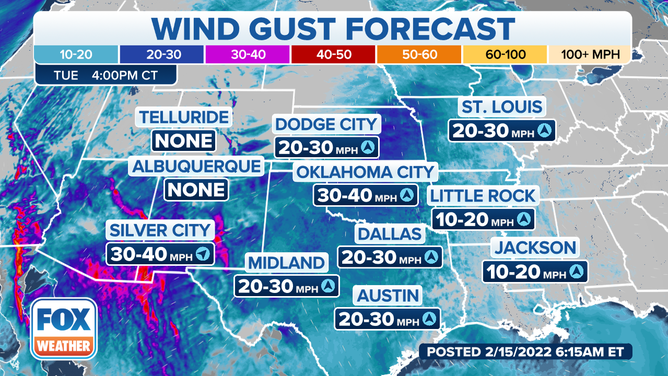 While dry conditions could fuel fires if any were to start, the strong winds will allow them to grow and spread quickly.
Wind gusts of 20 to 30 mph are expected in Silver City, New Mexico, later in the day on Tuesday. In Midland, Dallas and Austin, Texas, gusts will generally be between 20 and 30 mph.
Stronger gusts between 30 and 40 mph are also expected to the north in the Oklahoma City area.
Several factors can lead to large wildfires. 
Fires that start on grasslands can travel more than double the speed of those in forests. They also move faster traveling uphill and slower if they're spreading downhill.
Also, dead vegetation and other debris on the ground can help fuel the fires.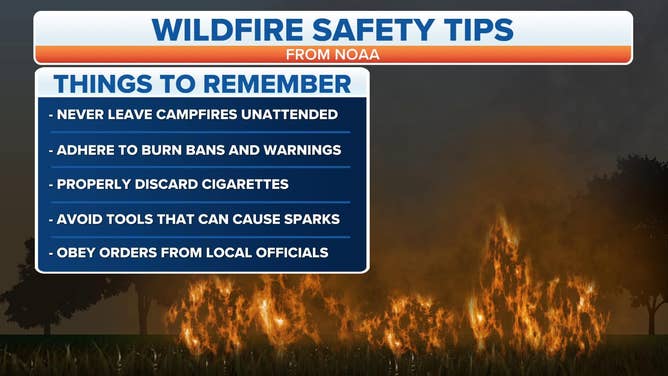 Anyone in an area under a fire weather alert should limit activities that can cause a fire. Never leave campfires unattended, and check with local authorities to find out if any burn bans are in effect.
It's also important to properly dispose of cigarettes and avoid tools that can cause sparks, like chains on trucks, for example.