Rain, rain, go away! Downpours continue to soak Southeast but weekend could offer improvement
Many areas have picked up between 3 and 6 inches of rainfall in the past 7 days, with a few places seeing as much as 8 inches
The relentless rainy pattern across the Southeast will continue for one more day before more typical summer weather returns to the region this weekend.
Widespread showers and thunderstorms are expected Friday, with a mostly cloudy sky providing gloomy conditions even when it's not raining.
Forecast for Friday, July 15, 2022.
(FOX Weather)
---
"That stationary front is going to stay parked over the Southeast," said FOX Weather meteorologist Jane Minar. "If you're south of that front, that's where all those showers and thunderstorms will start to pick up into the afternoon and evening, including South Georgia, Albany, Mobile, Tallahassee and Charleston."
HOW TO WATCH FOX WEATHER ON TV
A stationary front remains draped across the Southeast on Friday, July 15, 2022.
(FOX Weather)
---
Many areas have picked up between 3 and 6 inches of rainfall in the past seven days, with a few places seeing as much as 8 inches, so soils are already saturated and unable to absorb much more rain.
On Thursday night, thunderstorms stalled over parts of North Charleston, Ladson and Summerville in South Carolina, resulting in serious flash flooding in those areas. Doppler radar estimates 6 to 8 inches of rain has fallen in this area over the past day.
7 FACTS YOU SHOULD KNOW ABOUT FLASH FLOODS
Radar-estimated rainfall in the Southeast over the past seven days.
(FOX Weather)
---
With additional heavy downpours likely on Friday, there will be a continued threat of flash flooding across the Southeast. In general, another 1 to 3 inches of rainfall is expected from the eastern Carolinas to the Gulf Coast.
"From Tallahassee to Mobile to New Orleans is where we could see a likely risk for some of that heavier downpour potential where we've already picked up a healthy amount of rain over the last couple of days," Minar said.
CLICK HERE TO GET THE FOX WEATHER UPDATE PODCAST
Flash flood threat on Friday, July 15, 2022.
(FOX Weather)
---
The good news is that the rain has improved drought conditions across the Southeast. As of Thursday, only 13% of the region was in drought, down from 27% last week.
Finally, on Saturday, typical summer weather will return to the Southeast with plenty of sun and just a few isolated afternoon thunderstorms.
WHY IT RAINED WHEN YOUR WEATHER APP SAID THERE WAS ONLY A 20% CHANCE OF PRECIPITATION
"The front will eventually dissipate as we head into the weekend, so hopefully seeing a bit more sunshine for places like Atlanta and Tupelo, but the heat is certainly going to be turned on," Minar said.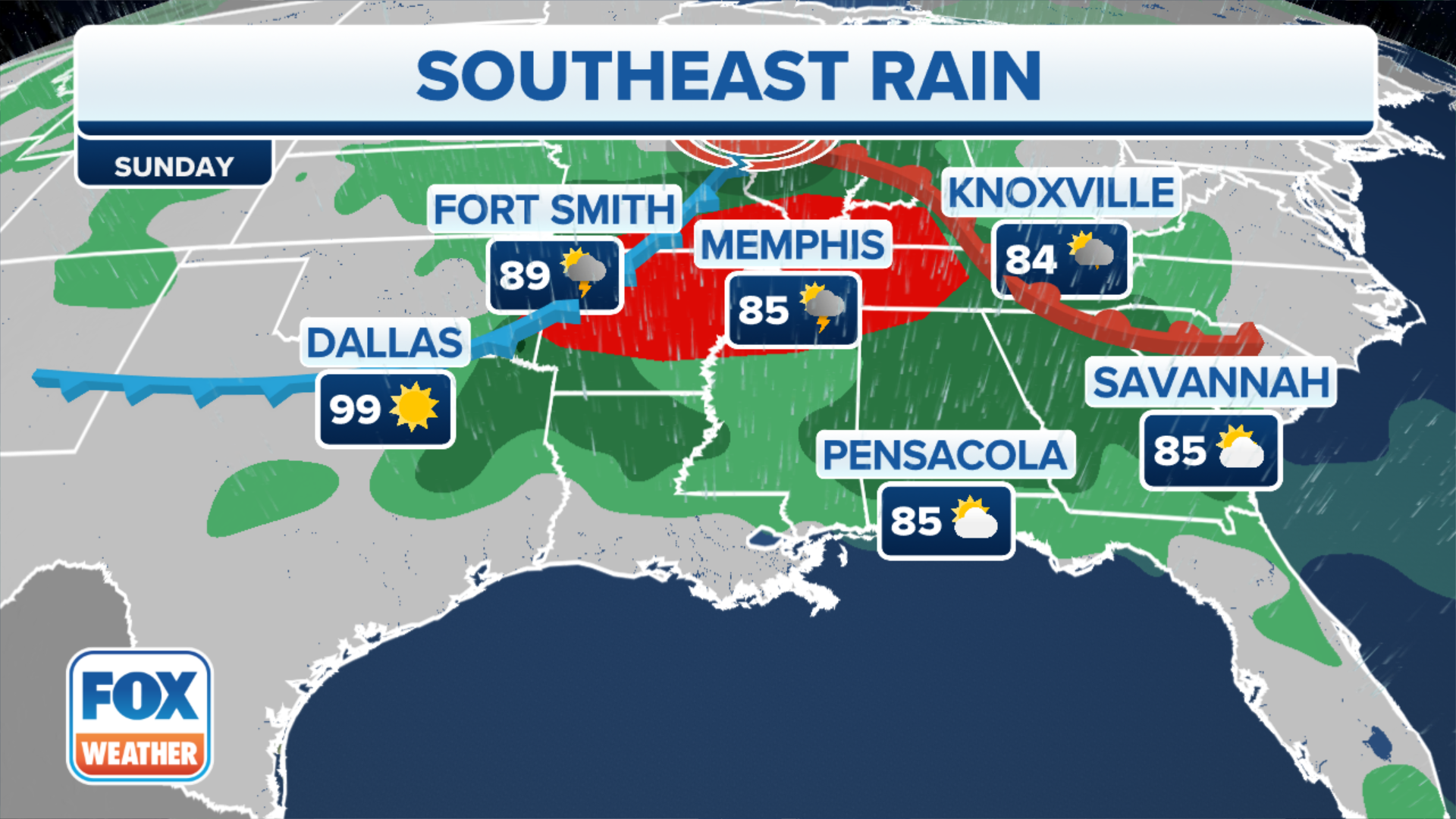 Forecast for Saturday, July 16, 2022.
(FOX Weather)
---
Be sure to download the FOX Weather app to track any showers and storms in your area and receive potentially life-saving weather alerts issued by the National Weather Service. The free FOX Weather livestream is also available 24/7 on the website and app and on your favorite streaming platform. The FOX Weather Update podcast also provides weather information for the entire country.