Southeast, mid-Atlantic to get some relief after days of 90-degree temperatures
Severe weather expected in the mid-Atlantic on Thursday
A cold front sweeping across the eastern half of the country will bring some much-needed relief to parts of the Southeast and mid-Atlantic after days of temperatures above 90 degrees.
As the cold front moves through, strong to severe thunderstorms are possible from the Ohio and Tennessee valleys into the mid-Atlantic.
There's a higher probability of severe weather across the Delmarva Peninsula, Washington, Philadelphia and eastern Virginia. 
HOW TO WATCH FOX WEATHER ON TV
Thursday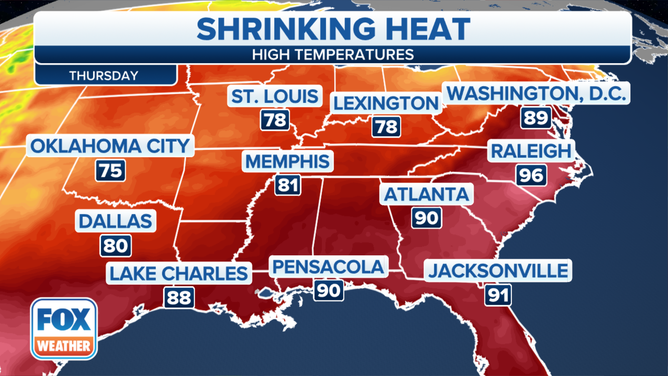 But before those storms roll through and bring the relief, temperatures will again be in the 90s across much of the region.
Washington will be around 89 degrees later this afternoon, but to the south in Raleigh, North Carolina, a high temperature of 96 degrees is expected.
Atlanta and Jacksonville, Florida, will also be around 90 degrees Thursday afternoon.
Cooler temperatures are expected in areas where the front has already moved through.
Lexington, Kentucky, and St. Louis will be around 78 degrees later in the day.
STYLISH VS. PROTECTION: WHAT TO KNOW WHEN CHOOSING YOUR NEXT PAIR OF SUNGLASSES
Friday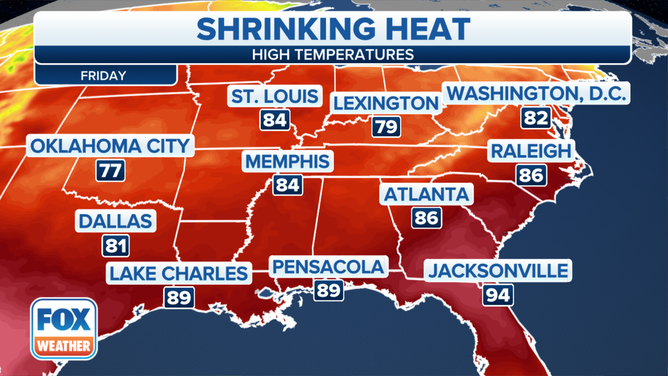 Temperatures will still be on the warm side but much cooler than the past several days.
Washington, which is expected to reach 89 degrees on Thursday, will fall to about 82 degrees on Friday.
The same is true in Raleigh, which will see a high temperate of 10 degrees cooler than Thursday, with a high temperature of only 86 degrees.
Heat will also be building again farther to the west, where St. Louis and Memphis, Tennessee, will see a high temperature of 84 degrees.
FIRESTARTER: LEAVING YOUR WATER BOTTLE IN THE SUNLIGHT CAN HAVE DISASTROUS RESULTS
Saturday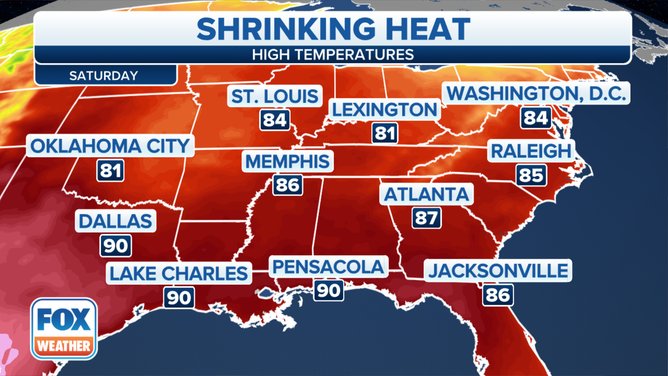 And then on Saturday, the South will be baking once again, with triple-digit temperatures in South Texas. Areas from Dallas to Lake Charles, Louisiana, and the Gulf Coast will be in the 90s.
CLICK HERE TO GET THE FOX WEATHER UPDATE PODCAST
Atlanta will make a run at 90 degrees but should come up short and stay around 87 during the day.
And in Washington, a high temperature of 84 degrees is expected.