South Carolina Hurricane Ian threat: Your questions. Answered.
Tropical cyclones frequently impact North Carolina and South Carolina.
Visit the FOX Weather Wire for live updates on Ian. Click here for the latest forecast, power outages and more.
Hurricane Ian made its final landfall Friday in South Carolina as a Category 1 storm. The storm has produced damaging winds for the Carolinas and significant flooding in coastal and low-lying areas.
HURRICANE IAN TRACKER: PROJECTED PATH, WATCHES AND WARNINGS, STORM SURGE, WINDS, RAINFALL TOTALS AND MORE
Here are questions that were being asked ahead of the arrival of Hurricane Ian:
What was the last hurricane to hit South Carolina?
The Palmetto State sees tropical weather impacts nearly every season but the last hurricane to make a direct landfall was Hurricane Matthew. Matthew made landfall as a Category 1 storm on October 8, 2016, near McClellanville, South Carolina. Surge impacts were greater than a minimal hurricane because the storm was in the process of weakening from a Category 3.
While Matthew only scraped the South Carolina coast, it brought heavy rains to the region and was responsible for 25 deaths, according to the National Hurricane Center. Damage from the storm was estimated at $10.3 billion.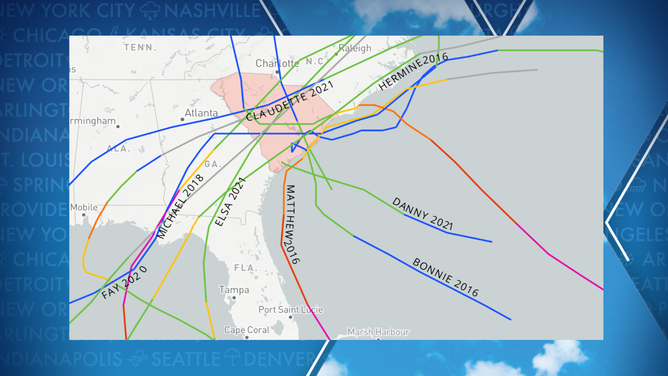 How does Hurricane Ian compare to Tropical Storm Colin earlier in summer?
Tropical Storm Colin was about as weak as you will ever see a named storm. Sustained winds briefly reached 40 mph, but its rainfall was more impressive. Despite being a weak tropical cyclone, Colin produced more than half a foot of rain that quickly flooded some streets in downtown Charleston.
Hurricane Ian was much stronger at landfall. The NHC said winds were near 85 mph when it came ashore near Georgetown, South Carolina just after 2 p.m. Friday. A storm surge of between 4 and 7 feet was forecast, as well as 6-12 inches of rainfall. 
Tracking Ian
(FOX Weather)
---
How often do hurricanes regain their strength after landfalling in Florida?
This process happens more often than one might think. If a storm does not lollygag over land and makes it back over the warm water, the system can restrengthen. An example of a storm landfalling on Florida's West Coast and restrengthening over the Atlantic was Hurricane Wilma in 2005. It made landfall along Florida's Gulf Coast as a Category 3, weakened to a Category 2 and restrengthened to a Category 3 over the Atlantic.
Storms that struck Florida on the East Coast and restrengthened in the Gulf of Mexico include Andrew in 1992 and Katrina in 2005.
How often do hurricanes make several landfalls?
Depending on a hurricane's track, it can make landfall in several states or countries. 
Due to the frictional forces in play and the lack of warm water, land tends to weaken a cyclone, but it can quickly ramp up again once over water if its core is not interrupted.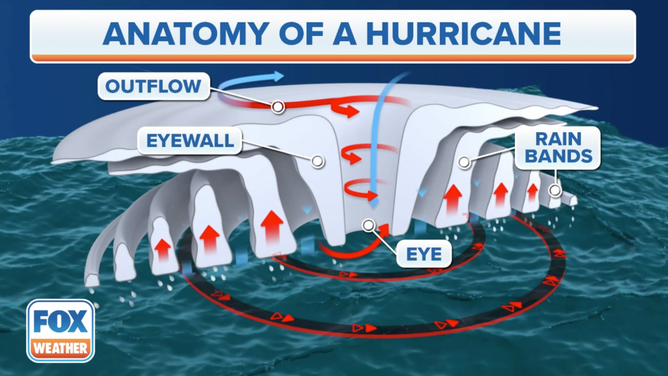 What's the highest storm surge Charleston and nearby Savannah have seen?
Charleston's highest storm surge occurred in 1989 with the landfall of Hurricane Hugo.
A tide gauge in the harbor reported a water level of 12.52 feet. The National Weather Service says when the gauge reaches 8 feet, widespread flooding occurs in downtown Charleston with numerous roads flooded and impassable.
CHARLESTON BREWERY CREATES BEER TO HELP PEOPLE PREPARE FOR HURRICANES
The NWS expects the gauge to reach a level of 8.7 feet around the time of Ian's landfall, which will cause significant issues for Charleston and the Low Country.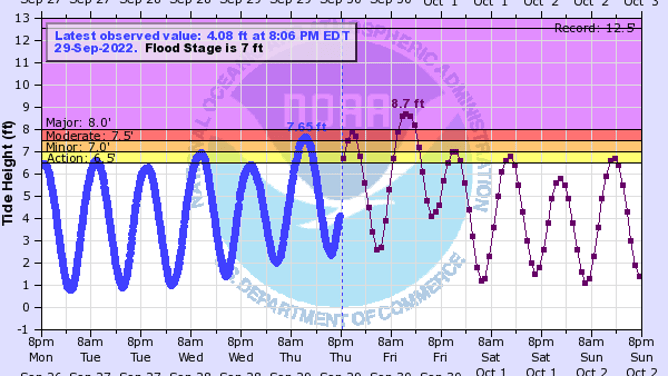 In Georgia, Savannah's highest crest happened during Hurricane Matthew of 2016. The tidal gauge reached 12.56 feet during the storm.
The NWS said they don't expect water levels from Ian to reach Matthew-like levels, but they could be significant. The NWS is forecasting a water height of 10.7 feet along the mouth of the Savannah River.
At 10.5 feet, major coastal flooding occurs. Flooding will likely cause the closure of local roadways, and several coastal communities will be temporarily cut off from the mainland. On Tybee Island, a level over 10 feet has previously led to widespread flooding, with several properties impacted.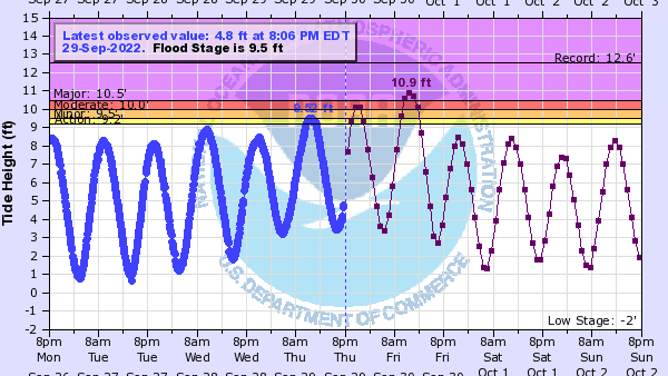 Everyone is talking about Charleston and Savannah; what about impacts from Ian in inland areas of the Carolinas?
The FOX Forecast Center anticipates Ian will pick up forward speed, which will bring rain and wind impacts well inland.
Forecasters are concerned that heavy rainfall will lead to flooding hundreds of miles inland.
Forecast models show inland areas of the Carolinas could get up to 6 inches of rain, which could lead to flash flooding.
Charleston, Columbia, Charlotte, Winston-Salem, Raleigh-Durham and Roanoke are all high-risk zones for flooding from Ian through the weekend.
Expected Rainfall
(FOX Weather)
---
Everywhere you go in Charleston there are signs and plaques dedicated to Hurricane Hugo. Why was Hurricane Hugo so impactful?
Let's be clear, Hurricane Ian is no Hurricane Hugo, but it doesn't take a strong storm to deliver deadly impacts.
Hurricane Hugo holds the record for being the worst natural disaster to strike South Carolina.
The Category 4 storm had maximum winds of 135-140 mph when it made landfall on Sept. 22, 1989.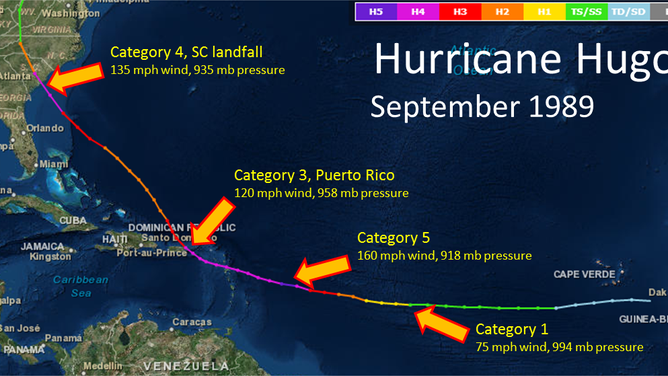 Due to the storm's organization, hurricane-force winds occurred hundreds of miles inland.
The storm's $11 billion in damage would equate to more than $26 billion in today's dollars.
HOW ARE HURRICANES RATED? THE SAFFIR-SIMPSON HURRICANE WIND SCALE EXPLAINED
What is next with the rest of this hurricane season?
The hurricane season is far from over, and there are still two full months left. October is usually the third-busiest month of the season for tropical development.
The Caribbean Sea, Gulf of Mexico and the western Atlantic Ocean are the areas most likely to see tropical cyclone formation.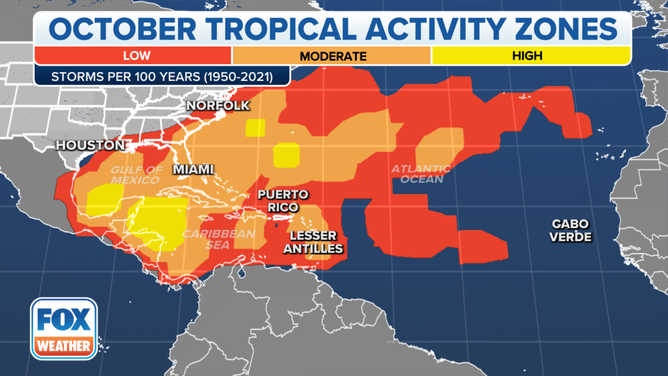 Early indications from forecast models show a continued busy pattern into October. 
The FOX Forecast Center said there are no immediate threats on the horizon, but forecasters are monitoring a tropical disturbance in the eastern Atlantic that has a medium chance to develop during the next several days.
WHERE TROPICAL STORMS AND HURRICANES TYPICALLY OCCUR DURING EACH MONTH OF ATLANTIC HURRICANE SEASON
Tracking the tropics
(FOX Weather)
---