Magnitude 3.4 earthquake awakens Carolinians early Sunday
The South Carolina Emergency Management Division says between 10 to 15 earthquakes are recorded each year in the state.
COLUMBIA, S.C. – Residents across the Carolinas were awaken early Sunday morning by what the United States Geological Survey says was a magnitude 3.4 earthquake centered near Columbia, South Carolina.
Preliminary information indicates the quake was relatively shallow, at only around two miles below the surface, which likely attributed to many people feeling the effects.
Residents from near the South Carolina-Georgia border to Charlotte reported shaking just after 1:30 a.m.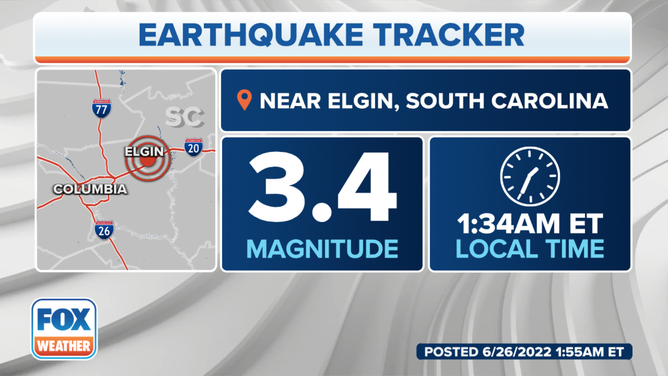 HOW TO WATCH FOX WEATHER ON TV
Some awakened Carolinians took to social media after the quake to describe what they felt.
One resident said the shaking rattled the dishes in her cabinets, and another said her house shook for five to seven seconds.
The USGS initially reported the quake as magnitude 3.2, but after analysis upped the magnitude to a 3.4.

There were no initial reports of damage or any injuries from the shaking.
Earthquakes in the Palmetto State are not a rarity.
South Carolina lies on one of the most seismically active areas on the East Coast and experiences between 10 to 15 quakes each year.
The South Carolina Emergency Management Division says says slightly less than a handful of the events are strong enough to be felt.
Sunday's quake pales in comparison to the 1886 earthquake that seismologists believe was the most damaging earthquake to ever occur in the eastern U.S.
The historic 7.3 magnitude quake was centered near Charleston and damaged more than 2,000 buildings.