Storm system to bring rain, mountain snow to the Northwest
Rain is already falling in Washington, Oregon and California as the first system moves in off the Pacific
The western United States had a brief break from the stormy weather over the weekend, but a duo of new storms are moving in and will bring rain and snow to the region.
NOAA's Storm Prediction Center says there's also the threat of some thunderstorms along the Washington and Oregon coasts.
Another shot of rain and snow arrives Wednesday afternoon with a second storm and continue to produce rain and snow through Friday night. 
HOW TO WATCH FOX WEATHER ON TV
Early-week storm
Rainfall totals over the next two days could range between 1-2 inches along the Pacific coast and in the valleys.
In general, 1 to 2 inches of rain is expected from the Olympic Peninsula in Washington southward through Portland and western Oregon into Northern California.
Some parts of the Oregon coast from Eugene southward through Medford could see the highest rainfall, with 3 to 5 inches expected through Wednesday.
The highest snow totals will be across the highest peaks of the Cascades, Olympics and Rockies through the middle of the week, where over a foot of snow is possible.
The Olympic Mountains could pick up a few feet of fresh snow, while areas of the Cascades from northern Washington through Oregon could pick up about 2 feet of new snow.
Across the Rockies, snow totals should range from a few inches to a foot in some areas.
Mid-week storm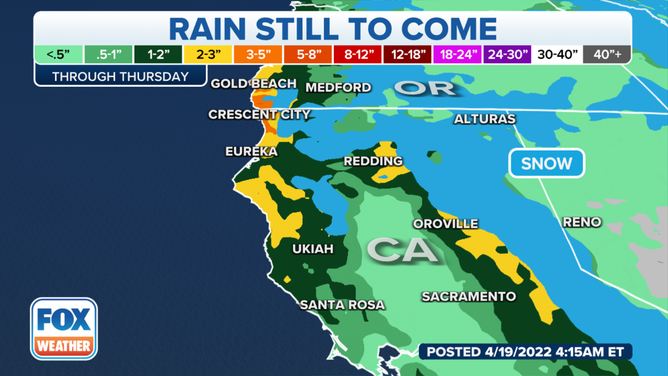 The second cold front clobbers the Pacific Northwest on Wednesday with gusty winds, rain, snow and possible thunderstorms.
Northern California will see areas of heavy rain on Thursday.
Much needed rain
The double system will bring some much-needed precipitation to drought-stricken areas of California which badly needs rain.
San Francisco alone is more than 10 inches below average for rainfall so far this year.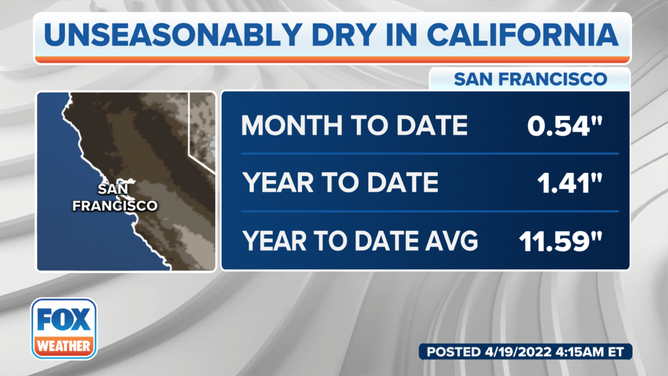 MORE THAN 50% OF US IS IN DROUGHT AS DRY, WARM CONDITIONS CONTINUE AHEAD OF SPRING
Southeastern Oregon is also parched for the season, and NOAA's Drought Monitor puts the area under "severe to extreme drought." Medford, Oregon, so far has only received half the average amount of rain for the year.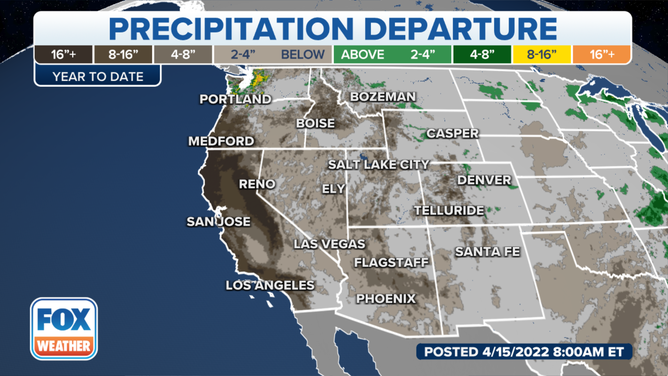 Only Washington shows above-average rainfall for the year on the West Coast.