Smoke from Texas wildfires brings unhealthy air quality to Houston area
Air sensors just north and west of Houston measured thick smoke particulate, giving air quality indices over 150 Friday morning -- levels considered 'unhealthy.'
HOUSTON -- Smoke billowing from the Eastland Complex Fire burning between Fort Worth and Abilene in Texas blew 200 miles into the Houston area Friday morning, turning skies hazy, dropping some ash and bringing unhealthy air quality.
Air sensors just north and west of Houston along the I-610 loop measured thick smoke particulate, giving air quality indices over 150 Friday morning -- levels considered "unhealthy."
MORE: Texas wildfires destroy buildings, send ranchers scrambling to save cattle
Officials advise everyone in the smoky areas to keep outdoor activities light and short with sensitive groups moving all activity indoors until air quality improves.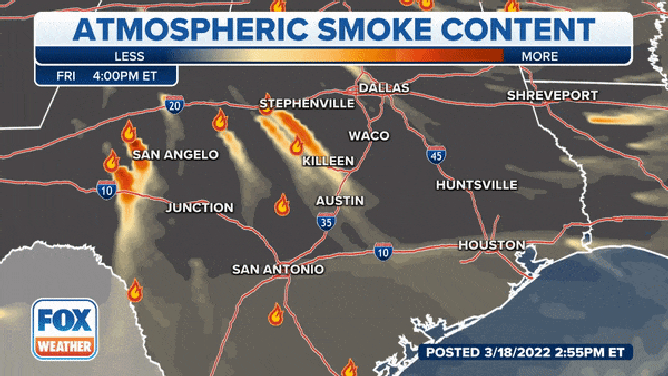 The air was getting enough mixing to stir in cleaner air Friday afternoon, but smoke and deteriorating air quality are to return Friday night as winds calm.
The Eastland Complex Fire has burned over 50,000 acres. The town of Carbon, about 60 miles southeast of Abilene, was among the towns hardest hit by the blazes.