Storm system continues to bring locally heavy rain to Gulf Coast
Rainfall totals upward of 2 to 3 inches are possible in Florida
A low-pressure system that brought rain to Texas and Louisiana on Monday is continuing to skirt the Gulf Coast, allowing the showers to move into Florida on Tuesday.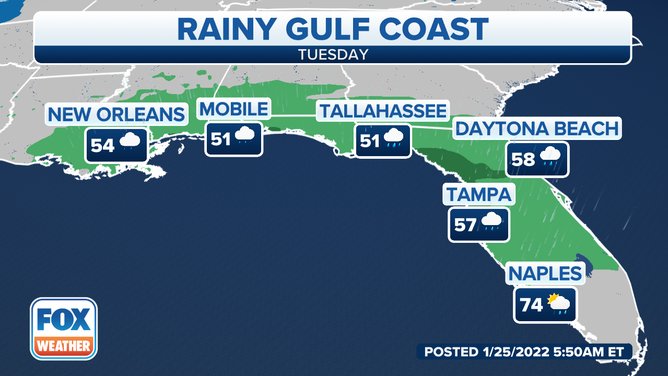 Rain is expected from New Orleans to Naples, Florida, during the day, with temperatures in the 50s.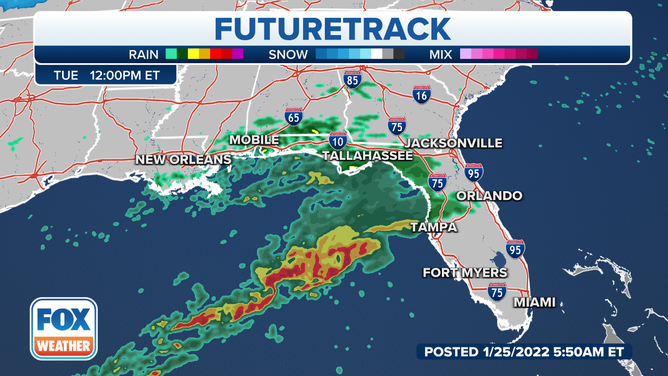 By Tuesday afternoon, the bulk of the heavier rain will remain over the Gulf of Mexico. However, moderate rainfall is expected from Mobile, Alabama, into Tallahassee, Florida, and south into the Tampa Bay area.
The rain will finally come to an end in New Orleans and Mobile by late Tuesday afternoon into the evening. While rain is still possible in Tallahassee and Daytona Beach, Florida, the heaviest rainfall is expected to be in Tampa and areas to the south and east.
Temperatures are expected to drop during the overnight hours, with New Orleans falling to 41 degrees and Mobile falling to 36 degrees.
By 7 p.m. Tuesday, Central Florida will see the heaviest rain from this storm system. Orlando, Tampa and Fort Myers, Florida, seem to be where bands of heavier rain could set up.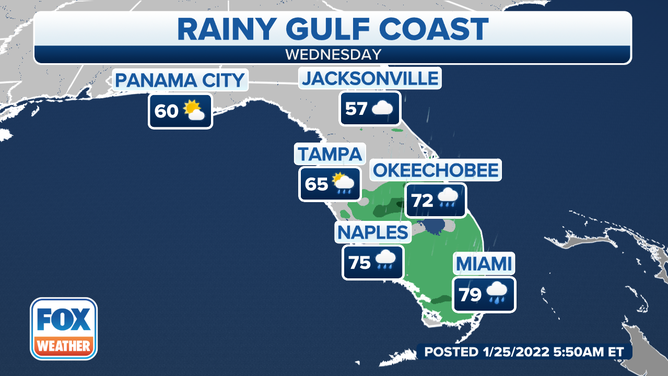 The low-pressure system will begin to move away from the area by Wednesday. However, rain is still expected in Central and South Florida. 
Miami, Naples and Okeechobee, Florida, are all under the gun for the heavier rain. Temperatures are expected to be in the 70s in South Florida, with cooler temperatures in the north and across the Florida Panhandle.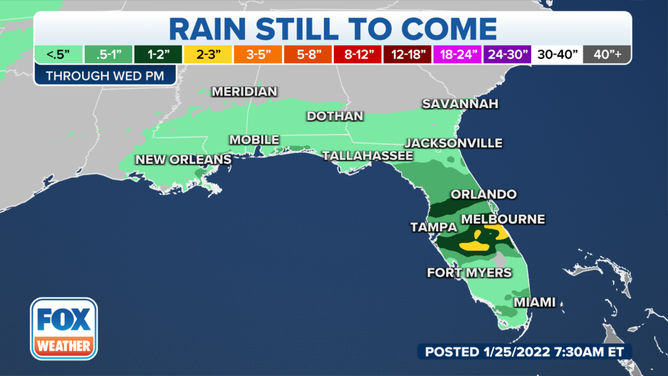 When all is said and done, some parts of Florida could pick up an additional 2 to 3 inches of rain, with some locally higher amounts possible.
Don't forget: You can track the showers and storms by downloading the FOX Weather app and checking out the 3D Radar. Download it by clicking here.