Wind gusts reach nearly 80 mph as line of thunderstorms moves across parts of Northeast
Over 175,000 people were without power in New York, New Jersey and Pennsylvania as of late Monday evening
A line of severe thunderstorms brought damaging winds across parts of New York, New Jersey, Pennsylvania and Maryland Monday evening with some gusts reaching nearly 80 mph, knocking over trees and power lines in several communities in the region.
Over 175,000 people were without power in New York, New Jersey and Pennsylvania as of 10:00 p.m. Eastern time on Monday, according to PowerOutage.us.
That number slowly dropped through the night and into Tuesday as repairs were made and power was restored.
Severe Thunderstorm Warnings had been issued for New York City, and Severe Thunderstorm Watches were in effect until late Monday night as the thunderstorms raced across the Northeast with wind gusts between 60 and 70 mph.
While heavy rain and lightning were reported with the line of storms, the strong winds had the most impact with many spotters reporting downed trees and power lines.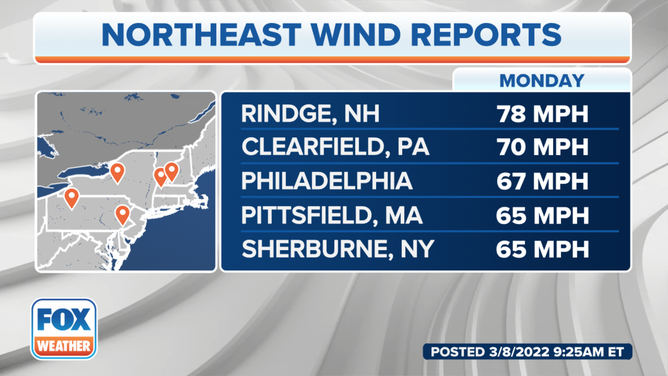 In Pennsylvania, Raven Rock reported a gust of 77 mph, while Clearfield hit 70 mph. Forks Township near Allentown had a gust of 66 mph, while Manheim clocked a gust of 60 mph.
A church near Pittsburgh suffered a partial roof collapse, according to a National Weather Service storm report. Shingles were blown off roofs in Wernersville, numerous trees were toppled in Honesdale, and the winds toppled a basketball hoop in Forks Township.
In Maryland, Cumberland was hit hard with trees and power lines down in many parts of town, NWS spotters reported.
Wind damage was felt across much of central New York with several trees down in the Binghamton area. Trees and wires were down in Stamford, and a window was shattered by the wind in Oneonta. White Plains, in the lower Hudson Valley, hit a gust of 63 mph.
The storms carried their strong winds into eastern Pennsylvania, New Jersey and the New York City tri-state area. Spotters reported a tree into a home in Cedar Grove, New Jersey, as Newark's Airport reported a wind gust of 60 mph. 
Brooklyn College reported a gust to 59 mph, and trees were down into a home in Bay Ridge.  
In total, the NWS received more than 250 reports of wind damage across the Northeast and into New England.
Now as cleanup continues in areas affected by the strong storms and power outages, cold air and snow will be the next weather news.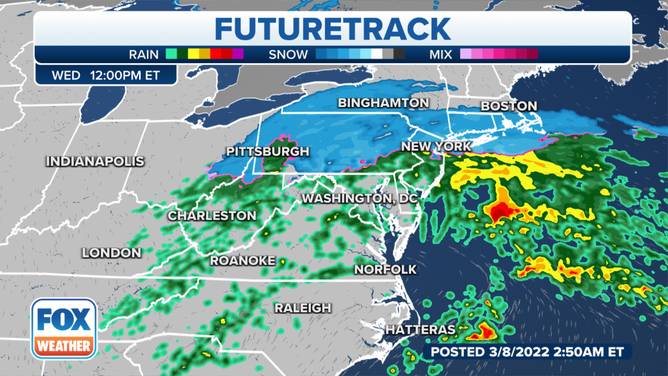 The snow will arrive from south to north early Wednesday morning, first overspreading areas from eastern West Virginia to northwestern Virginia, northern Maryland, central and southern Pennsylvania, northern Delaware and southern New Jersey.
It will expand northward through the day into northern Pennsylvania, northern New Jersey, New York state and New England.