Congressional bill would allow for paid time off during severe weather outbreaks
Legislation is in response to the tornado that struck an Amazon facility in Illinois, killing six workers in December 2021.
WASHINGTON, DC – More than nine months following the deadly tornadoes that struck industrial facilities in Illinois and Kentucky, congressional legislation has been proposed allowing employees to take paid time off to prepare for storms and deal with damage during the aftermath.
The Worker Safety in Climate Disaster Act and the Wind Safety Standard Act were recently introduced by Representative Cori Bush of Missouri, who said she lost two of her constituents in the deadly tornadoes of December 2021.
"The devastating tornado that struck Edwardsville, IL, late last year unnecessarily took the lives of six people working at Amazon, including two of my constituents. Unfortunately, Amazon's failure to protect its workers represents a pattern of corporate malpractice during climate disasters," Congresswoman Bush said in a statement. "That is why I am proud to introduce both the Worker Safety in Climate Disasters Act and Wind Safety Standard Act. These bills will ensure our workers are better protected on the job and can go home safely no matter the climate or weather conditions."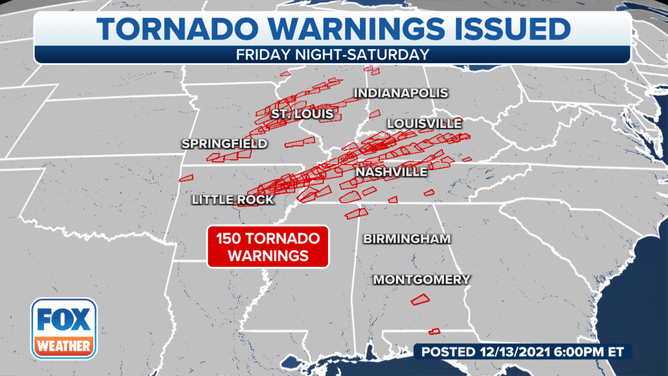 FEDERAL INVESTIGATORS ORDER AMAZON TO REVIEW SEVERE WEATHER PROCEDURES AFTER WORKERS KILLED DURING TORNADO
Under the proposed Worker Safety in Climate Disaster Act, employers would be required to provide paid time off when an employee cannot work due to a disaster and ensure that employees seeking shelter are not punished.
The act said a disaster could be an earthquake, flood, heat event, hurricane, severe blizzard, superstorm, tornado, tsunami, utility failure, volcanic explosion or wildfire.
Labor unions have supported the move and said current minimum standards that are meant to protect workers are not enough to keep employees safe.
Additionally, the congresswoman said she is seeking a federal wind safety standard to be established similar to heat that the Occupational Safety and Health Administration (OSHA) is in charge of enforcing.
DELIVERING HEAT: UPS WORKERS PLAN RALLIES AFTER A SERIES OF HEAT-RELATED INCIDENTS
The Wind Safety Standard Act would require employers to monitor wind conditions and create plans for when speeds reach damaging levels.
The bill considers the threshold of 40 miles per hour to be the stage at which action should be taken unless substantial precautions are in place to protect employees from the wind.
The congresswoman said the bill would impact everyone from wind turbine technicians and window washers to indoor employees who lack substantial shelter.
The National Weather Service said winds of 40-50 mph can do damage, but more widespread events occur when speeds reach at least 58 mph, which is typical during severe thunderstorms, tropical cyclones and tornadoes.
A NWS assessment of the EF-3 tornado that struck the Amazon warehouse in Edwardsville, Illinois, determined that winds topped 155 mph, which triggered the collapse of parts of the facility.
The retailer is the subject of lawsuits claiming there was a lack of storm readiness at the Edwardsville, IL center that led to workers' deaths.
Amazon has maintained the facility met and exceeded government standards.
"This was a new building, less than four years old, built in compliance with all applicable building codes. Severe weather watches are common in this part of the country and, while precautions are taken, are not cause for most businesses to close down," an Amazon spokesperson previously said in response to the legal action.
If either bill is passed by Congress and signed by the president, the U.S. Department of Labor would be in charge of enforcement of the new regulations.