Severe thunderstorms, flooding possible from Southern Plains to southern Ohio Valley this week
3-5 inches of rain could fall across parts of Mississippi through Wednesday
An area of low pressure is then expected to develop near the Texas and Oklahoma panhandles late Monday.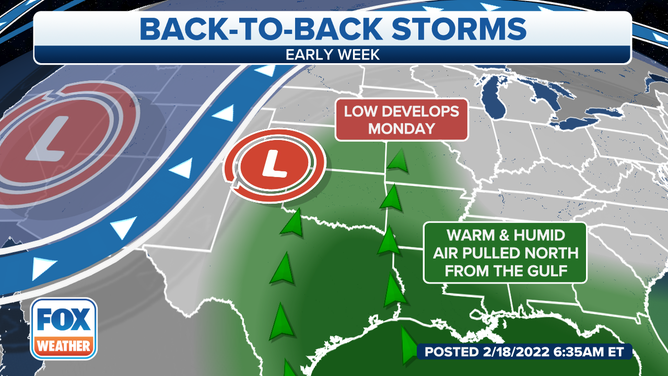 That system will tap into warm, humid air from the Gulf of Mexico, triggering the development of showers and thunderstorms from the South to parts of the Midwest and Northeast through Wednesday.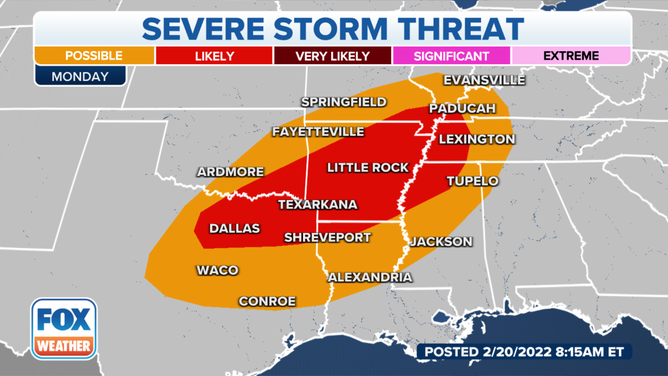 On Monday, the threat of severe thunderstorms will extend from Dallas, Texas, to the northeast through Little Rock, Arkansas, and into western Kentucky.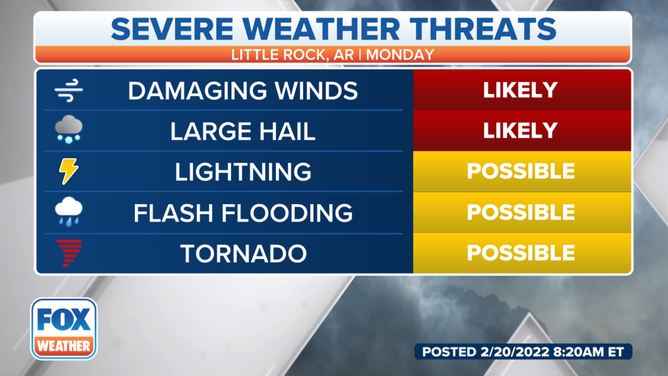 According to forecasters, Little Rock is where the potential for severe weather is highest.
The main threats would be damaging winds and large hail if any storms were to develop. Lightning, flash flooding and an isolated tornado are also concerns from this system.
7 FACTS YOU SHOULD KNOW ABOUT FLASH FLOODING
With the heavy rain expected on Monday, flooding is possible in many areas.
The threat for flash flooding extends from Dallas to the northeast into Paducah, Kentucky.
THE 5-POINT SEVERE THUNDERSTORM RISK CATEGORY EXPLAINED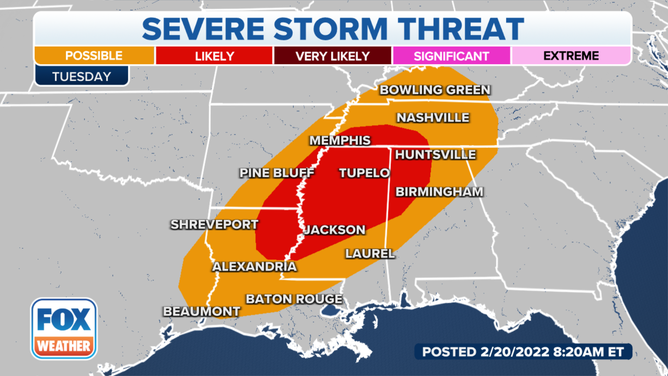 The threat of severe weather and flooding will continue into Tuesday.
The area where severe storms are likely will be from northeastern Louisiana and southeastern Arkansas across northern Mississippi, southwestern Tennessee and northwestern Alabama.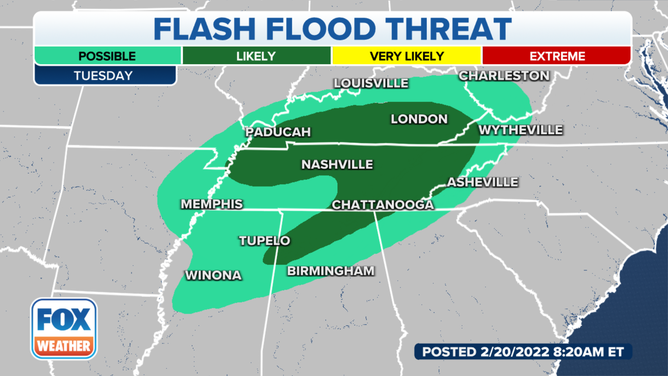 There will be a threat of flash flooding where the heavier showers and storms set up on Tuesday.
Flash flooding is likely in the Ohio and Tennessee valleys on Tuesday, especially in areas from Paducah and London, Kentucky, to the south through Nashville and Chattanooga, Tennessee.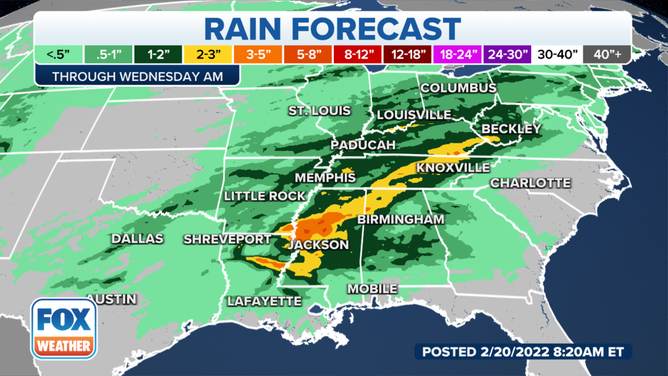 Several inches of rain could fall across parts of the southern U.S. when the system moves out of the region in the middle of the week.
The highest totals appear likely to fall across a large portion of Mississippi, where some areas could pick up between 3-5 inches of rain with some locally higher amounts.