More severe storms possible in Plains, Midwest, South into late week
Damaging winds, large hail and tornadoes are possible
A series of disturbances moving across the country will continue to produce rounds of severe storms through into the workweek with large hail, damaging winds and the threat of a few tornadoes.
Sunday
Texas saw large hail, ping pong to tennis ball sized stones, falling across western portions of the state Sunday. The hailstones smashed  windows and windshields.
The stones exceeded 2.5 inches in diameter. Winds blew up to 80 miles per hour. The Texas Department of Transportation reported that in just hours, a storm dropped 3-4 inches of rain near Abilene.

HOW YOU SHOULD PREPARE FOR A TORNADO
Monday
The same disturbance could spawn additional severe thunderstorms Monday afternoon and evening in parts of North Texas, Oklahoma and south-central and southeastern Kansas. That threat also extends into Missouri and northern Arkansas.
Large hail, damaging wind gusts and a few tornadoes are all possible in these areas.
HERE'S WHERE TORNADOES ARE MOST LIKELY TO OCCUR IN EACH MONTH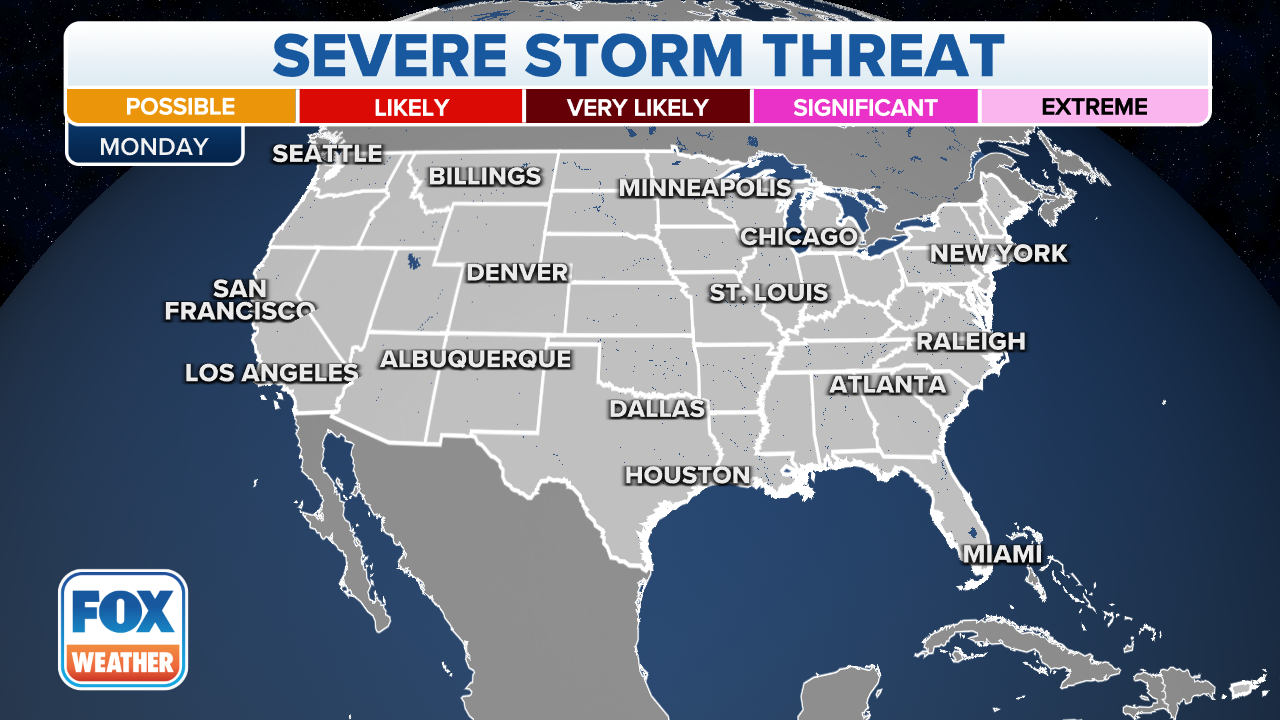 Severe storm threat on Monday, May 2, 2022.
(FOX Weather)
---
Middle of next week
On Tuesday, a cold front will advance eastward across the mid-Mississippi and Ohio valleys and into the central Great Lakes. Isolated severe storms are not ruled out ahead of the front Tuesday afternoon from Lower Michigan southward into parts of the Ohio Valley.
Then, another upper-level disturbance will emerge over the central U.S. by Wednesday.
Scattered severe thunderstorms could develop along and east of a dryline Wednesday afternoon and evening from North Texas northward into Oklahoma and southern Kansas. Large hail, damaging wind gusts and a few tornadoes are all possible in these areas.
WHAT IS A DRYLINE AND WHY IS ITS LOCATION IMPORTANT IN SEVERE WEATHER FORECASTING?
Severe storm threat on Wednesday, May 4, 2022.
(FOX Weather)
---
Check back with FOX Weather for frequent updates as we enter the year's most active month for tornadoes.
And be sure to download the FOX Weather app for the latest forecast and weather alerts for your exact location, plus the 24/7 livestream of America's Weather Team.