Severe storms threaten East Texas, lower Mississippi Valley on Wednesday
On the backside of an arctic cold front, rain may change to snow across the mid-South
Severe thunderstorms will threaten parts of the Gulf Coast on Wednesday as an arctic cold front tracks toward the South.
Moisture from the Gulf of Mexico will be drawn northward out ahead of the front, triggering the development of showers and storms across the South beginning Wednesday.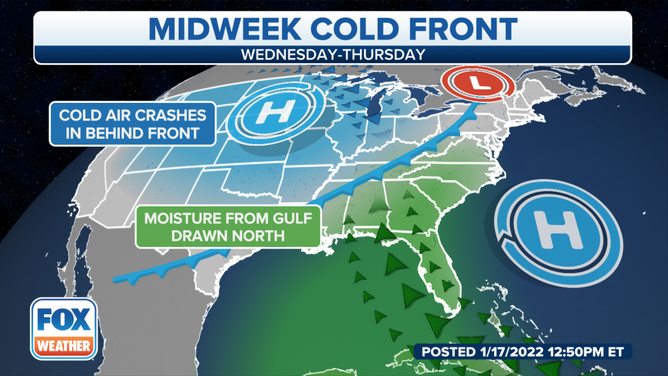 Severe thunderstorms are possible Wednesday afternoon and evening from parts of East Texas into the lower Mississippi Valley, where the greatest amount of instability will be in place.
Large hail, damaging wind gusts and a tornado or two are all potential threats from these storms.
The risk of severe weather will gradually diminish Wednesday night as the storms move across southern Louisiana and Mississippi into Alabama.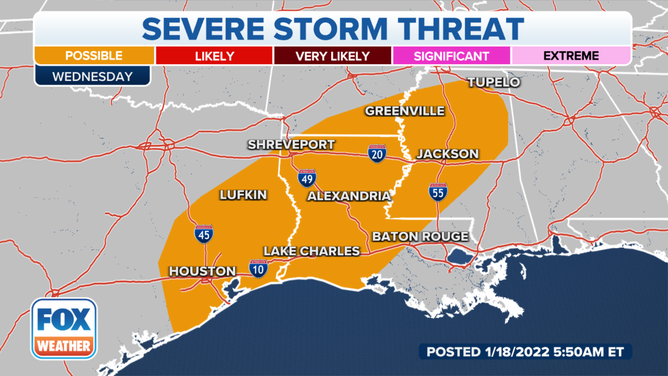 Showers and thunderstorms will continue into Thursday and Friday, though the threat of severe weather is still uncertain.
At this time, it appears portions of Central and South Florida might have the chance of a few severe storms by Friday.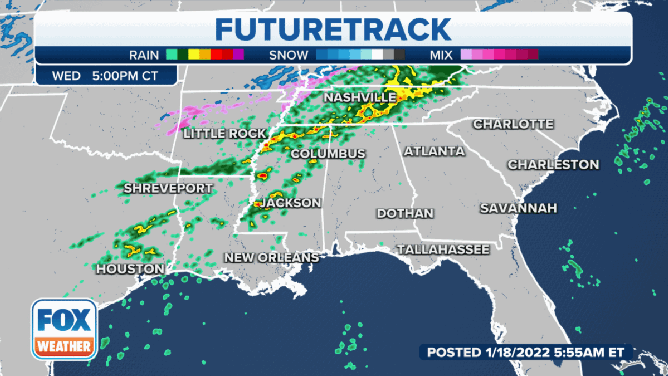 On the backside of the arctic cold front, rain may change to snow across the mid-South as colder air rushes into the region.
WEATHER WHIPLASH IN CENTRAL, SOUTHERN U.S. AS ABOVE-AVERAGE TEMPERATURES PLUMMET
Light snow could develop over parts of the mid-Mississippi Valley starting late Wednesday afternoon. Along the rain/snow line, areas of light rain or freezing rain might develop over parts of the southern Ohio and Tennessee valleys and the lower and mid-Mississippi Valley Wednesday afternoon into Thursday morning.
Overnight Wednesday, the light snow could expand into parts of the Ohio Valley, central Appalachians and mid-Atlantic states. Accumulations will be minimal in most areas, but untreated roads might turn a bit slippery.