Severe storms trigger weather alerts while rolling through Northeast, Ohio Valley on Saturday
Law enforcement reported a tornado touched down near the town Kenton, Ohio on Saturday.
The Northeast was one of several regions across the country impacted by severe weather Saturday, with threats of hail, gusty winds and tornadoes.
The FOX Forecast Center said more than 100 million residents from New England to the Plains faced a heightened risk of storms.
Major cities in the Level 3 out of 5 risk zone on the SPC's thunderstorm risk scale included Pittsburgh and Scranton in Pennsylvania and Youngstown in Ohio. 
Cities under a Level 2 out of 5 risk included New York, Columbus and Cleveland in Ohio, Nashville, Tennessee, and Wichita, Kansas.
NIGHTTIME TORNADOES ARE FAR MORE LIKELY TO TURN DEADLY THAN DAYTIME ONES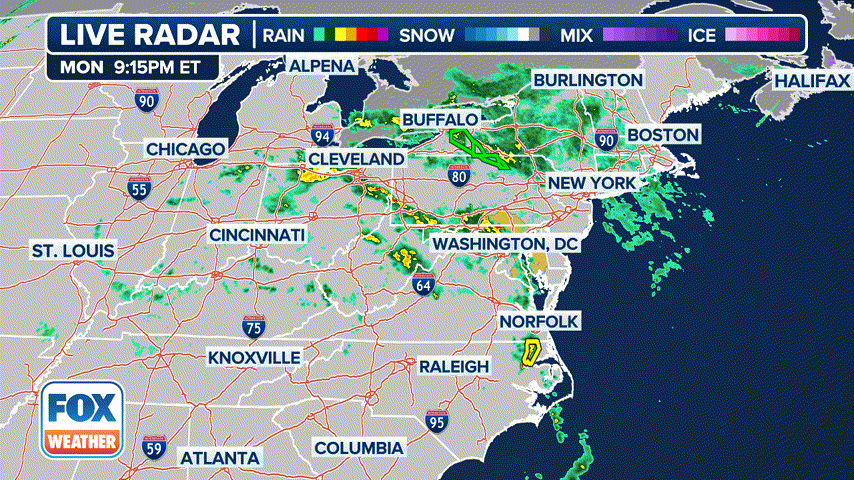 A three-hour radar loop showing where showers and thunderstorms are ongoing. Severe Thunderstorm Warnings are indicated in yellow. Tornado Warnings are indicated in red, while Tornado Warnings with a confirmed tornado are indicated in purple. Flash Flood Warnings are indicated in green, while Flash Flood Emergencies are indicated in pink.
(FOX Weather)
---
Severe Thunderstorm and Tornado watches were issued for more than a dozen states from the Plains to as far north as New York and New Jersey.
New York City was included in the Severe Thunderstorm Watch, which had an expiration time of midnight.
Most of the warnings issued by local National Weather Service offices were for hail and damaging winds, but a number of Tornado Warnings were issued for counties in Ohio. 
Initial damage reports
Several Severe Thunderstorm and Tornado warnings were issued in the Buckeye State on Saturday as the first round of showers and thunderstorms ignited.
Law enforcement confirmed a tornado was spotted moving through communities in Hardin and Marion counties in Central Ohio.
Initial damage reports indicated there was some tree and roof damage in the town of Kenton, and more than 13,000 power outages were reported across the state.
The tornado was likely one of two that impacted communities north of Interstate 70, according to initial reports received by the Storm Prediction Center.

Sunday weather preview
If it seems like we're discussing severe weather daily, you're not wrong. There's no let-up coming for the severe storm threats.
On Sunday, a disturbance will produce severe weather in the central U.S. That threat area shifts east to the Ohio Valley on Monday. 
It continues the soggy summer theme for millions of Americans, where rain and storms have ruined outdoor plans multiple times over the past two and a half months.
A look at the rain forecast over the next 7 days.
(FOX Weather)
---