Severe storms possible for Northern Plains, Northeast Monday
Severe weather is also very likely across the Northern Plains near the Canadian border
A round of summer thunderstorms Monday could end up on the more powerful side across parts of the Northeast with another round of potentially severe thunderstorms likely near the Canadian border in the northern Plains.
A cold front will trigger showers and strong thunderstorms Monday evening across the Northeast, covering some of the region's largest metro areas including Boston, New York City, Philadelphia, Washington, and Baltimore.
And forecasters with NWS's Storm Prediction Center have noted the risk of severe weather is increasing in the northeast.
Monday Severe Weather Threat
(FOX Weather)
---
"We do have an upgrade in our storm threat today," says FOX Weather meteorologist Jane Minar. "We have 'likely' risk now of seeing severe weather from eastern Pennsylvania just to the west of the I-95 corridor, but the Pennsylvania Turnpike, up through North (New) Jersey and into western areas of Connecticut and Massachusetts."
A Severe Thunderstorm Watch is now in effect for this area through 10 p.m. ET. Nearly 40 million people are in the watch, including those in New York City, Philadelphia, Baltimore and Washington.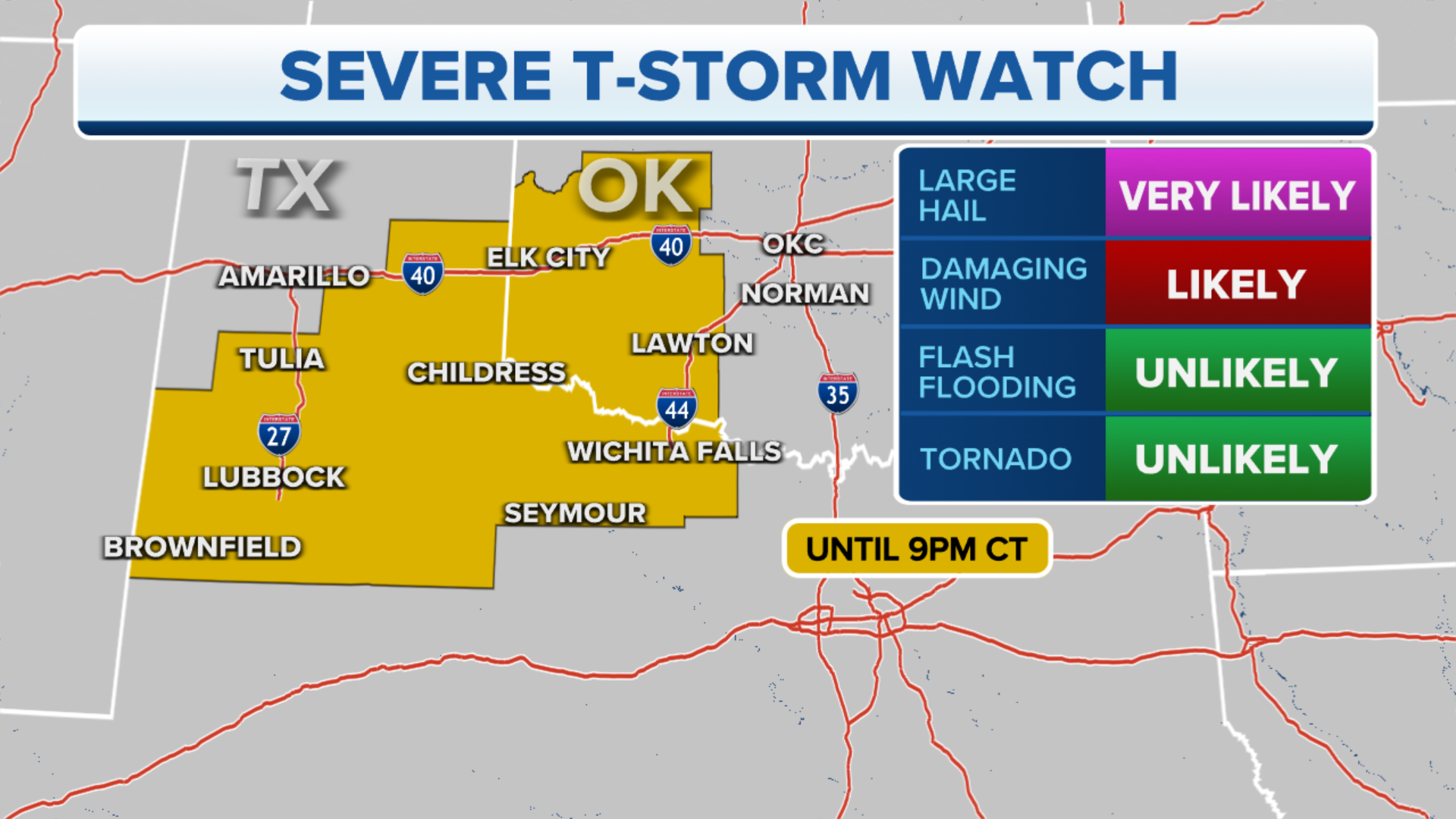 Severe Thunderstorms Watches
(FOX Weather)
---
Some thunderstorms could contain gusts to 70 mph with large hail and more.
"With these storms, there is the potential for an isolated tornado," Minar said. "We have the environment ripened enough to see that potential."
The tornado threat is focused especially along the Poconos, the Catskills and into Hudson Valley late Monday afternoon.
"Those severe thunderstorms start to move in by midafternoon and will take us into the evening commute," Minar said. "And that's going to bring in gusty winds, torrential rain, and also the potential for some hail and that isolated (tornado) threat."
In addition, heavy rainfall Monday morning brings a risk of flash flooding to the Ohio Valley. Flash Flood Watches are in effect for parts of southeastern Ohio, northwestern West Virginia and northeastern Kentucky into Monday morning.
3 Day Rainfall Forecast
(FOX Weather)
---
Severe storms likely in Northern Plains
Meanwhile, a strong cold front pushing east of the Rockies is bringing the greatest threat of severe weather along northern North Dakota and into eastern Montana, with a severe weather risk extending farther east into northern Minnesota, Wisconsin and Michigan's Upper Peninsula, especially later in the day.
"They will be of a scattered nature for a while, but 'small but mighty' is what we always say. You could see storms but your neighbor 5-6 miles up the road may see nothing," says FOX Weather meteorologist Katie Garner. "This is not a washout — this is not like a strict line (of storms) coming through. But it can still be a bit of a mess."
CLICK HERE TO GET THE FOX WEATHER UPDATE PODCAST
Monday Severe Weather Threat
(FOX Weather)
---
A Severe Thunderstorm Watch has been issued for central and eastern Montana until 8 p.m. Mountain.
Severe Thunderstorm Watch issued for parts of Montana on July 18, 2022.
(FOX Weather)
---
Damaging winds gusting over 60 mph and hail of 1 inch in diameter remains the greatest threat, though Minot and Williston, North Dakota have a chance of wind gusts exceeding 70 mph with hail over 2 inches. An isolated tornado can't be ruled out either.
Winds will remain strong behind the front with sustained winds of 40 mph likely across southwestern and central Montana, with potential gusts to 70 mph.
Tuesday
The risk for severe weather shifts from the Northern Plains into the Upper Midwest and western Great Lakes on Tuesday with northern Minnesota, Michigan's Upper Peninsula and much Wisconsin in the severe weather threat. That includes Green Bay, Duluth, Milwaukee, Madison and Minneapolis.
3 Day Rainfall Forecast
(FOX Weather)
---
Once again, the primary threat is for wind gusts over 60 mph with hail larger than 1 inch. An isolated tornado remains a possibility.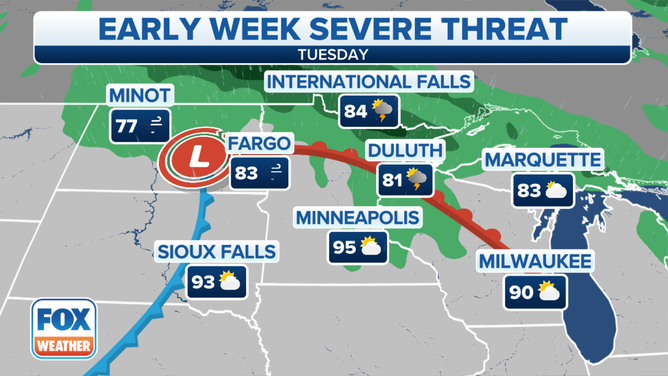 Be sure to download the FOX Weather app to track any storms in your area and receive potentially life-saving weather alerts issued by the National Weather Service. The free FOX Weather livestream is also available 24/7 on the website and app and on your favorite streaming platform. The FOX Weather Update podcast also provides weather information for the entire country.