Severe storms likely to erupt in Plains on Tuesday
Large hail, damaging winds and isolated tornadoes are possible from Texas to Nebraska on Tuesday.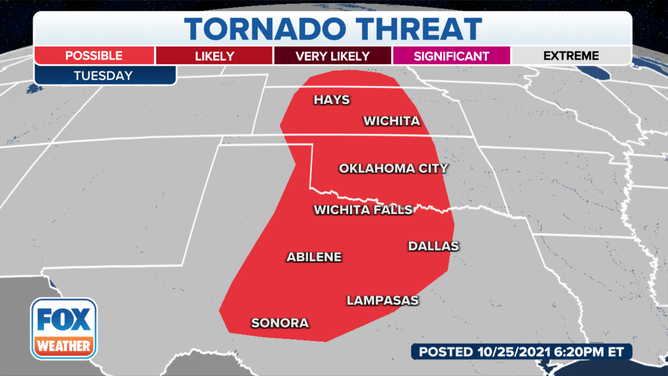 The weather pattern that has hammered the West Coast is headed eastward, and so is the chance for severe weather.

Areas from Texas to Kansas are under an enhanced severe weather threat on Tuesday because of the risk of large hail, damaging winds and even tornadoes.
Meteorologists expect the storms to start developing during the evening hours, ahead of a cold front, and last well into Wednesday morning. 

The most significant threats will be hail and damaging winds, but a few tornadic supercells will be possible, especially west of I-35.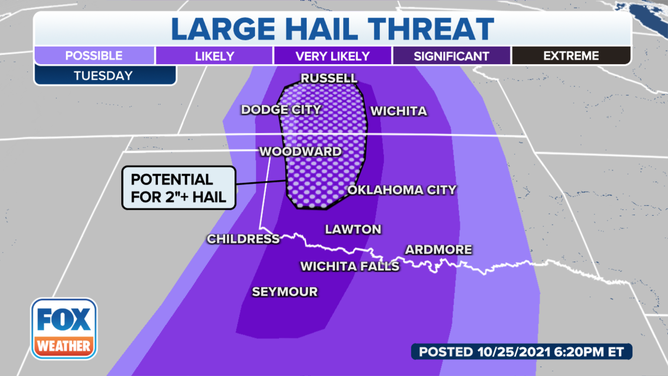 FALL IS THE SECOND SEVERE WEATHER SEASON
Meteorologists say the storms could also produce heavy rainfall, especially during the overnight hours. Some areas along the Texas-Oklahoma border could end with two to three inches of rain, with isolated spots possibly receiving more.
On Wednesday, the risk of severe storms shifts eastward to the Gulf Coast. Damaging wind gusts and isolated tornadoes are the main threats in this region Wednesday into Wednesday night.