Severe storms and record heat likely across the Dakotas Monday
Record heat and severe weather again target the northern Plains to start the work week.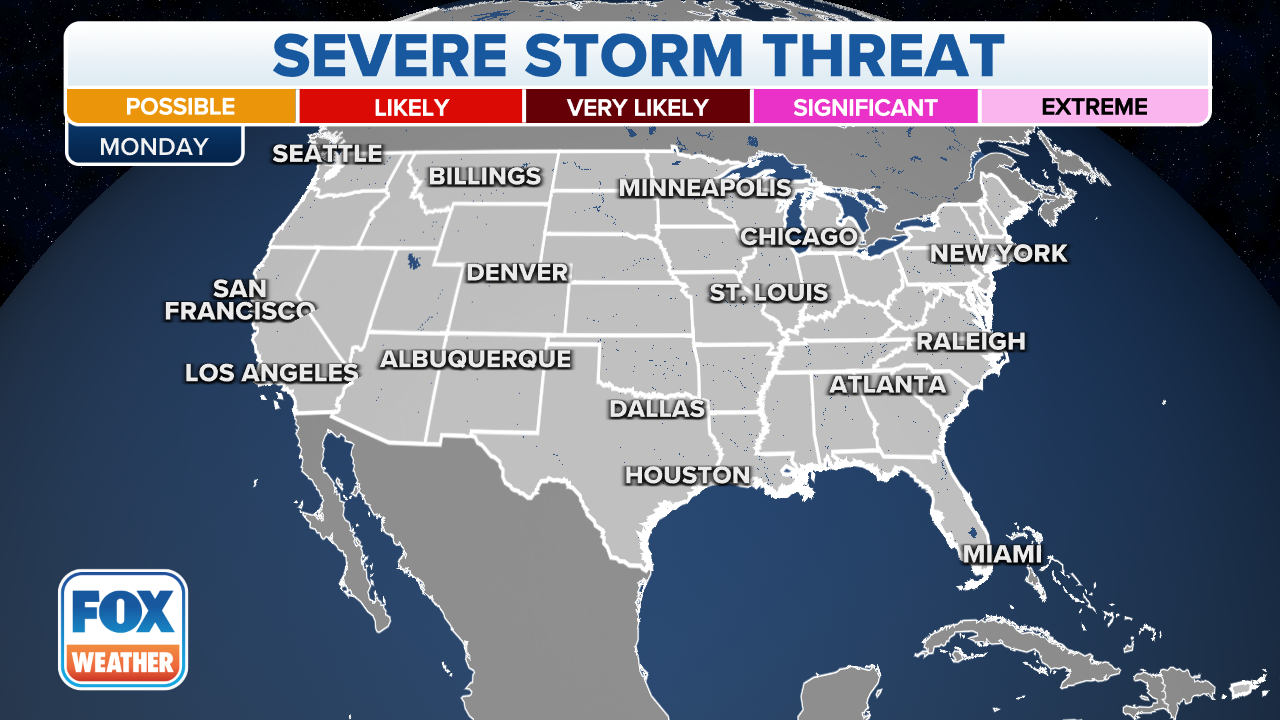 Monday's severe threat.
(FOX Weather)
---
Severe storms are likely across the Dakotas on Monday. The Storm Prediction Center forecasts a risk from eastern Montana, across the Dakotas, into northeastern Minnesota and to northern Nebraska.
THE 5-POINT SEVERE THUNDERSTORM RISK CATEGORY SCALE EXPLAINED
The biggest threats will be large hail and damaging winds in the afternoon. Tornadoes are not likely, but an isolated twister is possible.
Large hail is likely across the western Dakotas on Monday.
(FOX Weather)
---
Thunderstorms with damaging lightning will create downdrafts that could cause wind damage.
Damaging winds likely across the Dakotas on Monday.
(FOX Weather)
---
Flooding rain within strong thunderstorm cells can also mean isolated flooding to low-lying areas.  
ADVICE FOR DEALING WITH STORM ANXIETY WHEN SEVERE WEATHER THREATENS
More heat
The National Weather Service issued Heat Advisories and Excessive Heat Warnings for the same areas in to Tuesday morning.
Heat advisories
(FOX Weather)
---
North Dakota, South Dakota, Nebraska and Minnesota will see temperatures in the 90s and 100s again. As the heat collides with the cool air across the northern Rockies and Northwest, thunderstorms will rumble.
FOX Weather will keep a close eye on at least 10 cities on Monday that will flirt with record highs.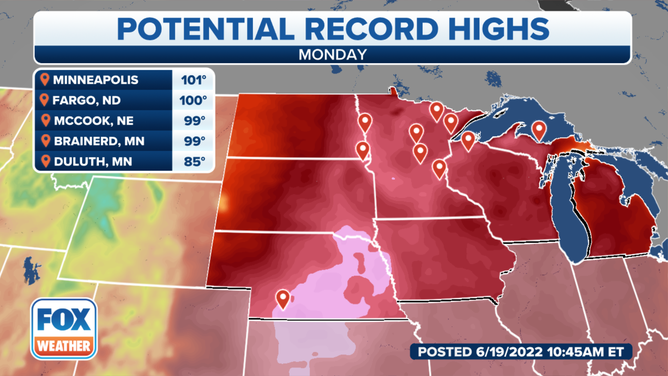 Take a look at the forecast which includes 102 degrees in Minneapolis and 100 in Fargo, North Dakota.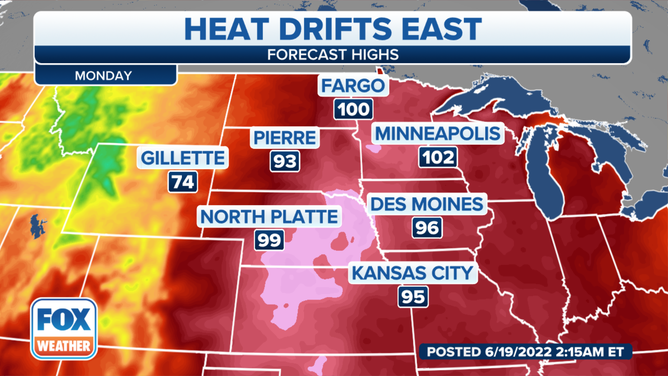 The intense heat heads for Chicago and Saint Louis on Tuesday, giving the Dakotas a much-needed break.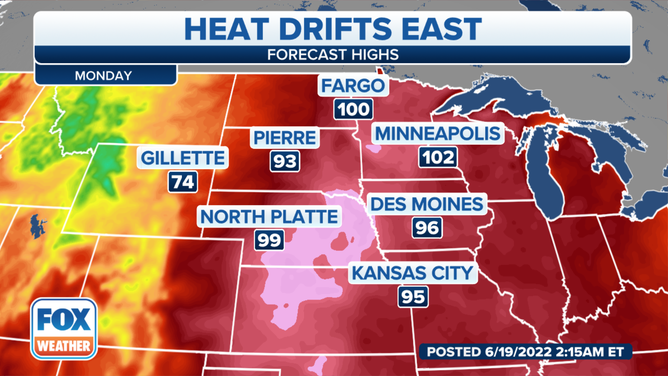 The chance for severe storms drops to possible for Tuesday. Southern Iowas and northern Missouri could see thunderstorms.
Tuesday's severe threat.
(FOX Weather)
---
Track the temperatures and storms in your area with the FOX Weather app. The free FOX Weather livestream is also available 24/7 on the website and app and on your favorite streaming platform. The FOX Weather Update podcast also provides weather information for the entire country.