Hurricane-force winds, over 100k power outages reported as storms pound South, mid-Atlantic
The threat for severe thunderstorms clings to the coast until early Wednesday morning.
Heavy rain, hail and damaging winds walloped much of the Eastern Seaboard again on Tuesday after a first round on Monday. 
Golf ball-size hail fell in Georgia and North Carolina. Columbia, South Carolina, reported an 87-mph wind gust, the equivalent of a Category 1 hurricane. Mountain areas of North Carolina saw rain falling at a rate of 3-5 inches an hour.
The strong winds knocked out power to more than 100,000 just in North Carolina Tuesday evening. 
Current power outages across the country. 
(FOX Weather)
---
"Strongest storm I've ever experienced here in Chapel Hill," one person wrote on Twitter. "Complete whiteout conditions. Got the adrenaline pumping for sure."
Listen to the wind and rain. He said that branches and power lines littered the streets.
TOURISTS GETTING TRAPPED AFTER WANDERING ONTO REMOTE NORTH CAROLINA ISLAND, RANGERS SAY
A threatening shelf cloud hung over Wake Forest, North Carolina. 
"What a storm coming into Wake Forest, NC," wrote someone on social media.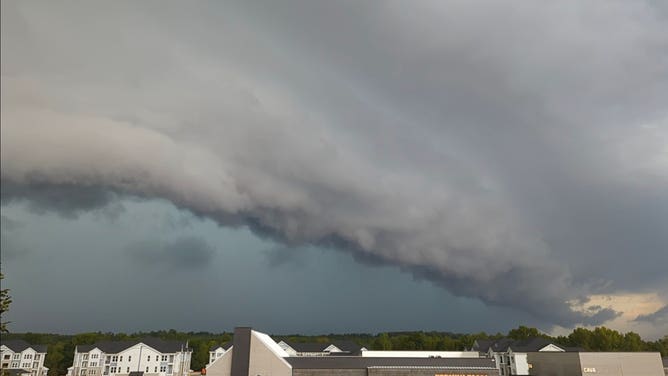 The NWS collected dozens of storm reports. Lightning set fire to a Florida home. The wind blew a transformer onto a home in North Carolina. Gusts tore a roof off a mobile home in North Carolinaas well.
Downed trees blocked roads and took out power from Florida to the Carolinas. One tree came down on a mail truck in Georgia. A man in South Carolina reported that winds bent his flagpole in half. Two people were injured in the Palmetto state after a tree fell on their car.

The threat for severe thunderstorms lingers until the early hours of Wednesday morning as a slow-moving cold front slides across the eastern third of the country.
INTENSE SUMMER THUNDERSTORMS SOAK FLORIDA, GIVE MILLIONS BRIEF BREAK FROM EXTREME HEAT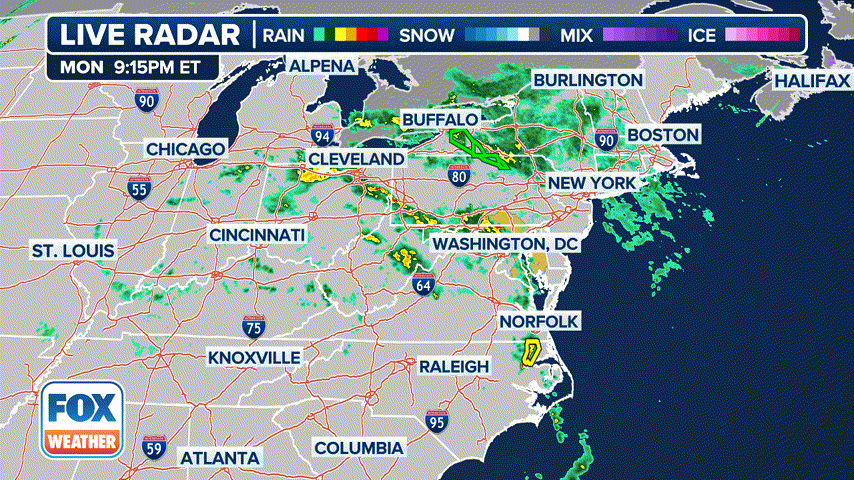 A three-hour radar loop showing where showers and thunderstorms are ongoing. Severe Thunderstorm Warnings are indicated in yellow. Tornado Warnings are indicated in red, while Tornado Warnings with a confirmed tornado are indicated in purple. Flash Flood Warnings are indicated in green, while Flash Flood Emergencies are indicated in pink.
(FOX Weather)
---
Second round of severe in two days
On Monday, heavy rain flooded the streets of Washington and Alexandria, Virginia. Swollen creeks took out roads in Tennessee.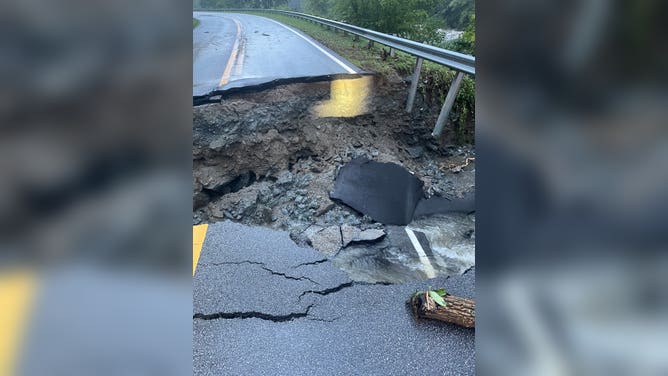 Officials said multiple dogs died from flash flooding at a doggy daycare in D.C. after severe storms produced flash flooding. Six feet of water was said to have filled the area, where crews worked to pull those stuck inside their cars and businesses.
Wednesday's severe weather forecast
The East Coast can take a breather after two days of strong and severe storms. The FOX Forecast Center expects the most damaging storms in the Midwest on Wednesday.
A look at the severe storm threat for Wednesday.
(FOX Weather)
---