Uprooted trees, crushed buildings left behind from severe storms that tore across the Carolinas and Texas
Take a look at the photos of the destruction that left almost 33,000 in the dark
Severe storms from Texas to the Carolinas damaged homes and left thousands without power throughout the afternoon and evening hours on Monday.
In South Carolina, an EF-1 tornado touched down in Chesnee, ripping roofs from homes and destroying buildings.

Emergency crews urged residents to keep clear of the area due to the excess damage within the city.
Large trees were uprooted and snapped in half along county roads.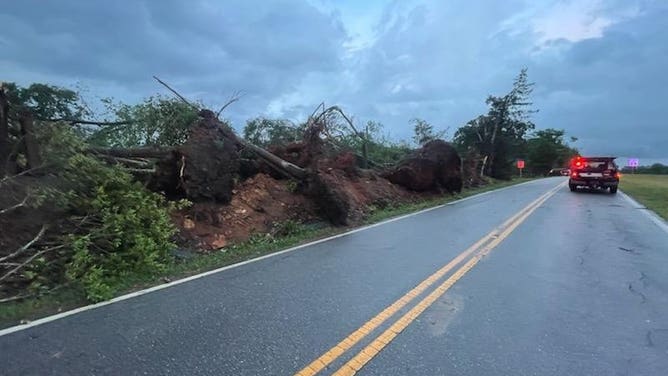 The National Weather Service confirmed the tornado in Spartanburg County, saying it had max winds of 110 mph. 
As storms moved into North Carolina, residents filmed ominous clouds floating over Union County neighborhoods.
Severe storms from the early afternoon put trees through homes and downed power lines outside Charlotte.
As of late evening, there were still 15,000 without power in The Tar Heel State, according to poweroutages.us.
A large, dusty tornado was spotted in the Texas Panhandle late in the evening and a funnel cloud was even spotted in New Orleans.
Storms are expected across the South and Southeast again on Tuesday, bringing flash flooding threats to drought-stricken states.