Severe threat shifts to the North Carolina, South Carolina coast on Sunday
After a busy morning in Florida, the severe threat shifts to the coastal region of North Carolina and South Carolina.
A powerful winter storm system continues to move north along the East Coast, bringing wintry weather and the chance for severe weather.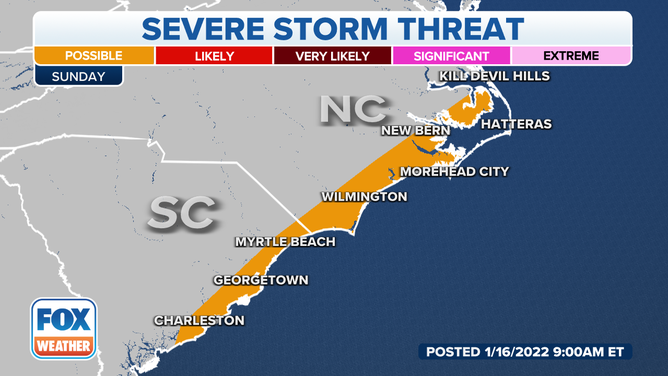 Once the showers move out of the North Carolina and South Carolina coast, ingredients for severe weather may be present for severe weather development. 
The Storm Prediction Center says more probable convective development is expected just off the coast and this may graze any narrow warm sector on land with some risk for a tornado or two and isolated damaging winds.
The same system brought tornadoes to Florida Sunday morning, causing damage in parts of Fort Myers and Naples. 
Download the FOX Weather app to track the storms on 3D radar.