Ross Fork Fire prompts evacuations on Idaho reservation
Bright orange flames could be seen from the Fort Hall Reservation as thunderstorms brought 20- to 40-mph wind gusts to the fire area, prompting more wildfire growth.
POCATELLO, Idaho – Gusty winds fueled wildfire growth in Idaho late Tuesday, prompting evacuations on the Fort Hall Reservation, according to the National Weather Service.
The Ross Fork Fire started Tuesday evening northeast of Pocatello, east of Interstate 15. Forecasters with the NWS office in Pocatello could spot the smoke from miles away. Several hours later, the fire had grown from 50 to 100 acres, sending smoke throughout the area.
HOW TO WATCH FOX WEATHER ON TV
Overnight, the bright orange flames near the Fort Hall Reservation continued to grow as thunderstorms moving in from Nevada brought 20- to 40-mph wind gusts to the fire area, according to the NWS.
Evacuations started early Wednesday morning on the Fort Hall Reservation of the Shoshone-Bannock Tribes. 
According to the Tribal Office of Emergency Management, the Ross Fork Fire is controlled and burned roughly 2,500 acres.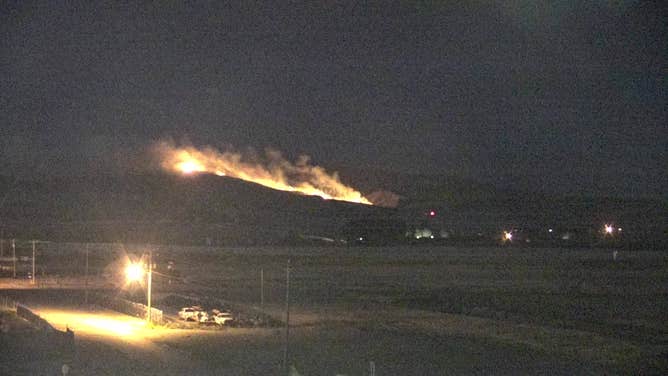 Fort Hall Fire officials reported the wildfire fire had moved away from structures on the reservation Wednesday morning.  
Around 5 a.m. Mountain time Wednesday, a secondary fire broke out near the Pocatello Airport and Interstate 86. Fire crews were also responding to that blaze.
Residents were evacuated to the Shoshone-Bannock Hotel and will hopefully be able to return home later on Wednesday, according to tribal officials. 
WHAT SHOULD BE IN YOUR EVACUATION 'GO' BAG DURING WILDFIRE SEASON
Multiple agencies are responding to the fires, including Fort Hall and North Bannock fire departments. 
Monsoon rains are forecast for the wildfire area on Wednesday, which could help firefighting efforts. However, more gusty winds associated with thunderstorms are also a concern for wildfire growth.