Red tide along some Florida beaches prompts warnings to stay away from the water
NOAA put out a warning to some Florida beachgoers that the forecast calls for a "high risk of respiratory irritation from red tide" over the next 36 hours. These were the same beaches punished by Hurricane Ian.
SANIBEL, Fla. – NOAA scientists have warned people to stay away from the water at certain Florida beaches for the next couple of days, saying there is a "high risk" of respiratory irritation from red tide.
"If you are starting in the parking lot, when you hit the dune crest going over to the beach at a place that has a risk, you're likely to be coughing at that point," explained NOAA oceanographer Rick Stumpf. "I can be quite miserable at the beach. If you have asthma, it could be worse, significantly worse."
Stumpf said that he feels like he has a cold when exposed to red tide. His nose runs, and his sinuses bother him. After leaving the beach and sitting in his car with the air conditioner running for a few minutes, the symptoms subside. Anyone with a respiratory illness could suffer worse.
He and his team put out a warning for several beaches on Sanibel Island in Southwest Florida. The scientists track near-shore red tide concentrations along with wind strength and direction to forecast dangerous areas.
A few other beaches in Sarasota County have a moderate risk.
"Where there's a lot of red tide, I wouldn't recommend swimming in the water," Stumpf said. "Mostly because you will come out of it miserable, and you certainly don't want to swallow the stuff, but in general, it's the respiratory irritation problem."
Humans can get sick after eating fish or shellfish from red tide areas, red tide researcher Tracy Fanara previously told FOX Weather.
SAVING MANATEES FROM COLD WATER SHOCK AND RED TIDE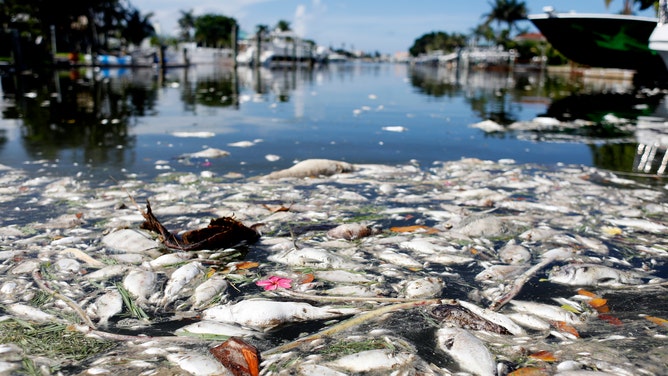 Red tide or Karinia brevis naturally occurs in the Gulf of Mexico. It grows or blooms in the summer, and then fall winds blow the bloom to the coast, Stumpf said. This season's bloom is spotty, so not every beach has high levels of the organism.
"This is kind of the last part of a bloom that started up in the fall, and so we're seeing, what I hope is the tail end of this," Stumpf said.
Choppy surf, waves, wind and strong currents break up the fragile organisms. That releases a toxin into the air – an aerosol irritant. The Gulf species is the only red tide in the U.S. that has the toxin. 
Florida just hasn't seen enough strong winter weather to clear the bloom out, according to Stumpf.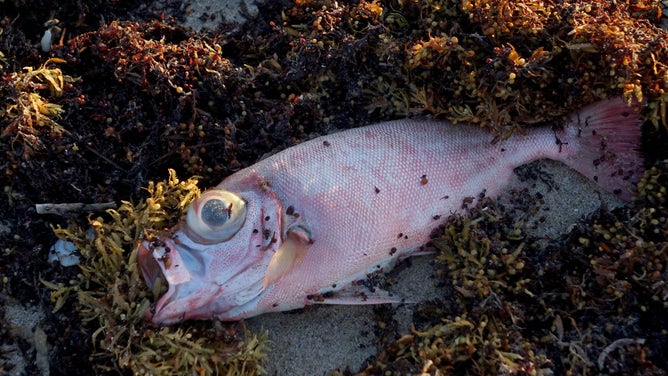 "Typically, when we get into late December or January, we get the big systems coming down from the north and good strong north winds," he said. "Those tend to push them south and down and away from the Florida coast and have it go out through the Florida Straits. This year, there's been very little, all through the month of January, very little of that."
The bloom is basically anchored to the coast. Gulf currents and onshore winds bring it to the beaches. Spring breakers should hope for a few good storms to clear out the harmful algae bloom before vacation.
HOW TO WATCH FOX WEATHER ON TV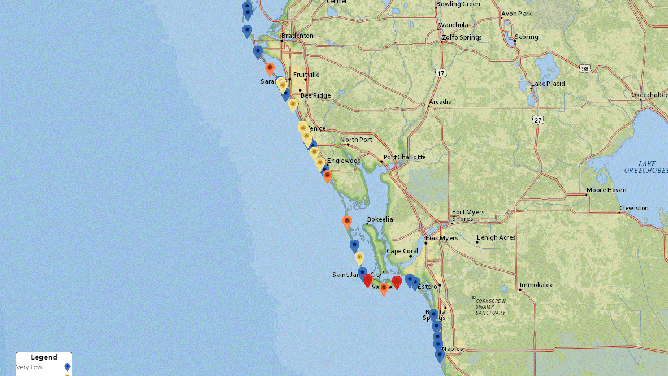 "Hopefully, we will get a couple of those last fronts in February and early March that will finally get it out of here," Stumpf said.
Red tide fears spiked after Hurricane Ian
This is the same part of Florida devastated by Hurricane Ian in September. Stumpf said that red tide blooms occur even without hurricanes, but some of the nutrients washed into the water from the land could have "helped it along a little bit."
"Any time we get a regular storm event, we have all of this nutrient loading from fertilizer or herbicides or wastewater overflows," Fanara, an environmental engineer and author of red tide research, told FOX Weather after Hurricane Ian.
HARMFUL RED TIDE EMERGES ALONG FLORIDA COASTLINE AFTER HURRICANES IAN AND NICOLE
Florida's Gulf Coast suffered a massive red tide bloom after Hurricane Irma in 2017 as well. Fanara suggests upwelling – deep Gulf water rich in the algae coming to the surface – played a role. 
From late 2017 to early 2019, almost 600 sea turtles, more than 200 manatees and more than 200 dolphins were killed, according to a Mote Marine Laboratory and Aquarium report.
"In 2018, during the Florida water crisis when two toxic algal blooms plagued our coastal communities, I heard symptoms I never had heard before," Fanara said. "At those high concentrations, I was told of nausea, GI issues, headaches and longer-lasting symptoms."
Keep track of red tide
To monitor NOAA red tide advisories, look at NOAA's harmful algae bloom forecast maps. Fanara also recommended checking out visitbeaches.org. Data is updated twice a day and provides beach conditions, including dead fish and respiratory irritation.