'Informal review' to be conducted after flurry of Tornado Warnings issued in Arkansas but no tornadoes
Several tornado warnings and tornado emergencies were issued late Friday
LITTLE ROCK, Ark. – Despite the issuance of warnings and Tornado Emergencies alerting of potentially "catastrophic" damage on Friday in northeastern Arkansas, National Weather Service meteorologists now believe a tornado never formed, triggering what could be an intensive review of how forecasters got the situation happening on the ground so wrong.
The system that kicked off the storms was a well-forecasted event that meteorologists warned had the potential of turning severe with large hail and damaging winds being the main threat, but on Friday, at least one of the cells had rotation, a sign a tornado could be forming.
The team of meteorologists at the NWS Office in Little Rock, Arkansas, issued their first Tornado Warning at 6:49 P.M. CDT for what was labeled at the time as "radar indicated rotation" over Fulton County.
Issuing a Tornado Warning based on radar data is a common practice amongst NWS offices and helps saves lives and protect property by getting timely warnings out to those in the storm's threat zone.
Several of these warnings were issued as Friday's storm moved southeastward through the state, but around 7:45 P.M. CDT, NWS meteorologists increased the seriousness of the alerts because of the information they were getting from storm spotters on the ground.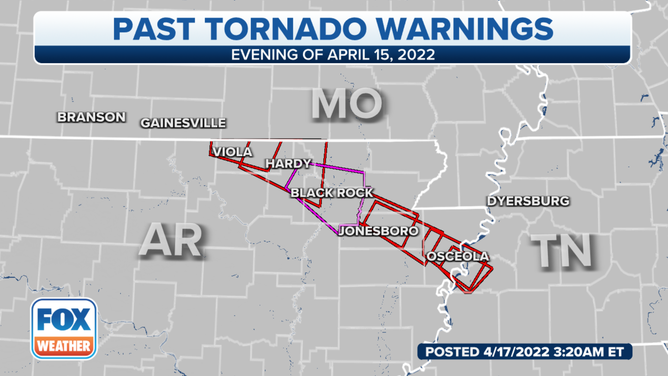 HOW TO WATCH FOX WEATHER ON TV
At least one storm spotter relayed information to the NWS that a large, wedge-like tornado was moving through the area around Ravenden, Arkansas, and subsequently, meteorologists triggered the use of a rare Tornado Emergency.
For a meteorologist to issue a Tornado Emergency, the event must meet NWS criteria. Criteria include:
Severe threat to human life is imminent or ongoing
Catastrophic damage is imminent or ongoing
A confirmed tornado, either by visuals or radar imagery, exists
NWS meteorologists offices believed the storm met the criteria and issued Tornado Emergencies for areas around Jonesboro.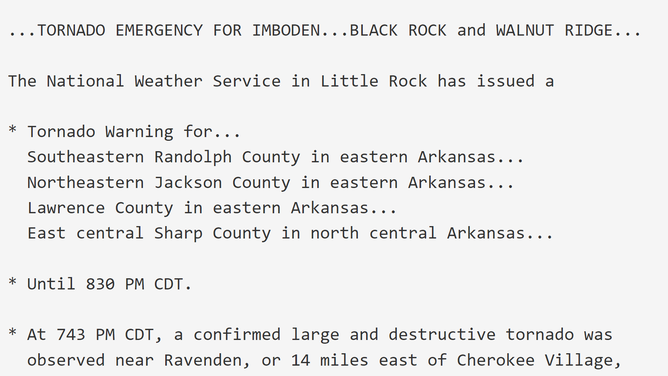 The alerts warned of "catastrophic damage" and "complete destruction" of homes, businesses and vehicles in the tornado's path.
It's the same type of alert that residents in Mayfield, Kentucky received in 2021, Moore, Oklahoma, in 2013, and Yazoo City, Mississippi, in 2010, but unbeknownst to NWS meteorologists, that same life-changing weather was not actually happening. 

The storms were severe, with softball-sized hail and winds strong enough to damage roofs and down trees and powerlines, but an initial NWS survey found no evidence of a tornado.
"We'll go over the timeline of things. How we received reports, who we got reports from and what we were basing our warning information off of. And more importantly, how can we do a better the next time around," Jeff Hood, meteorologist at the NWS Office in Little Rock, Arkansas, told FOX Weather.
HOW METEOROLOGISTS DETERMINE IF A TORNADO IS TO BLAME FOR STORM DAMAGE
Hood admitted radar coverage in parts of northern Arkansas is poor, which makes it difficult to sample the lowest portions of the storms and makes quality information from storm spotters even more critical.
The meteorologist said so far nothing points to there being anything nefarious with the storm reports they received, but it is too soon to point the finger at any one error.
"All we're trying to do is to help protect the public and just try to take their best interests at heart. And once in a while, it doesn't work out. Knock on wood we didn't have any injuries last night," Hood said.
Forecast models show storm potential will remain isolated during the upcoming workweek, giving the storm-weary South time to dry out and prepare for the next severe weather outbreak.