Pattern change to offer some relief from oppressive heat in South
However, the South's gain is the West's pain as the heat isn't going away – it's just scooting over
A relentless summer blast of heat and humidity in parts of the southern U.S. may finally have an expiration date as a shift in the weather pattern suggests at least some relief is in sight.
However, the South's gain is the West's pain as the heat isn't going away – it's just scooting over.
INTENSE HEAT CONTINUES TO CLOBBER SOUTHERN US AS NIGHTS OFFER LITTLE RESPITE
A large ridge of high pressure that has been cooking much of the South is forecast to shift to the west over the weekend. The resulting change in air flow will allow some cooler – and perhaps just as important – drier air to filter in from the north.
That will usher in a refreshing change of pace for much of the area east of the Mississippi River, with high temperatures forecast to be near to a few degrees below average. That's still quite warm in the South, but more importantly, humidity levels should abate, especially in areas outside the Deep South.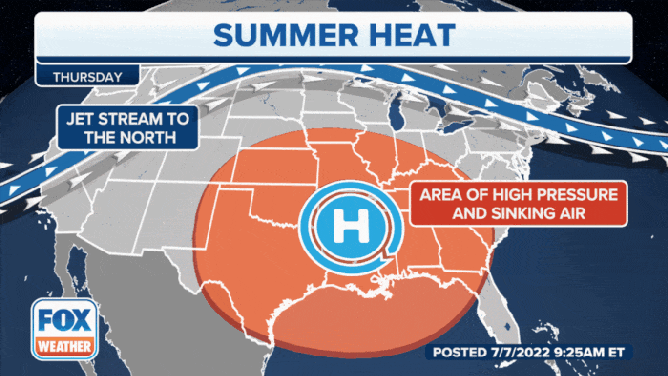 For example, highs in Memphis, Tennessee, which have been over 100 degrees with heat indices crossing 110 this past week, are expected to drop back into the 90s by this weekend, but with lower dew points (humidity) and a heat index remaining in the 90s.
WHAT IS THE HEAT INDEX AND WHY IS IT IMPORTANT TO YOUR HEALTH?
The latest 6- to 10-day temperature outlook from NOAA's Climate Prediction Center.
(FOX Weather)
---
On the other hand, the western and southern Plains, the Rockies and the Desert Southwest will begin to sizzle again as that ridge of high pressure moves west and strengthens.
While humidity won't be as great of a factor, especially as you near and cross the Rockies, an extended stretch of well-above-average temperatures will make July feel like… well, July, across the West. And the ridge is forecast to anchor into the West for much of next week, keeping it a bit hotter than average.
The latest 8- to 14-day temperature outlook from NOAA's Climate Prediction Center.
(FOX Weather)
---
Even the Pacific Northwest, which has been overall mired in a spring and summer that has been cooler than average, may get another taste of more summerlike weather, though the heat is not expected to be as intense as the brief blast of warm weather the region experienced in late June.
WHY DEW POINT IS THE BEST WAY TO CLASSIFY HOW MUCH HUMIDITY IS IN THE AIR
Highs around the Seattle area may nudge across 80 degrees early next week, which would only be the fourth time the city has reached that mark this year.
Forecast highs on Monday, July 11, 2022.
(FOX Weather)
---