Another day of searing heat, humidity ahead for southern US
High temperatures are forecast to be in the upper 90s and low 100s for most of the Plains and into the South through the weekend
Millions of Americans are waking up under heat alerts as an oppressive heat wave lingers across the South.
Temperatures will remain dangerously high from the southern Plains to the lower Mississippi Valley, mid-South and parts of the Southeast, where Excessive Heat Warnings and Heat Advisories remain in effect.
HOW TO WATCH FOX WEATHER ON TV
Widespread heat alerts are posted across the southern U.S.
(FOX Weather)
---
High temperatures are forecast to be in the upper 90s and low 100s for most of the Plains and into the South through the weekend.
Record high temperatures are forecast Saturday for cities such as Dallas, Waco, Austin and Houston.
Here's a look at some record heat on Saturday.
(FOX Weather)
---
These already hot temperatures will be made even more uncomfortable when combined with the high humidity in place across the region. The heat index may top 115 degrees in some spots this weekend.
WHAT IS THE FEELS-LIKE TEMPERATURE?
Low temperatures in the upper 70s to lower 80s will offer little respite overnight and are likely to tie or break existing record-warm lows over the next few days. 
There will be little relief at night. The forecast low Saturday morning in Dallas is 83 degrees.
(FOX Weather)
---
This will continue what has been near-constant heat since May. San Antonio, Texas, for example, has experienced above average temperatures 40 out of the past 42 days and has had their hottest start to the summer on record.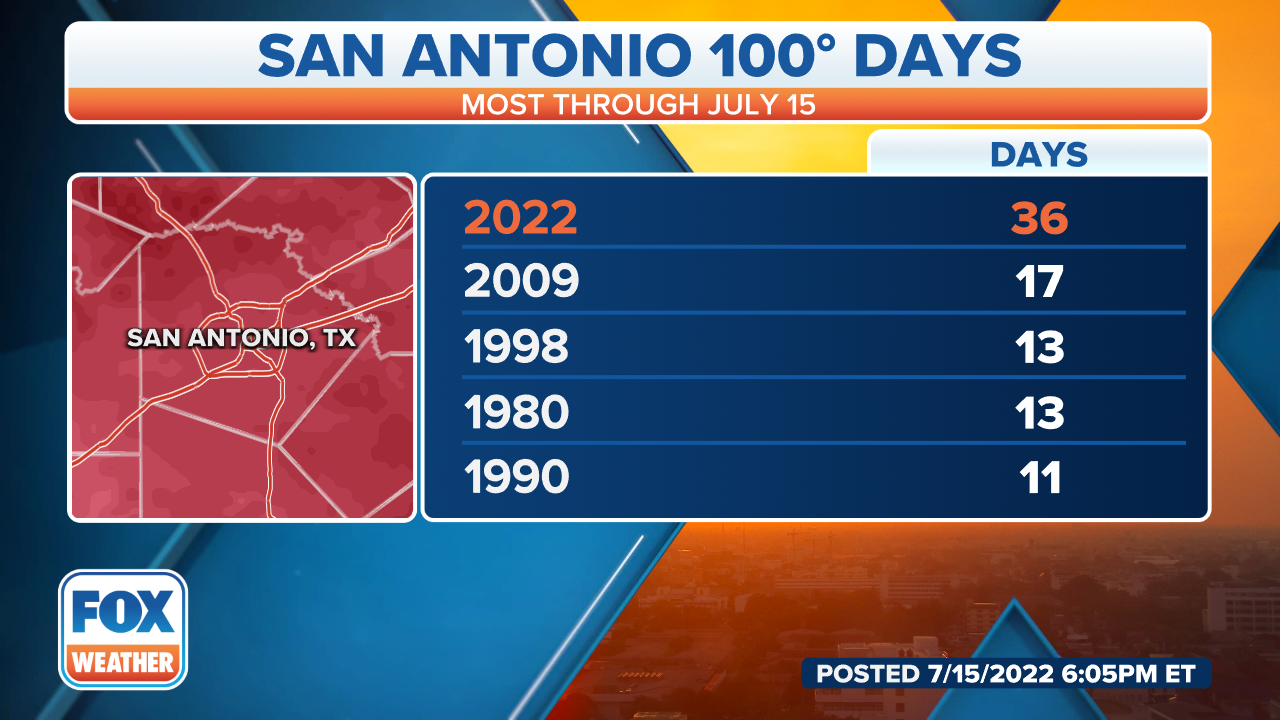 It's been hot in San Antonio.
(FOX Weather)
---
Starting Saturday, the heat will be relegated to the Plains and remain in place into next week as a cold front moves through the eastern third of the country.
The latest 6- to 10-day outlook from NOAA's Climate Prediction Center shows the highest likelihood of above-average temperatures could shift toward the western U.S. later next week, providing some relief for the sweltering southern states.
PATTERN CHANGE TO OFFER SOME RELIEF FROM OPPRESSIVE HEAT IN SOUTH
The latest 6- to 10-day temperature outlook from NOAA's Climate Prediction Center.
(FOX Weather)
---
CLICK HERE TO GET THE FOX WEATHER UPDATE PODCAST
Be sure to download the FOX Weather app to track the temperatures in your area. The free FOX Weather livestream is also available 24/7 on the website and app and on your favorite streaming platform. The FOX Weather Update podcast also provides weather information for the entire country.