Record warmth spreads into eastern US on Thursday
The warmup will only be temporary before much cooler air sweeps in this weekend
A warm front pushing through the Northeast will help send temperatures far above average on Thursday, and many areas could set records.
A large part of the region will see high temperatures reach the 50s and 60s, breaking previous records at dozens of observation sites.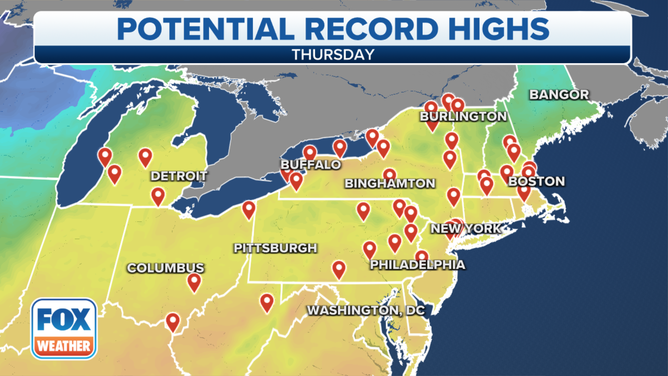 Computer forecast models show the warmup will be only short-lived, and a cold front will push into the region on Friday, delivering much cooler air and a return to near-average temperatures.
The cold front will only slowly make its way into the Southeast, allowing temperatures to remain above average through Saturday.
Records from the mid-Atlantic into the South could be challenged Friday as winds out of the south and southeast will allow temperatures to reach the 70s and 80s.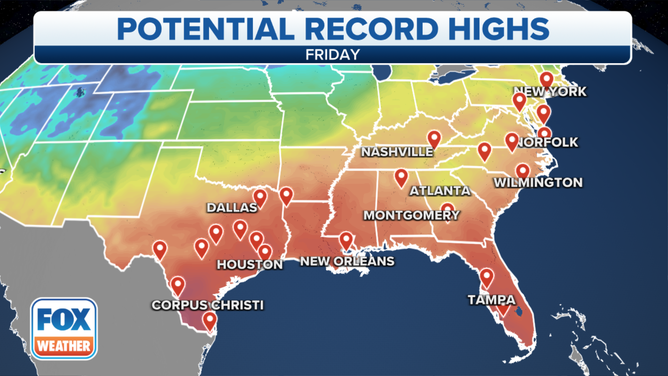 Temperatures across the Southeast will decrease to near-average levels once rain showers move in late in the weekend.
Computer forecast models show the weather pattern might remain unsettled in the Southeast. Another storm system could move into the region next week and make for a couple of days of rainy weather.
Record highs shattered in Midwest on Wednesday
Ahead of Wednesday evening's severe weather outbreak in the Midwest, another very warm December day shattered dozens of records.
Des Moines, Iowa, set its all-time December record-high temperature of 74 degrees, breaking the old record of 69 degrees. All-time December record highs were also set Wednesday in Cedar Rapids, Mason City and Waterloo, Iowa.
In fact, a new December record-high temperature for the entire state of Iowa was set in the city of Ottumwa. It reached 75 degrees on Wednesday, breaking Iowa's previous all-time December record of 74 from the town of Thurman on Dec. 6, 1939.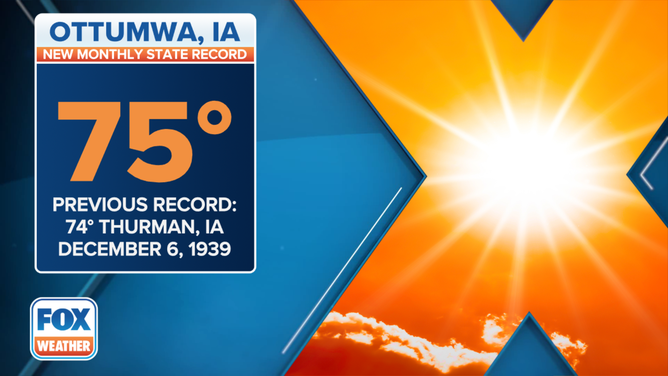 Elsewhere in the Midwest, Lincoln, Nebraska, reached 74 degrees on Wednesday, tying its all-time December high temperature. Omaha, Nebraska, also hit 74 degrees, breaking its previous all-time December record of 72.
Moline, Illinois, and Madison and La Crosse, Wisconsin, each set monthly records for December as well.
Dozens of other cities across the central U.S. also shattered daily record highs for Dec. 15. Some of those records had stood for well over 100 years.