Record-high temperatures in jeopardy as warm air slides east
The warmest air will be found in eastern Colorado, Kansas and Nebraska, where temperatures will climb into the upper 80s and lower 90s
Above-average temperatures will be in place from the Front Range of the Rockies to the Eastern Seaboard on Friday.
The warmest air will be found in eastern Colorado, Kansas and Nebraska, where temperatures will climb into the upper 80s and lower 90s. A few record-high temperatures are possible.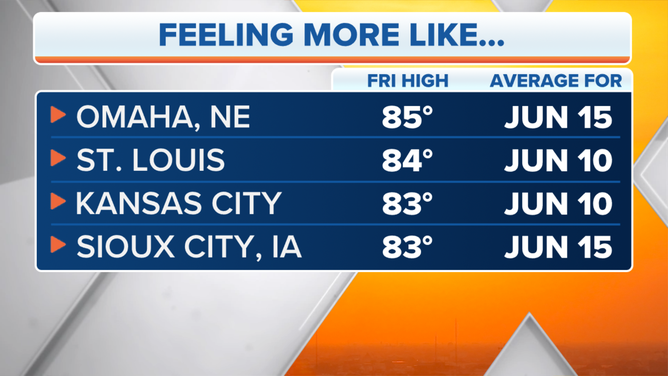 Highs across Nebraska will range from the upper 80s to the lower 90s, while average highs this time of year are in the mid-60s and daily records are in the lower to mid-90s.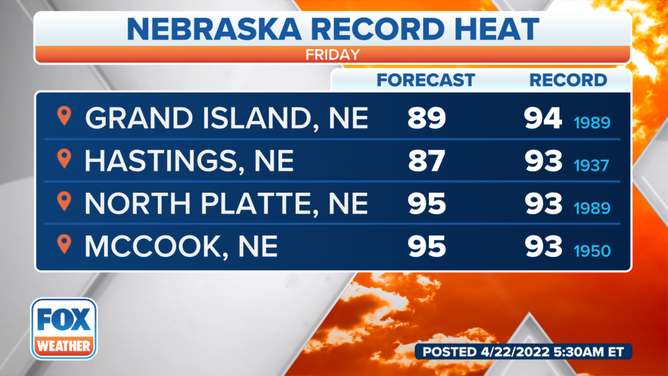 The temperatures will also be on the rise in the Southern Plains starting Friday. Temperatures across the Lone Star State will be in the mid- to upper 80s, with some areas in West and South Texas getting into the 90s.
Midland, Texas, will see a high temperature of 88 degrees on Friday, but by Sunday will fall into the upper 70s as the warm air continues to slide to the east.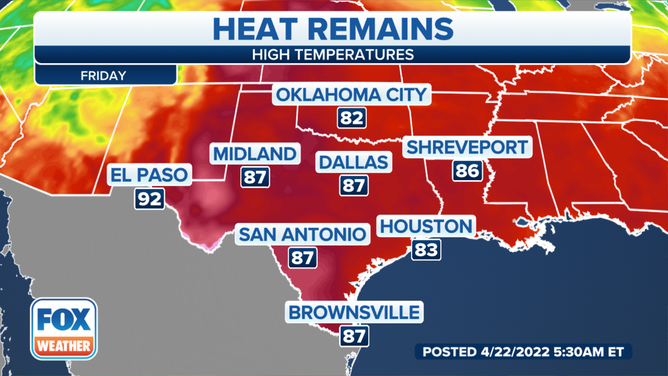 The warmth will gradually shift east through the weekend and into early next week. By Saturday, over 50% of the country will experience above-average temperatures.
High pressure builds into the New York City tri-state area with mostly sunny skies and dry weather expected. Temperatures will be slightly above average, generally in the mid- to upper 60s. By Sunday, the Big Apple could reach 70 degrees.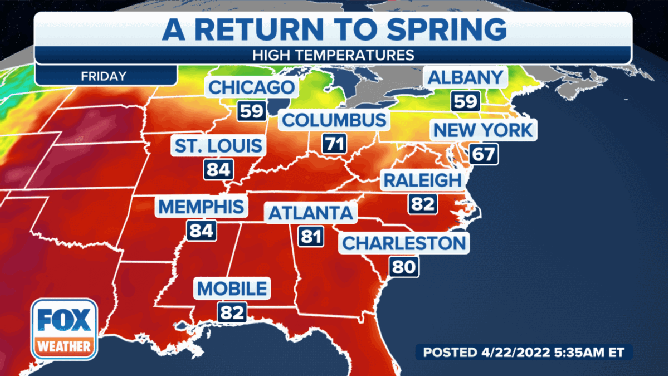 Syracuse, New York, will be in the mid- to upper 50s through Saturday but will enjoy temperatures in the upper 70s by Sunday.
The National Weather Service in Baltimore/Washington said Friday is expected to be the warmest day of the week so far despite a weak cold front dropping through the area. A few showers can't be ruled out as a weak wave passes heading into Saturday, particularly around western Maryland. 
It will be similarly warm Saturday across a portion of the area, but relatively cooler due to onshore flow northeast of the Potomac River, the NWS said.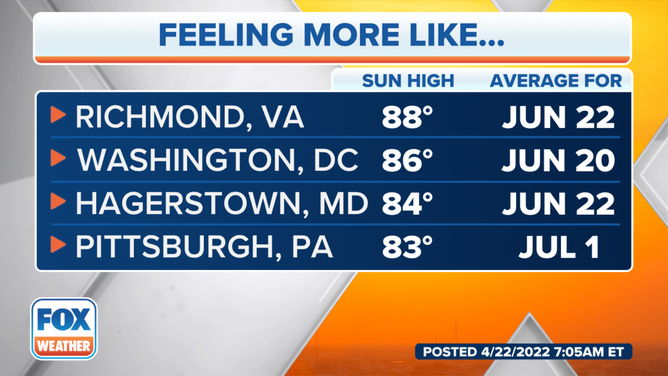 HOW TO WATCH FOX WEATHER ON TV
Be sure to download the FOX Weather app for the latest forecast and weather alerts for your exact location, plus the 24/7 livestream of America's Weather Team – now featuring a new, all-star lineup with live programming weekdays from 6 a.m. to 10 p.m. Eastern time.