Weather not expected to pose problems for Biden's first Asia trip
Temperatures in Japan usually start out in the 50s and highs reach the 70s during the late spring
President Joe Biden has embarked on a tour of Asia that will feature stops in South Korea and Japan, which the White House said will enhance economic ties and security relationships.
During the five-day visit, which is expected to last until Tuesday, forecast models show the President and other dignitaries will see some late spring classic weather with lows in the 50s and 60s and highs in the 70s and 80s.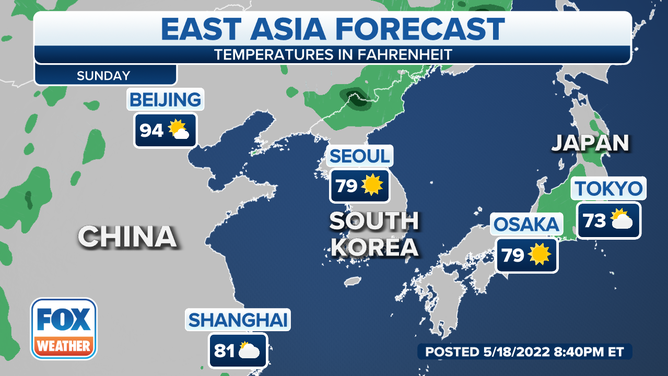 Because of a ridge of high pressure, most of the rain will stay away from the region and there doesn't appear to be any tropical threats on the immediate horizon.
HOW TO WATCH FOX WEATHER ON TV
The National Oceanic and Atmospheric Administration says typhoons in the West Pacific can form year-round, but the height of the activity usually kicks off in May and lasts through October.
A combination of tropical systems and fronts usually produces the majority of the precipitation in the region.
Japan usually sees most of its rainfall during the summer and early fall months, which coincides with the tropical weather season.
HOW DC'S CHERRY BLOSSOMS ARE A LIVING VALENTINE FROM JAPAN
While in Japan, the President is expected to meet with leaders of the Quad – a group of nations that consists of Australia, India, Japan and the United States.
The White House says leaders will discuss challenges in the Indo-Pacific region.
During the visit, all eyes will be centered on North Korea because of what intelligence official say could be a ratcheting up of tensions.
"Our intelligence does reflect the genuine possibility that there will be either a further missile test, including long-range missile test or a nuclear test, or frankly, both in the days leading into on or after the President's trip to the region. We are preparing for all contingencies, including the possibility that such a provocation would occur while we are in Korea or in Japan," US National Security Advisor Jake Sullivan said.
FORECASTING FOR A PRESIDENT: IT'S NOT ORDINARY PILOT BRIEF FOR AIR FORCE ONE
The President is expected to make a brief stop in Alaska during his travels to East Asia and on his return.
The Last Frontier is the final region where planes can refuel before traveling across the Pacific Ocean.