Powerful storm continues bringing heavy rain, wind, snow to West Coast
Sacramento received its rainiest day on record with 5.44 inches
Tens of thousands of people are without electricity as a powerful storm continues to bring heavy rain, strong winds and snow to the West Coast.
Rain was welcome in California, where most of the state has been experiencing a drought, but the amount of rain that fell in such a short period of time has created life-threatening flash floods and debris flows.
The city of Sacramento received its rainiest day on record, with 5.44 inches falling Sunday. San Francisco also broke a record, receiving 4.02 inches of rain downtown. That's now the wettest October day on record for the city and the fourth-wettest day ever.

And there's still plenty of rain on the way.
The most recent storm is just one of many affecting the weather along the west coast.
Flood watches have been issued from Redding in northern California to places like Mariposa, Monterey, Kernville and Santa Barbara in the central and southern areas of the state.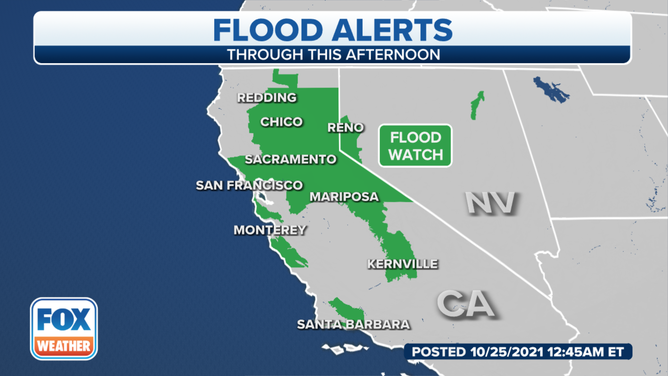 Several areas are under the threat of flash flooding, including Los Angeles.
There's also a threat for debris flows in and around wildfire burn scar areas, including the Caldor, Dixie, Camp and North Complex wildfires.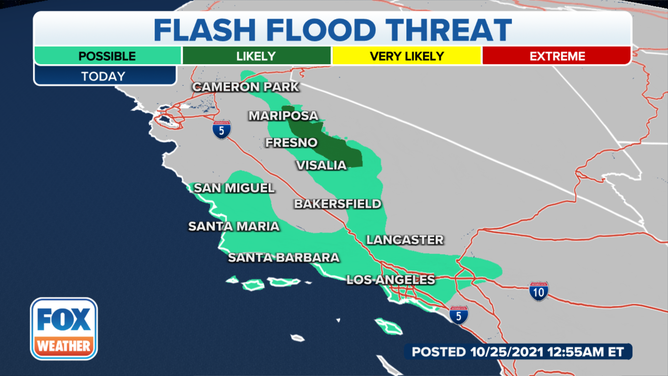 Waterlogged cities and towns across the state are expected to pick up an additional 1 to 2 inches of rain before the storm begins to wind down Tuesday.
Fresno, San Miguel and Santa Maria are areas where the most rain could fall Monday into Tuesday, and places like San Francisco and Los Angeles could pick up an additional inch of rain.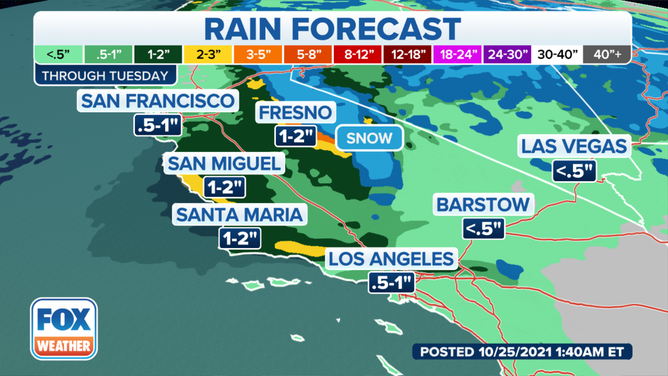 Snow is also expected to keep falling in the Sierra Nevada mountains, and winter storm warnings have been issued for areas in the higher elevations where up to 2 feet of snow could fall.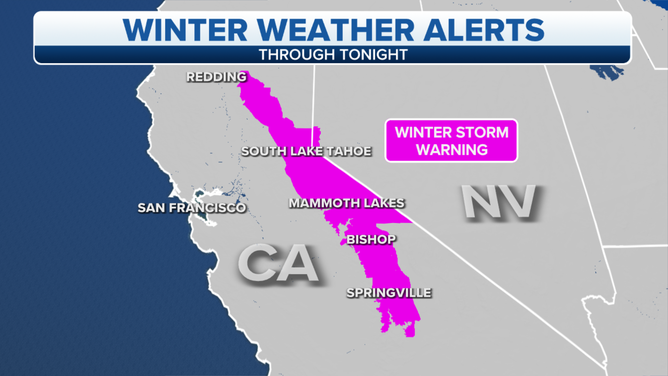 Power outages have also been reported across the state. More than 108,000 customers are in the dark as of Monday morning.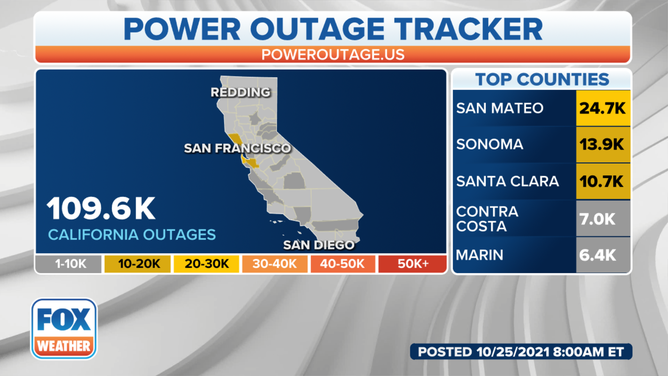 Sonoma County reported almost 14,000 people in the dark. Further south in San Mateo County, nearly 28,000 outages were reported.