Heavy rain over California burn scar areas trigger debris flows
It was only days ago that California Governor Gavin Newsom issued a State of Emergency for the drought conditions in the state. 
With the series of low-pressure systems providing the much-needed rainfall, you would think that the drought-stricken state would happily accept all the rain they could get. But that is not the case for areas burned off by wildfires.
Some spots in Northern California could see upwards of 8 inches of rain through Wednesday. Intense rainfall on burn scar areas can cause fast-moving and highly destructive debris flows.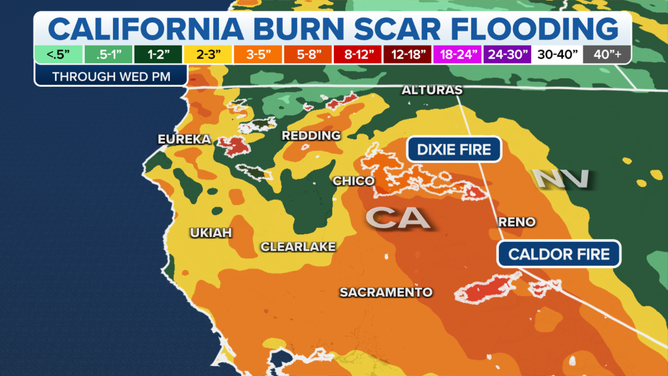 Dixie Fire
Sunday afternoon, intense rainfall on the Dixie Fire burn scar area caused debris flows in and around the burn scar, forcing highways to close. 
The National Weather Service issued a Flash Flood Warning for the area and said that the continued rainfall over the burn scar could result in additional debris flows.
Officials are urging people to move away from recently burned areas if possible.
"Life-threatening flooding of creeks, roads and normally dry areas is likely. The heavy rains will likely trigger rockslides, mudslides and debris flows in steep terrain, especially in and around these areas," The NWS office in Sacramento warned. 
Because of vegetation loss and soil exposure, the risk of floods and debris flows after fires increases. Debris flows triggered by rainfall are one of the most dangerous post-fire hazards, the U.S. Geological Survey (USGS) says.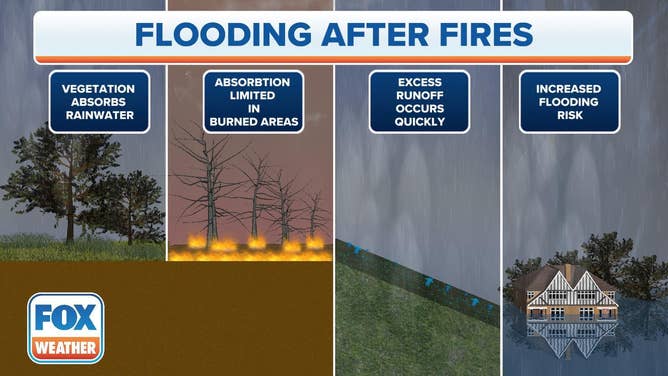 The Dixie Fire started on July 13 and has burned 963,000 acres.
While the excess rain will cause debris flows, crews hope the fire will be 100% contained by the end of the month. 
Caldor Fire
A little more than two months after starting, the Caldor Fire was 100% contained on Thursday, but Forest Service officials warned, "Containment does not mean the fire is controlled." 
The ongoing storms in the area prompted a Flash Flood Warning.
The NWS and El Dorado County officials warned that the flooding could prompt debris flows. 
"The conditions could trigger debris flow events throughout the Caldor Fire burn scar with particular impact in Strawberry, Phillips Tract and parts of Grizzly Flats, the press release states," officials in El Dorado County said this week. 
The city is bracing for the potential for debris flows, should any happen.