Tornadoes cut across Alabama, Florida causing damage
Damage was reported in South Alabama overnight from possible tornadoes near Mobile
A stalled front across the Deep South helped trigger thunderstorms with damaging winds and reported tornadoes Wednesday morning along the Gulf Coast.
There were numerous reports of tree damage and power outages around Mobile, Alabama, from a possible tornado, according to storm reports relayed by National Weather Service.
HOW TO WATCH FOX WEATHER ON TV
A FOX Weather Watcher in southern Alabama also area shared photos of trees that had been snapped by a possible tornado.
Video by @ChrisFLTornado on Twitter shows a funnel cloud just before 6 a.m. Central of a brief tornado that was spotted near Greenwood, Florida. According to the Jackson County Sheriff's Office, there were no reports of any injuries and no 911 calls were made with regard to the possible tornado.
SOUTHEAST BRACES FOR MORE SEVERE WEATHER, HEAVY RAIN ON WEDNESDAY
The area was under a Tornado Watch during the morning hours because of the threat from the storms.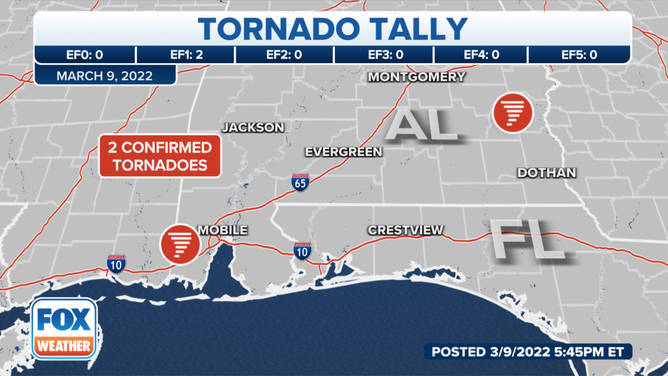 As of Wednesday evening, meteorologists confirmed two tornadoes struck southern Alabama and were given the ratings of EF-1.
Authorities did not report any injuries and the damage appeared to be isolated in parts of southern Alabama and the Florida Panhandle.