Pearl Jam concert canceled after European heat, wildfire smoke sickens Eddie Vedder
The group had just played at an outdoor venue at Lollapalooza Paris on Sunday and were scheduled to play in Vienna, Austria, on Wednesday, but Vedder was unable to perform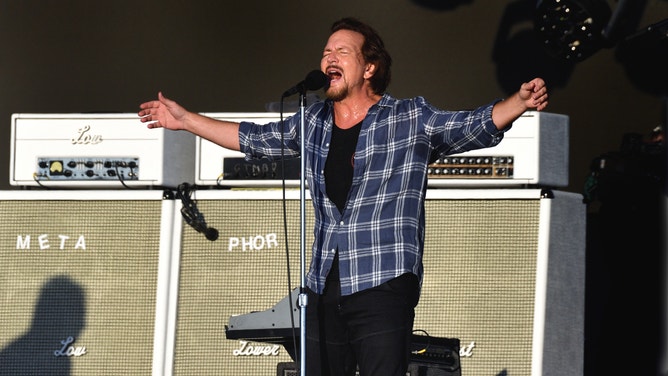 VIENNA -- A historic heat wave and massive wildfires around France and Spain led to the cancellation of a Pearl Jam concert in Austria after lead singer Eddie Vedder became injured as the result of deteriorating air quality, the band announced Thursday.
The group had just played at an outdoor venue at Lollapalooza Paris on Sunday and were scheduled to play in Vienna, Austria on Wednesday, but Vedder was unable to perform.
"Due to the extreme circumstances at the last outdoor site outside of Paris (heat, dust, and smoke from the fires) our singer Ed Vedder's throat was left damaged," the band posted on their Twitter feed. "He has seen doctors and had treatment, but as of yet, his vocal chords have not recovered. This is brutal news and horrible timing, for everyone involved."
Temperatures reached 90 degrees in Paris on Sunday, and two large wildfires in southern France that have burned over 40 square miles and others burning in Spain had sent smoke billowing across the region, according to the Associated Press.
WILDFIRES CAN BE DANGEROUS TO YOUR HEALTH EVEN IF YOU'RE NOWHERE NEAR ONE
Their next show on the tour is scheduled for Friday in Prague, Czech Republic, but the band hasn't announced any changes to that show as of yet.
Be sure to download the FOX Weather app to stay up-to-date on everything in the tropics this hurricane season. The free FOX Weather livestream is also available 24/7 on the website and app and on your favorite streaming platform. The FOX Weather Update podcast also provides weather information for the entire country.