Parts of Central, Northern Plains under critical risk of fires
People in areas under a Fire Weather Warning should take precautions to prevent the ignition and spread of fires
Fire Weather Warnings are in effect for most of Nebraska and southern South Dakota on Monday as strong winds and low humidity will allow for fires to quickly spread if one were to ignite.
A cold front will be moving through the region in the coming days, bringing the threat of rain, sleet, freezing rain, ice and snow.
Ahead of that front, however, conditions will be conducive to the rapid spread of fires.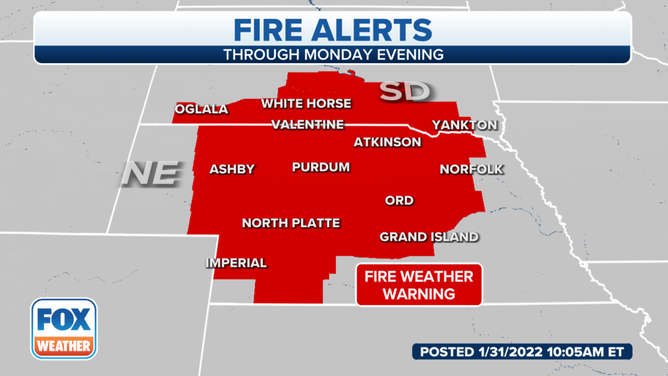 As a result, Fire Weather Warnings are in effect for most of Nebraska, with the exception of extreme western, eastern and southeastern parts of the state. This includes the cities of Imperial, North Platte, Purdum and Atkinson.
Those alerts extend into southern South Dakota, from Oglala to White Horse and Yankton.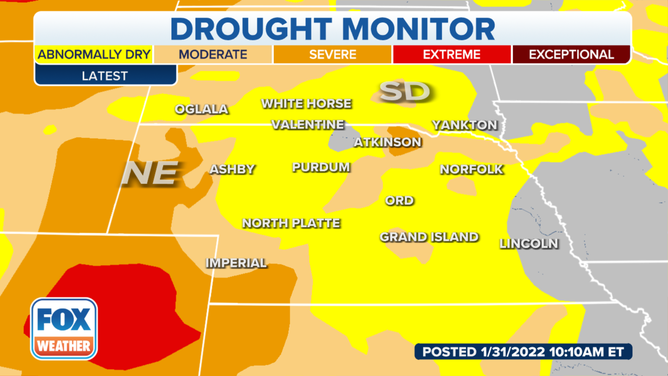 Most of the region has been abnormally dry or has been experiencing moderate to severe drought conditions. Northeastern Colorado is currently experiencing extreme drought conditions, however, that region is not under any fire weather advisories.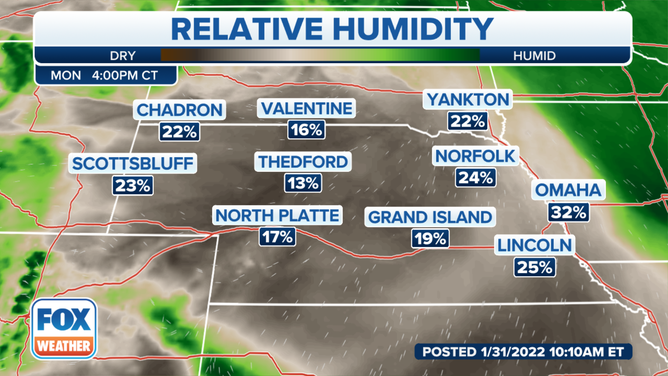 The relative humidity on Monday will generally be in the teens and 20s across a large part of Nebraska, which is where we have the greatest threat for fires. Where we see the lower percentages, like Valentine, Thedford, North Platte and Grand Island, is where those fires can quickly spread.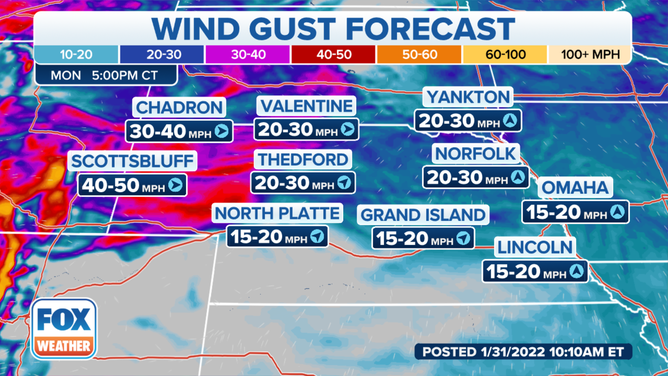 Another element enhancing the risk for fires will be the strong winds expected in the Plains on Monday.
By late Monday afternoon, winds will be gusting to between 40-50 mph in Scottsbluff. In central Nebraska, winds are expected to gust to between 20-30 mph.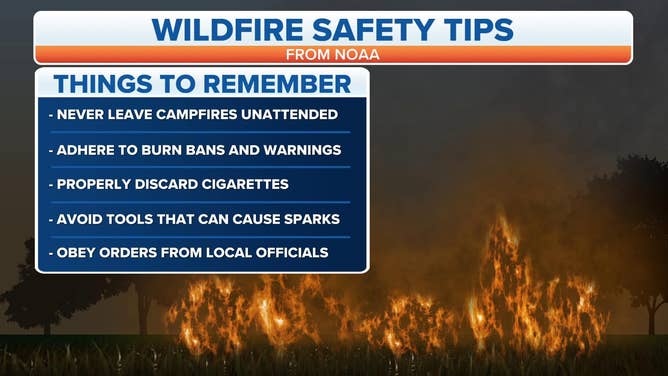 People in the areas currently under a Fire Weather Warning are asked to take the proper precautions to ensure fires aren't ignited.
Never leave a campfire unattended and be sure to stay informed of any burn bans that may be in place.
Avoid tools that could cause a spark that may start a fire, and always ensure you properly dispose of cigarettes.