Opt Outside Day forecast offers something for snow bunnies to sunbathers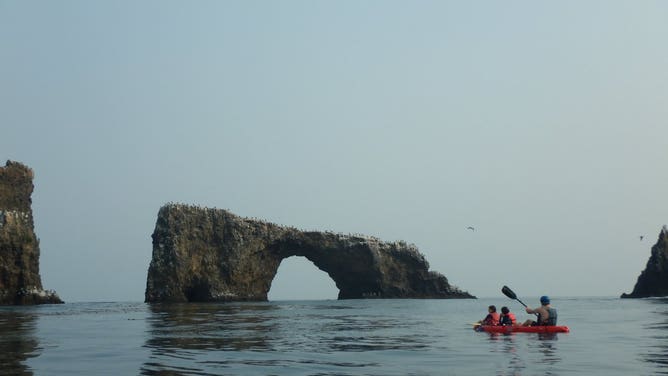 Sometimes the best deals on Black Friday are less about the price than spending the day at your favorite park or local marine sanctuary.
For those ready to get outdoors after Thanksgiving instead of shopping, there is no better time than Opt Outside Day, established by REI in 2015 to celebrate the great outdoors.
If enjoying some fresh powder is your thing, there is no better way to Opt Outside than at a ski resort. Wyoming resorts in Targhee and Jackson Hole recently opened the slopes for the season.
While Jackson Hole hasn't experienced any new snowfall in the past 24 hours, snow-makers were busy Friday creating a winter wonderland, according to the Jackson Hole snow report. The forecast called for highs in the 30s with a mix of sun and clouds. 
Denver still hasn't had any snow yet this season. Still, Friday is a gorgeous day to spend outside. 
Apex Park, a popular hiking and mountain spot near Golden, Colorado, will have a mostly sunny sky and highs in the low-60s.
Kansas City has a pleasant forecast for the holiday weekend thanks to a temperature swing pushing highs above average.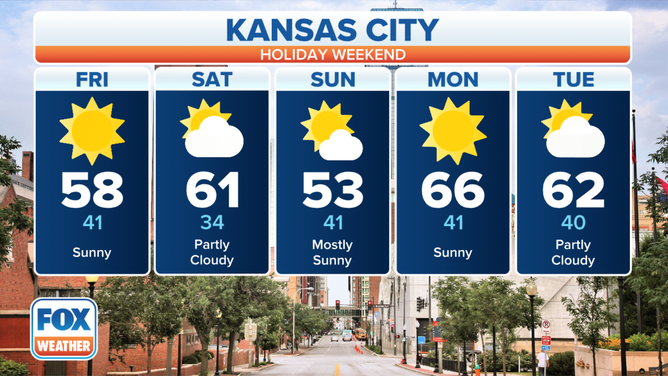 Kansas State Parks are offering free admission Friday in honor of Opt Outside Day. Additionally, those who visit any of the state's 28 parks on Friday will be entered to win a free night's stay in a Kansas state park cabin. Visitors can enter by taking a "selfie" at any Kansas state park and tagging it on social media with the hashtags #OptOutside and #MyKsStatePark. 
"We couldn't be more excited to once again offer free entrance to Kansas' state parks on Black Friday," Kansas State Parks Director Linda Lanterman said in a statement. "Being outside in nature does wonders for our physical and mental health, so I hope everyone opts to go outside this year and enjoy a Kansas state park as part of their holiday experience."
Snowboarders and skiers will have more luck with fresh snow on the east coast, but it might not be in time for Opt Outside Day. The first winter storm will bring the first widespread snow to New England this weekend. 
The heaviest snow is expected to fall in northern Maine, northern New Hampshire, the White Mountains of Vermont and the Adirondacks of New York.
Locations in southwestern Vermont above 1,500 feet in elevation could receive upwards of 8 to 16 inches of snow through Saturday.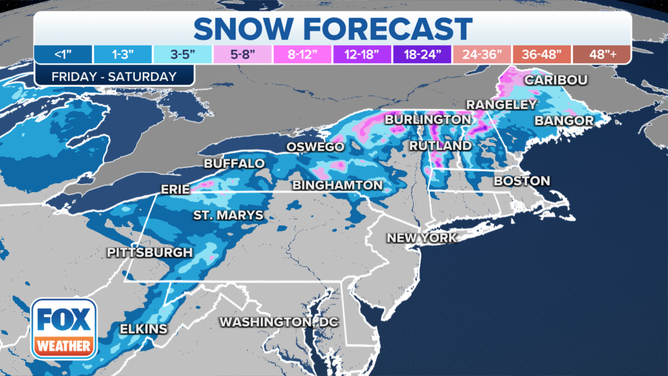 For those near Florida and Georgia coasts, ocean breezes and sand can be in your outdoor plans.
Teams with the NOAA Marine Debris Program encourage people to spend their day outside by helping track ocean debris.
Spend the day soaking up the sun on the southeast coast with a scenic shoreline hike, and along the way, use NOAA's Debris Tracker app to report marine debris sightings. 
Organizations can use the data for education and outreach. According to NOAA, the Georgia Sea Turtle Center created a citizen science program using the app for cleanups along the Georgia coast.
Jekyll Island, Georgia, home to the Georgia Sea Turtle Center, will have temperatures in the mid-60s on Friday with a mostly cloudy sky.
Another option is to check out NOAA's National marine sanctuaries or a National Estuarine Research Reserve.
The National Estuarine Research Reserves System includes 1.3 million coastal and estuarine acres around the U.S. Find one near you with this map.
Grab a windbreaker and check the water conditions before heading out on any paddling adventures.