Temperature swing: Record highs possible in the West as Southeast prepares for chill
Areas of the South experienced a nearly 30-degree temperature drop in 24 hours.
Post-Black Friday, the weather will be a story of two directions; temperatures are forecast to reach record highs in the west. Meanwhile, the North and Southeast will experience a significant temperature drop.
After cold air dropped temperatures across the Central U.S. on Thanksgiving, Black Friday shoppers in the Central U.S. were treated to a warmup.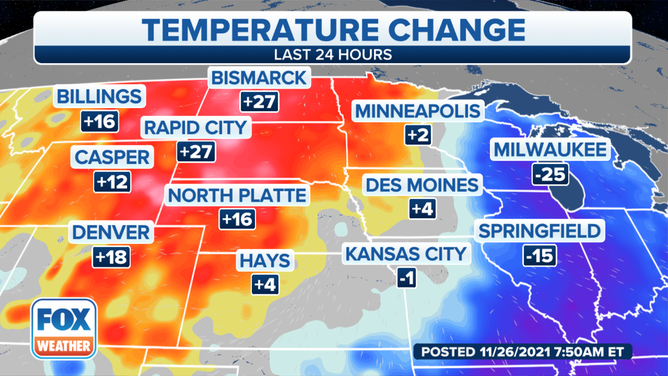 By Sunday, record high temperatures are expected to fall across several western states as temperatures climb as high as 30 degrees above the November average. 
The temperature swing was in full effect Friday. 
Rapid City, South Dakota, experienced a 27-degree temperature increase between Thursday and Friday. Meanwhile, cities in Montana, Idaho and Colorado are forecast to break their record highs for this time of year by Sunday.
Parts of the Plains are forecast to be between 10 and 20 degrees above average by Sunday.
TRAVEL FORECAST: Where holiday travelers can expect flight delays for trip home this weekend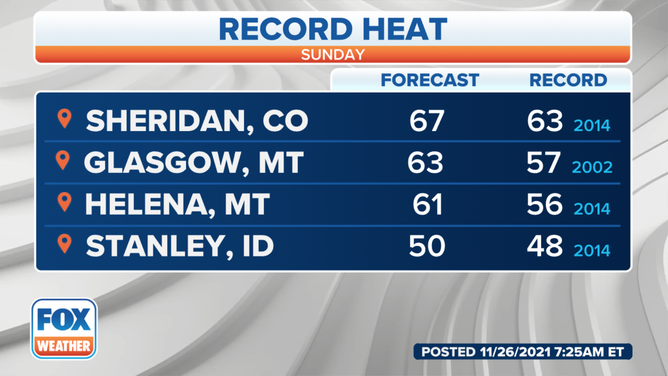 Highs are expected to run 5 to 15 degrees below average through the weekend along the Gulf Coast.
Houston's temperatures had dropped 25 degrees by Friday morning, where it's expected to stay in the 40s for the next three days.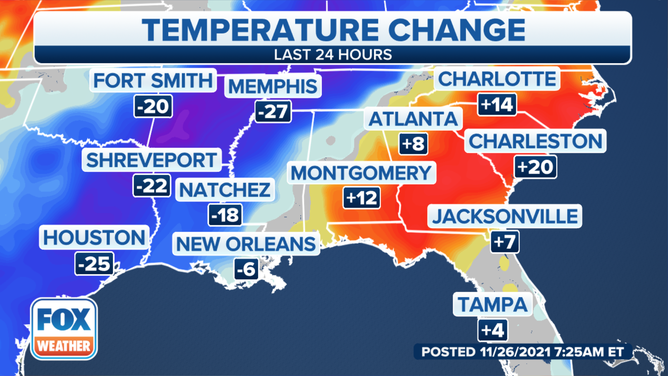 The cooldown continues further east, where the National Weather Service has issued freeze and frost alerts for areas of the Gulf Coast and the Florida Panhandle for Saturday morning. 
According to the NWS, sub-freezing temperatures as low as 30 degrees are forecast for portions of south central and southwest Alabama, northwest Florida and southeast Mississippi early Saturday morning.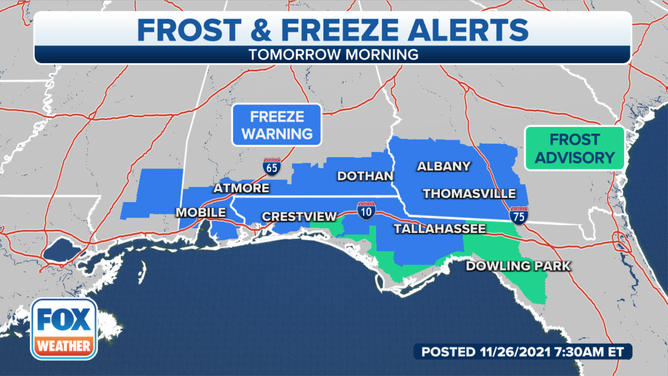 To the north, the NWS has issued Winter Storm Warnings and Winter Weather Advisories for northern New England, where an area of low pressure will bring snow and gusty winds through Saturday.