October forecast to be warmer than average across majority of US
Below-average temperatures are absent from the prediction everywhere in the US.
Many Americans might be wishing for cooler weather in the second full month of meteorological fall, but October is not expected to grant that wish, according to the latest temperature outlook for spooky season.
The National Oceanic and Atmospheric Administration's Climate Prediction Center released its forecast for October on Thursday, and below-average temperatures are absent from the prediction everywhere in the U.S.
HOW TO WATCH FOX WEATHER ON TV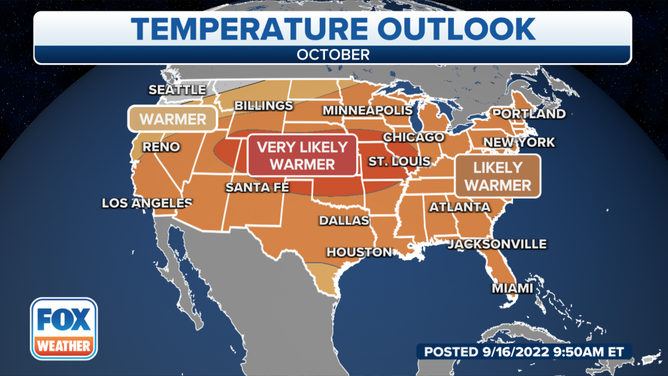 According to NOAA, above-average temperatures are predicted for a majority of the nation in October. The warmest temperatures relative to average are forecast to extend from the central Rockies and central Plains into parts of the Midwest.
No areas are expected to be cooler than average next month, but near-average temperatures are forecast in the Northwest from western and northern Oregon into Washington, northern Idaho and northwestern Montana.
WHAT ARE THE ODDS OF A WHITE HALLOWEEN?
It's important to note that this is an outlook for the entire month of October. An upper-level area of high pressure or a cold front can provide a period of warmer or cooler weather, respectively, that bucks the overall monthly trend.
Temperature outlook through the end of 2022
The outlook is similar through the remainder of fall and into the start of winter: warmer than average.
From October through December, NOAA expects the warmest temperatures relative to average to be focused across the Four Corners region, Texas, Florida and New England.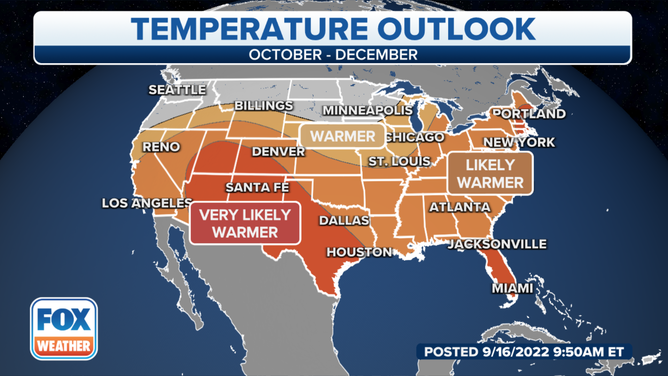 The coolest temperatures, though still near average for the three-month period, are predicted along the northern tier of the U.S. from the Pacific Northwest through the upper Mississippi Valley.
WHEN YOU WILL SEE THE PEAK OF THE FALL FOLIAGE SEASON
Similar caveats apply in that this outlook covers an entire three-month period. Individual periods of warmer or cooler weather over the next few months might not align with the overall three-month trend.