Northern tier braces for wind chills as low as 50 below zero
Temperatures are running 10 to 30 degrees below average, while parts of Montana and North Dakota are running as much as 40 degrees below average
Freezing air has settled in from the Northwest to the Northern Plains.
Temperatures are running 10 to 30 degrees below average, while parts of Montana and North Dakota are running as much as 40 degrees below average.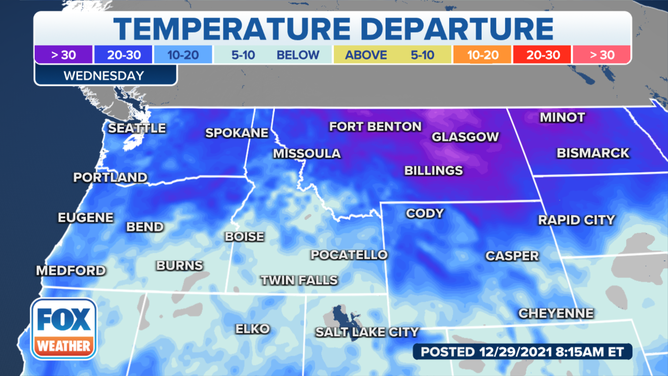 The National Weather Service said Wind Chill Warnings and Advisories have been issued from Montana and parts of the Dakotas to northern Minnesota, where wind chills will range anywhere from minus 30 to minus 50 degrees. This can cause frostbite in 15 minutes or less.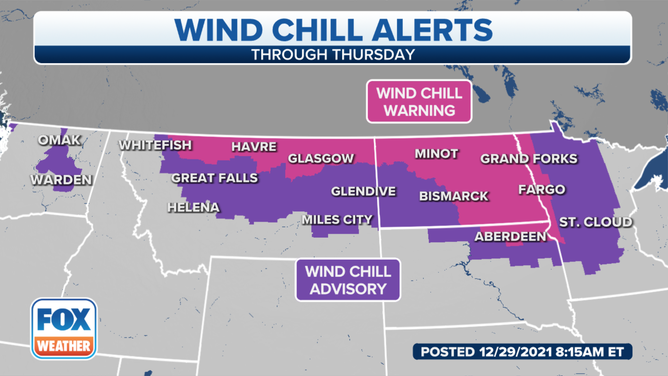 Some light snow will continue Wednesday across some areas south of the Missouri River, with little additional accumulation.
King County, Washington, Executive Dow Constantine issued an emergency proclamation Wednesday morning for the Seattle area after this winter storm brought snow, high winds and dangerous cold. 
Accumulating snowfall throughout the mountain ranges of the West is expected, with heavy accumulations for some, the NWS said.
The highest snowfall totals are forecast from the southern Sierra Nevada and the Transverse Range of Southern California eastward to Utah's Wasatch and portions of the central Rockies.
Snow totals in the highest peaks of these regions will be measured in feet, which, when combined with whiteout conditions, will result in hazardous and, at times, near-impossible travel conditions through the mountains. 
ANOTHER 1 TO 2 FEET OF SNOW TO BURY SIERRA NEVADA
The NWS in Glasgow, Montana, said temperatures will moderate somewhat on Thursday as the high moves to the east, but a cold front Thursday afternoon and evening will bring bitterly cold air back into northeastern Montana Thursday night, with another round of Wind Chill Warnings and Advisories likely.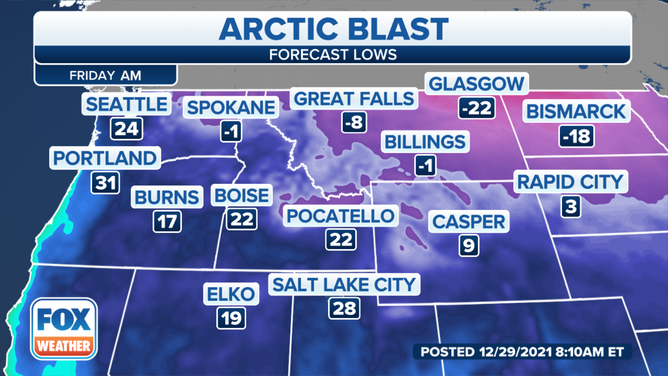 A northwesterly flow aloft and high pressure will keep the bitterly cold air in place Friday and Friday night.
Milder temperatures are possible this weekend as high pressure moves into the area, the NWS said. Some places could see above-freezing highs on Sunday and possibly Monday, although snow cover will limit the warmth, especially in valleys.