Nearly 8 million New Yorkers jolted from bed as phones blare Flash Flood, Tornado Warnings early Tuesday
Flash Flood and Tornado Warnings roused millions in New York City early Tuesday morning.
Nearly 8 million people in New York City had a much earlier wake-up call than usual Tuesday morning when Flash Flood and Tornado Warnings triggered blaring Wireless Emergency Alerts on cell phones across the warned areas of the Big Apple.
A line of thunderstorms packing torrential rainfall first prompted a Flash Flood Warning for 7.7 million people across the Five Boroughs at about 4:30 a.m. after 1.5 to 3 inches of rain had fallen in a short amount of time, with the possibility of another 1 to 1.5 inches before the storm moved out of New York City.
HOW TO WATCH FOX WEATHER ON TV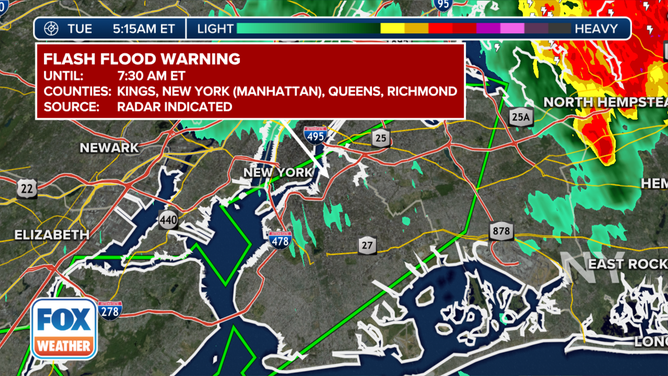 Minutes later, the same line of storms began to show signs of rotation, prompting the National Weather Service to then issue a Tornado Warning for parts of Brooklyn near Coney Island and portions of Queens near Rockaway Beach.
THIS IS HOW MANY TORNADOES EVERY STATE RECORDS IN AN AVERAGE YEAR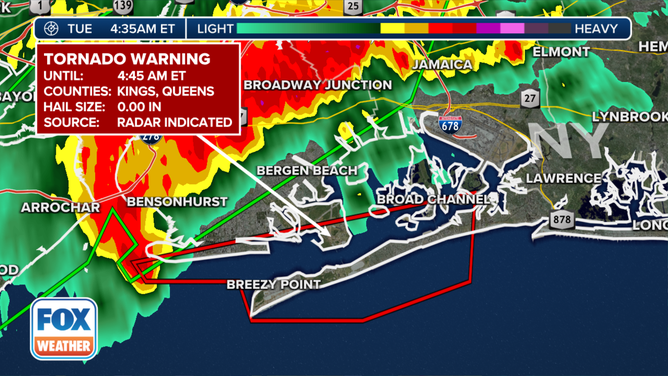 While the Tornado Warning was allowed to expire by 5 a.m., the Flash Flood Warning remained in effect until 7:30 a.m. as the heavy rain continued into the start of the morning commute.
All lanes of the eastbound Long Island Expressway were closed in Queens near 60th Street because of flooding on that section of the highway early Tuesday morning. Additional flooding was later reported on the Cross Island Parkway in Queens.
No injuries were reported.