Northeast facing freezing rain with more winter weather coming
Drive with caution: Freezing rain, snow will make roads messy for holiday travelers.
Freezing rain, snow and more rain are forecast through Wednesday from the Mid-Atlantic into New England as back-to-back systems move over the Northeast.
According to the National Weather Service Storm Prediction Center, freezing rain is moving east from Ohio to western Pennsylvania Monday morning with rates that may exceed 0.05 inches over three hours before it transitions to rain.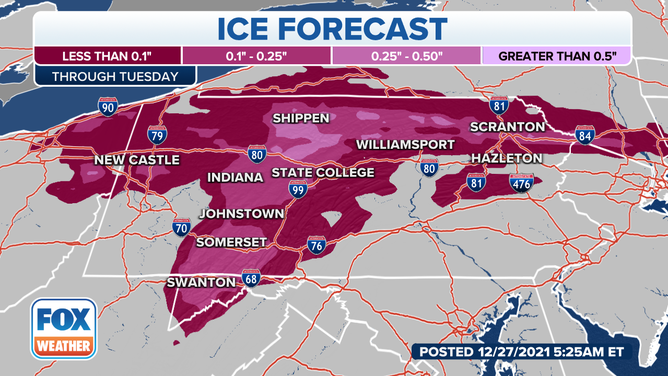 According to the NWS Office in Pittsburgh, mixed precipitation of ice and snow will make roads slippery and potentially hazardous in western Pennsylvania. Drivers are asked to slow down and use caution. According to the NWS, freezing rain fell Monday morning between Interstate 80 and U.S. 422, but areas north of I-80 are receiving snow.
TRAVEL FORECAST: Flight delays mounting for holiday travelers
As temperatures warm later on Monday afternoon, the frozen precipitation will turn to rain. 
The National Weather Service has issued winter weather advisories for Pennsylvania, New York, Maryland, Connecticut and Massachusetts that continue through Tuesday.
MORE: Arctic blast delivers dangerously cold temperatures to parts of northern US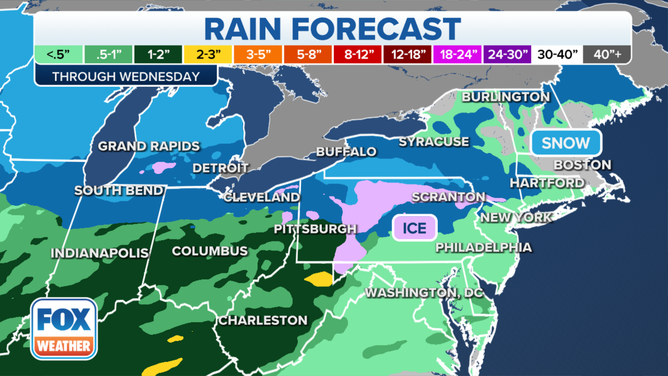 According to the NWS Boston, commuters on Tuesday can again expect a wintry mix of light snow with possible freezing rain.
Then on Tuesday and Wednesday, another system will push into the Mid-Atlantic and the Northeast, bringing snow, ice and more rain.