A nor'easter will form off the Southeast coast this weekend: How is that possible?
It's not a sou'easter, and it's not going to snow
A low-pressure system bringing flooding rain to Florida on Friday will develop into a nor'easter off the Southeast coast this weekend, posing a threat of major coastal flooding in the Charleston and Savannah areas.
Wait… a nor'easter in the Southeast? Wouldn't it be a sou'easter, then? And where's all the snow?
Actually, this storm will truly be a nor'easter, even though it'll affect the southeastern U.S. and not produce any snow.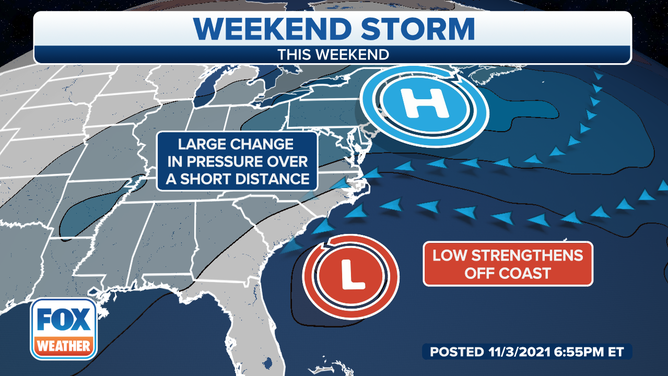 Nor'easters don't earn their name from where they form, the direction in which they move or the type of precipitation that falls from them.
There is just one condition that must be met for a storm to be considered a nor'easter: a northeasterly wind blowing onshore from the Atlantic Ocean.
In this weekend's case, winds will, in fact, be out of the northeast for much of the storm, which is why coastal flooding is a major concern along the Southeast coast. These winds will shove water toward the coastline, causing water levels to rise significantly at times of high tide.
MAJOR COASTAL FLOODING EXPECTED IN SOUTH CAROLINA, GEORGIA AS COASTAL STORM DEVELOPS NEAR SOUTHEAST
The National Weather Service office in Jacksonville has been referring to this storm as a nor'easter on social media – certainly not a term you'd expect to see in a Florida forecast, but it is valid in this case.
If the winds are out of the east or southeast during the storm, then it's not technically a nor'easter, but the impacts will likely be very similar, so the storm should still be taken seriously.
Most people associate nor'easters with heavy snowstorms that move up the northeastern coast of the U.S. in the winter, but as discussed earlier, snow is not a requirement for a nor'easter, nor is the part of the coastline the storm impacts.
If a strong low-pressure system off the East Coast is bringing northeasterly winds to the affected areas but temperatures are far above freezing, the storm is still considered a nor'easter even though it's a rainmaker.
WHAT MAKES A STORM A NOR'EASTER?

You can technically get a nor'easter at any time of the year, but they are most likely to occur between September and April when the jet stream is stronger and more active.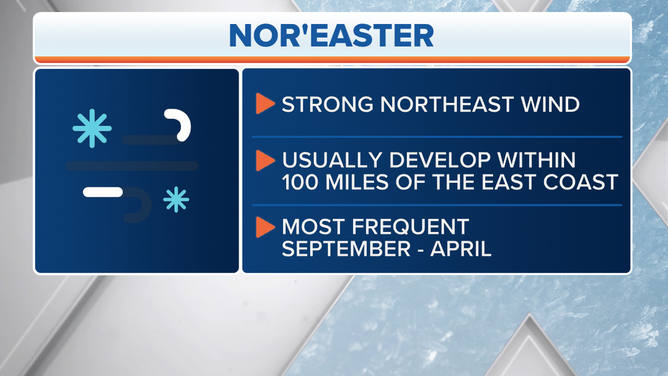 According to the National Weather Service, most nor'easters develop within 100 miles east or west of the East Coast, typically between Georgia and New Jersey. These storms generally move northeastward and reach their maximum intensity near New England and the Canadian Maritime provinces.
Our weekend nor'easter off the Southeast coast will be shoved out to sea by strong high pressure over the Northeast before it gets the opportunity to move farther up the East Coast, so no rain is expected to fall north of the Virginia Tidewater.