No Thanksgiving skiing for some Tahoe resorts thanks to Mother Nature
A warm, dry November limited manmade snowmaking.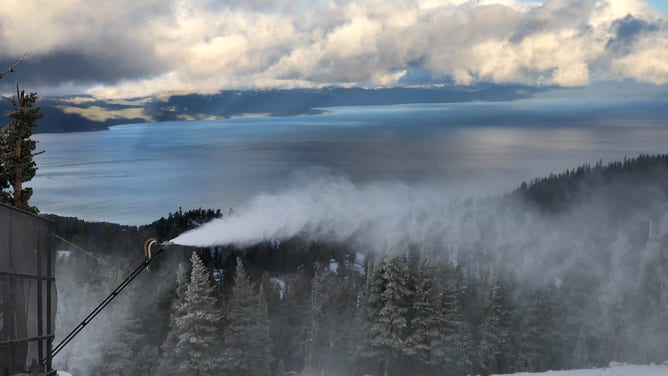 "We've been doing our snow dances, but warmer temps have prevailed this week, which means we'll be pushing our opening day back until after the Thanksgiving weekend," announced Heavenly Lake Tahoe ski resort on Facebook.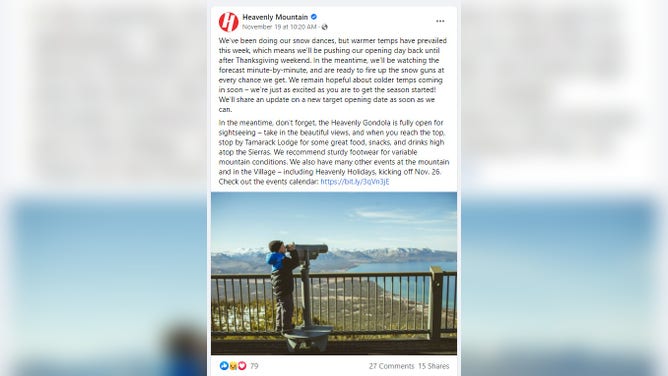 And they are not alone. Northstar California and Kirkwood Mountain Resort around Lake Tahoe, California, said they need to push off opening day until after Thanksgiving and cooler weather.
"We need sustained cold temperatures to make snow or natural snow to open," said Dennis Blogget, spokesperson for the Northstar, Heavenly and Kirkwood resorts.
Finicky Mother Nature
October's atmospheric river dropped up to 50 inches on trails at neighboring ski resorts Palisades Tahoe and Boreal Mountain, allowing them to push up opening day to October 26. That was the last substantial snow the mountains received.  Even snow cannons are no match for this warm November weather.  Both resorts are closed again until further notice.
POWERFUL STORM CONTINUES BRINGING HEAVY RAIN, WIND, SNOW TO WEST COAST.
Learn what fuels an atmospheric river --  WHAT IS AN ATMOSPHERIC RIVER?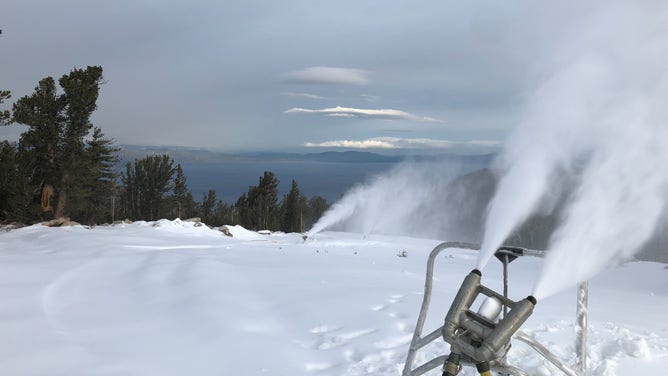 Too warm for snow guns
Snow guns depend on the temperature of the air and the humidity in the air.  Droplets of water shot into the sky evaporates, which cools the air around it enough for other water droplets to freeze.  Think of getting out of a pool in a breeze.  You are chilled by evaporative cooling.  The air needs to be dry to quickly evaporate the droplet (wet towels don't dry quickly in a humid bathroom.) 
A Sugar Bowl Resort snowmaker explains why he can't get the perfect recipe of temperature and moisture (wet bulb temperature) when a mild ridge of high pressure dominates the west coast.  An inversion is a stable airmass, generally most at the surface (many times netting fog.)
"Inversions, which typically occur during the fall, have hampered efforts and only allowed about 1.2 million gallons of water to be blown this fall, said a Sugar Bowl snowmaker. 
"For comparison, we can generally do that amount and more during one good night of snowmaking when the temps and wet bulb are aligned."
Learn more about inversions: WHAT IS A TEMPERATURE INVERSION?
Warm November temperatures have already pushed back ski resort openings in Colorado and Utah. 
MORE: SKI RESORTS DELAY OPENINGS DUE TO LACK OF SNOW, INCONSISTENT TEMPERATURES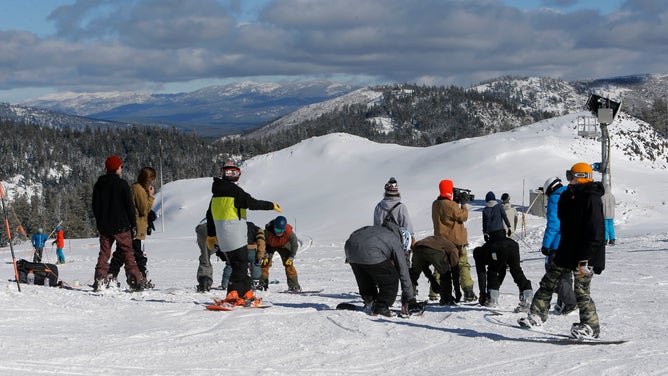 Tahoe forecast: Continued overnight inversions
This week, high pressure builds into the West Coast, spelling out more stable dry air for Tahoe. The National Weather Service in Reno says, "Clear skies will allow for enhanced radiation cooling at the surface that further strengthens overnight inversions over most valley areas across the region."
According to their website, Palisades Tahoe's forecasted low temperatures won't even hit the freezing mark this week. Northstar's website forecasted a high of 60 degrees Friday. 
NWS meteorologists hint at a pattern change in early December, bringing cooler, wetter weather to Tahoe and possibly a few snowflakes.
Learn how snow forms naturally.  Snow 101