5 deaths in Florida attributed to Nicole, officials say
Nicole has caused coastal flooding, beach erosion, heavy rain, gusty winds and severe weather across Florida.
ORLANDO, Fla. – Hurricane Nicole has been blamed for at least five deaths in Florida.
Officials at the Orange County Sheriff's Office said two people were electrocuted by a downed power line early Thursday in Orlando.
The power line fell as Nicole barreled across the Florida Peninsula after making landfall about 3 a.m. Thursday just south of Vero Beach, Florida, as a Category 1 hurricane on the Saffir-Simpson Hurricane Wind Scale.
More than 300,000 power outages were reported across the Sunshine State as of early Thursday afternoon.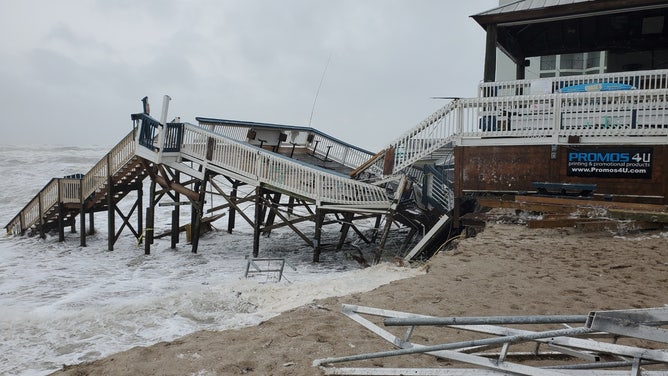 Two other people died in a crash on Florida's Turnpike in the county Thursday morning, according to Orange County Mayor Jerry Demings at a news conference.
A Central Florida man died during Nicole early Thursday morning, according to the Cocoa Police Department. Thomas Whittle, 68, of Port Canaveral was unresponsive when police found him and his wife on their yacht that was docked at Lee Wenner Park in the town of Cocoa. 
First responders tried to perform CPR on Whittle, while waves battered the yacht and caused it to float away from the dock. Responders were able to rope the boat in and then bring Whittle to the hospital, where he later died. Cocoa police state the cause of death is still under investigation.