Children found in overturned trailer after tornado rips through Louisiana
The threat of severe storms is expected to increase on Thursday. On the cold side of this storm system, the FOX Forecast Center is keeping an eye on the possibility for heavy wet snow across parts of the Upper Midwest.
Severe thunderstorms across the South produced damage ahead of a cold front that promised to produce heavy rainfall along the Gulf Coast and snowfall for parts of the Upper Midwest on what was deemed by the FOX Forecast Center to be a triple threat.
Tornado watches were in place for more than 5 million Americans as the threat for severe storms rolled into the lower Mississippi Valley on Wednesday.
Communities from Texas to Missouri reported seeing damage that included large hail, damaging winds and at least one tornado.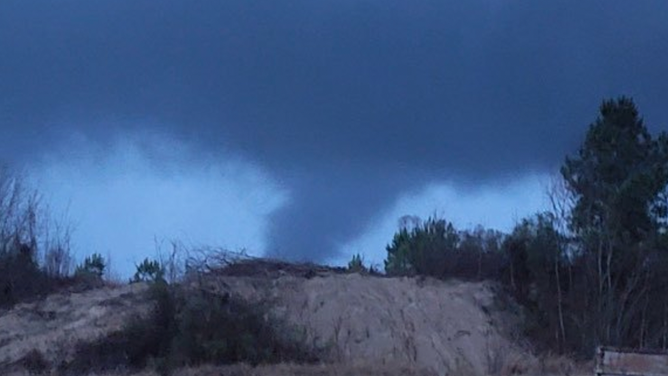 Hardest hit appeared to be Tangipahoa Parish in Louisiana, where authorities spent the evening surveying damage after the observed tornado rolled through just after sunset.
Robby Miller, the president of Tangipahoa Parish, said some areas were devastated, but fortunately there were no significant injuries.
HOW ARE TORNADOES RATED? THE ENHANCED FUJITA SCALED EXPLAINED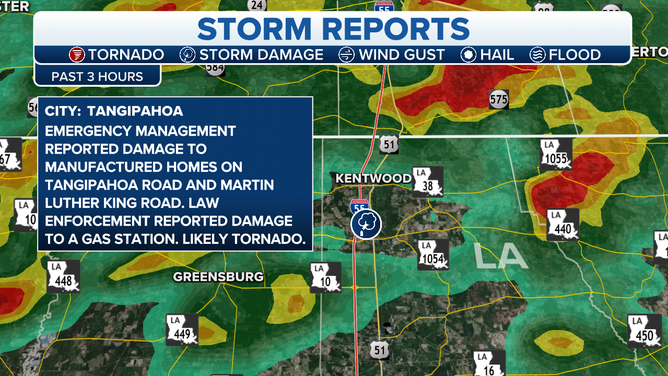 "Thankfully, there were no serious injuries. We've had so far, as the first responders are going through the area looking for damage and for people. There are some children in a trailer that was overturned and destroyed. They were fine. We did they did get them transported to the local hospital to be checked out, but they seem to be fine," said Miller.
The parish president said the event was likely traumatic for those who live in the community but due to the apparent jumpy nature of the twister, not all residences were damaged.
The Storm Prediction Center received reports of trees and power lines in several communities as the storms also produced damaging winds upwards of 70 mph.
Several trees were snapped and blocked roadways north of Lake Charles, Louisiana, and storm chasers captured video of ominous clouds in western Mississippi.
The National Weather Service office in New Orleans surveyed damage on Thursday and determined the Tangipahoa Parish tornado had a preliminary rating of an EF-2.
HOW METEOROLOGISTS DETERMINE IF A TORNADO IS TO BLAME FOR STORM DAMAGE
Storms roll eastward on Thursday
Individual supercells will organize into a powerful line of thunderstorms and march across southern Alabama, Georgia and the Florida Panhandle on Thursday.
A few severe thunderstorms are possible across the Southeast on Friday, including northern Florida, southern and eastern Georgia and southern South Carolina.
The FOX Forecast Center said wind damage would be the most likely threat from the storms.
Severe storm threat Friday, Feb. 10, 2023.
(FOX Weather)
---