New York City falls below 50 degrees Monday for first time since May, its second-latest first-50 on record
Temperatures dipped into the 40s for the first time since Memorial Day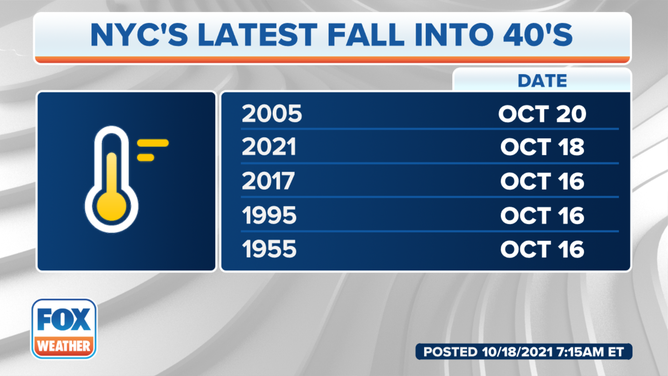 New York City finally dropped below 50 degrees Monday morning for the first time since May 31, and it almost set a record for the latest-in-season first 50-degree temperature.
According to the National Weather Service, this was the second-latest occurrence of the season's first sub-50-degree low at Central Park. The latest in the season it ever happened was Oct. 20, 2005.
"Interestingly, four of the five latest years happen to be very active Atlantic hurricane seasons," said FOX Weather meteorologist Allan Nosoff.
Elsewhere in the eastern U.S., Monday morning was the first time Philadelphia had dipped into the upper 40s since May 30, while some spots in the upper Midwest and northern Great Lakes woke up to near-freezing temperatures for the first time since last spring.
Temperatures were in the 50s Monday morning as far south as Central Florida and in the 40s in North Florida. Parts of North Georgia and northern Alabama were in the mid- to upper 30s Monday morning.
The cool temperatures will remain in place through the day in the East, with highs Monday afternoon only topping out in the 50s and 60s across the Northeast.